All Posts Tagged With: "Thierry Mugler"
Thierry Mugler's latest scent, Angel Eau de Toilette. 20 years after the launch of Angel, Mr. Mugler introduces this exciting new Oriental, Gourmand, Powdery fragrance that is soft and subtle. Angel Eau de Toilette is a stand alone fragrance, not a flanker to Angel EDP, and contains notes of Bergamot, Berries, Praline, Patchouli-Vanilla, and White Musk. The innovative bottle is round in front and faceted in the back with a star on the tip. As with all Mugler fragrances, the bottle is also refillable. Eva Mendez is now the new face of the Angel franchise, including Angel Eau de Toilette.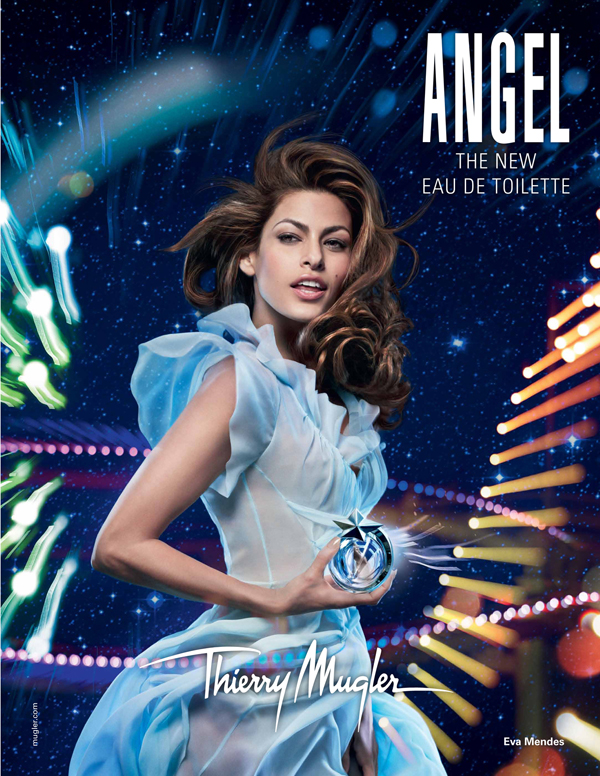 Thierry Mugler's Latest Fragrance: Angel Eau de Toilette.
"Once you commit, once you fall in love with Angel, you wear it for a lifetime."-Eva Mendes
Last night Eva Mendes became the new face of Angel by Thierry Mugler, which happens to be Marta Walsh's signature perfume:) A glittering party was held to toast this glamorous new face. TM has the scoop on how to get Eva Mendes' Angel makeup look. Makeup Artist Genevieve Herr primed Eva's skin with Clarins Beauty Flash Balm and Multi-Active Day Cream.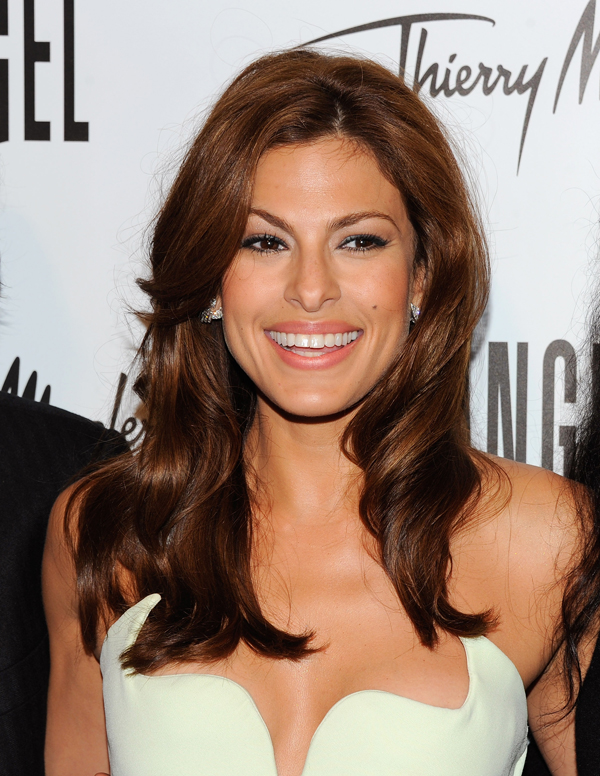 Eva Mendes' Angel Makeup Look
Using Thierry Mugler Beauty, she created this sultry, summer look to complement Eva's mint green MUGLER dress.
When I'm asked "What does Womanity mean to you?" I think of 3 words: sexy, confident, rock & roll. It's good that a woman is sexy and confident but by 'rock and roll' I mean she also is adventurous, ageless, limitless, and has appetite for life and party. The 3 celebrity women that come to mind that capture my version of Womanity are: Madonna, Kate Moss, and Kate Hudson.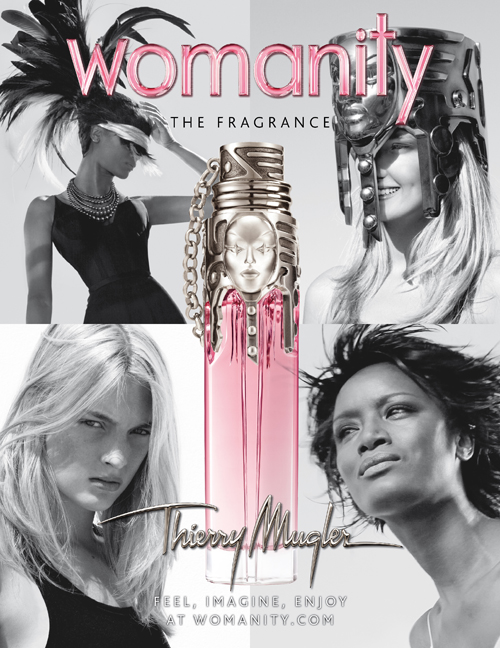 Tell us what Womanity means to you by visiting the Womanity by Thierry Mugler site! BTW Womanity is my new signature fragrance, aside from the very inspirational name it smells amazing:)
* "Disclosure: Compensation was provided by Clarins Fragrance Group-Womanity via Glam Media"
"The opinions expressed herein are those of the author and are not indicative of the opinions or positions of Womanity"
Womanity the NEW Fragrance by Thierry Mugler: Excerpt of the interview with Thierry Mugler by Catherine Perret, Doctor of Philosophy, Senior Lecturer (Nanterre Paris X University, Copenhagen University, etc.)
Concept and Womanity.com
Can you tell us how the Womanity story began…
A creation or a new fragrance always comes as a reaction and an improvement on my previous work. This is how I always work. When I develop a project, I'm already starting on the next one in a way… This one came after I had created Angel, which is quite a heady fragrance, with a certain innocence as well as an obvious sensuality. With Womanity, the aim was to complete this idea and reach out to even more women: to open to a broader range of femininity and therefore make something even more complete.
Introducing Marta Walsh's new signature fragrance Womanity by Thierry Mugler. It was a love from first 'schpritz' or spray! The bottle is so unique and the pink fragrance is so feminine and girly. The smell is truly something I've never smelled before which what captured my attention. The scent is not ever too strong but it's there. It feels as if the scent becomes part of me (you). I haven't stop wearing it since I got it! For all the Angel lovers this is a must try. Theirry Mugler did it again with Womanity. If you were waiting for the next big thing after Angel, you're are looking at it. This one certainly stands out from all the Mugler perfumes and is my favorite. I use to be a huge Angel fan few years ago and was looking for something new. I think I found one. Thierry Mugler is back!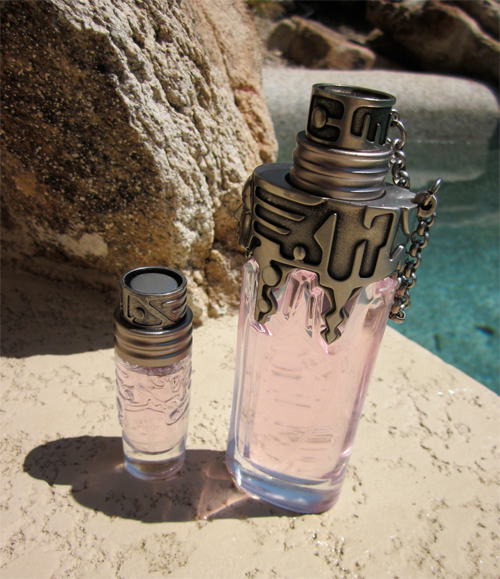 L to R: Womanity Eau de Parfum Refillable 10 ml 0.33 Fl. Oz. Spray by Thierry Mugler and 50 ml 1.7 Fl. Oz.
Angel fragrance by Thierry Mugler has a cult following.  Many women around the world are devoted fans of Angel fragrance, which with no doubt,  smells out of this world.  The Thierry Mugler brand was founded in 1974 by the Parisian fashion designer, Thierry Mugler.  Angel fragrance was born in 1992.  Mugler is inspired by anything celestial or cosmic due to his fascination with 1950's comic books.  Angel Men followed Angel with its woody notes of musk, roasted coffee, and chocolate.  B*Men landed with an explosion in 2004, borrowing its powerful and masculine notes of tangerine, nutmeg, and sequoia wood.
The Garden of Stars, which launched in 2005 featuring the encounter of Angel with specific flowers, such as:  Violet, Rose, Peony, and Lilly.  The original Angel for women has created a new  fragrance category called:  "oriental gourmands" .  Main notes include:  Bergamot, Hedione, Helional, Honey, Dewberry, Red Berries, Vanilla, Caramel, Patchouli, Chocolate, Coumarin.  The Shooting Star bottle is refillable.  Cost:  $68 for a 0.8 oz Refillable Shooting Star Eau de Parfum Spray.  $98 for a 1.7 oz Refillable Shooting Star Eau de Parfum Spray. 
New at the house of Angel are:  3.4 oz Celestial Sparkle Body Spray $55, and 6.9 oz Celestial Body Cream $76.   Also new Mugler Cologne for Men.  Main Notes:  Bergamot, Neroli, Petit Grain, Orange Blossom, Green Sap, White Musk.  Cost:  $48 for a 2.6 oz Refillable Spray & Splash Eau de Toilette.  $68 for a 4.1 oz Refillable Spray & Splash Eau de Toilette.  And a 2.7 oz Alcohol-Free Deodorant Stick for $20.