All Posts Tagged With: "Tommy Hilfiger"
Tommy Hilfiger Announces "The Ultimate Tailgate," Its Fall 2010 Global Advertising Campaign. The "Hilfiger's" visited the US Open last night to catch the Rafael Nadal vs. Fernando Verdasco match.
The campaign unfolded during a classic American sporting event where the Hilfigers gathered prior to a game. In true American tradition, their trunks we're opened, blankets unfurl, picnics appear and the ultimate tailgate party commences. The energy of the campaign is lively and fun, and sets the scene for the Fall '10 collection to take to the stage.
New York Fashion week Fall 2009 recap by MAC Cosmetics: Fashion Designer: Tommy Hilfiger. MAC Lead Makeup Artist: Lisa Butler.
"The lok is based on a late 1970's Lauren Hutton kind of makeup – very American, very glamorous but low key and natural." Lisa Butler.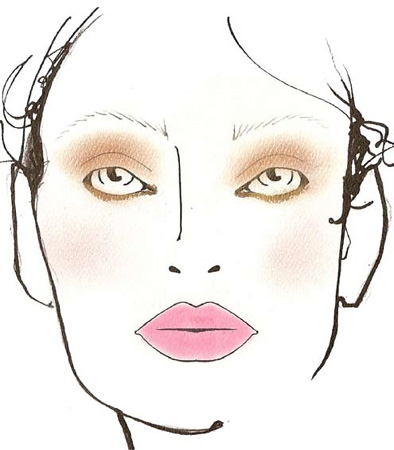 Eyes: Goldmine eye shadow – blended over the eyelids. Cocomotion Pigment – buffed into the crease of the eyelids. Powersurge Eye Kohl – placed along the lower lashline then smudged slightly with a brush to blend into the lashline. Prolash Mascara in Black – applied to top and botom lashes.
I compiled a list of my top 10 makeup products of the week in my first Marta Walsh video blog.
You are going to see more of these videos of me talking about makeup, skincare, and just my adventures as a beauty blogger and an interviewer for BeautyInterviews.com
Because this was my first video blog I only mentioned 9 products instead of 10. Sorry everyone, but here it is, product number 10: Function Self-Adjusting Powder Foundation in Light L1-L2 by Smashbox Cosmetics. It is on my top 10 list of the week because it gives my skin great coverage in no time. I use it with different brushes to achieve different finishes. Big powder brush all over my face and a small brush under my eyes and around the nose and moth. 
List of products in the video include:
1. Pigment in Gold Mode by MAC Cosmetics.
2. XXL Volume+Length Microfiber Mascara by Maybelline New York.
3. Aveeno Active Naturals Intense Relief Overnight Cream.
4. Give Me The Shimmers Body Powder Sexy Little Things by Victoria's Secret Beauty.
5. Very Sexy Dare Eau de Parfum Spray by Victoria's Secret Beauty.
6. Brightening Therapy with TrueTone by PCA Skin.
7. DDF Protect And Correct UV Moisturizer SPF 15.
8. Clearskin Professional Clarifying Toner Pads by AVON.
9. Tommy Hilfiger Dreaming Lip Gloss. 
"American icons have always been an inspiration to me. Icons lead by distinction. They have passion, a fire and a drive to succeed. The new fragrance is dedicated to their spirit – to men everywhere who create their own destiny." — Tommy Hilfiger.
Tommy Hilfiger introduces Hilfiger, a new fragrance created for the man who possesses an irresistible optimism. No challenge too big, he lives for the adrenaline rush. For him, the excitement is in how fast and hard you play the game while still having fun.
Beginning in September 2008, the Hilfiger collection will be available exclusively at Macy's Department Stores nationwide and then roll out to other fine department stores in December 2008. The Eau de Toilette will be offered in 1.7oz/50ml (suggested retail price: $47.00) and 3.4oz/100ml (suggested retail price: $59.00) and the After Shave Balm in 3.4oz/100ml (suggested retail price: $47.00).
"We are pleased to introduce the Hilfiger fragrance collection to the Tommy Hilfiger brand portfolio. This new signature scent reflects the brand's Classic, American Cool attitude," said Veronique Gabai-Pinsky, President, Aramis and Designer Fragrances. "It was made for the man who knows what he wants and knows how to get it. He has an inner strength that comes from knowing exactly who he is and what he wants out of life."
Come Celebrate With Tommy Hilfiger At Macy's Herald Square Today!
Designer Tommy Hilfiger Celebrates Tommy Week At Macy's Herald Square With GQ Magazine, Gossip Girl's Ed Westwick, Platinum selling singer-song-writer Gavin DeGraw, Hilfiger Fragrance model Tommy Dunn.
The GQ/Hilfiger Celebrity Charity Motorcycle Ride and Musical Performance by Gavin DeGraw will take place today, Tuesday September 9th, at Macy's Herald Square.
This is what to expect:
6:30 PM – Motorcade will take over the streets of Manhattan with a charity motorcycle ride to benefit The Tommy Hilfiger Corporate Foundation.
The route is: starting from Lincoln Center on 64th Street between Columbus and Amsterdam
through Central Park South
down Fifth Avenue and across 57th Street
south on Broadway
through Times Square
finishing at Macy's Herald Square (Broadway between 34th and 35th Streets)
7:00 PM – PHOTO OPPORTUNITY AT MACY'S HERALD SQUARE
Be there at the finish line when the celebration begins with a special appearance by Gossip Girl's Ed Westwick, Tommy Hilfiger, Gavin DeGraw, Tommy Dunn and 10 riders from the GQ Motorcade.
The super sexy singer Beyonce is the new face of Tommy Hilfiger's fragrance True Star Girl. 
Beyonce's voice singing the song "Wishing On A Star" in the True Star commercial is just so beautiful.  True Star is inspired by Beyonce Knowles an American super star and an excellent role model for teenagers and just for anyone who aspires to excel in life.  True Star is a very glamorous floral oriental fragrance with a delicious blend of honeysuckle and wheat grains.  True star comes also in a new version called:  True Star Gold, which is also a soft floral oriental scent with uplifting watery notes of melon and kiwi, pumpkin flower and a creamy sensation of milk, raspberry and honey.  Try also True Star for men which is inspired by pop star Enrique Iglesias.  True star for men notes are:  Citrus Notes, Star Anise, Licorice, Rice Notes, Iris, Cascarilla, Sandalwood, Saffron, Vanilla.  Enjoy!


   You can buy this product at a discount at StrawberryNet. Click here for product link. 
You can buy this product at a discount at StrawberryNet.