All Posts Tagged With: "Top Brands"
Nordstrom beauty exclusive, MAC's OPULASH Mascara. With MAC's New OPULASH MASCARA become the boldest, baddest gal in the joint. Cast a spell over the room with a sweep of MAC's technologically advanced magic wand – a feat of beauty engineering that grabs the lash at the root to lift and holds on to exaggerate the lashes. The tapered tip makes inner corners sleeker to reach so never again worry about spider-web lash syndrome.
Pump up your look with an extreme volumizing formula that curls and separates for thick, dark, dramatics lashes. This beauty breakthrough could only be brought to you through the collaboration of the innovators of the industry, MAC + Nordstrom.
The MAC Opulash Mascara ($14) will be available exclusively in Nordstrom stores (and Nordstrom.com) on April 22nd, 2010, however true beauty addicts can pre-order (the link will go live beginning on April 12th).
Celebrate Mother's Day and the launch of Victoria's Secret HEAVENLY FLOWERS fragrance!
WHEN: SATURDAY, APRIL 24, 2010 12–3PM
WHERE: VICTORIA'S SECRET SOHO 591 Broadway, New York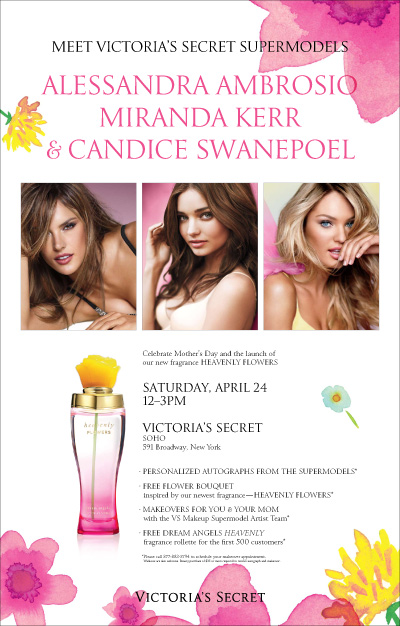 What's in it for you?
· PERSONALIZED AUTOGRAPHS FROM THE SUPERMODELS: Alessandra Ambrosio, Miranda Kerr, and Candice Swanepoel
· FREE FLOWER BOUQUET inspired by the new fragrance—HEAVENLY FLOWERS
· MAKEOVERS FOR YOU & YOUR MOM with the VS Makeup Supermodel Artist Team
Smashbox Cosmetics debuts the brand's first-ever blog and gives one lucky reader $1200 beauty suitcase!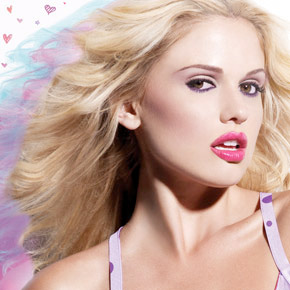 Cult-favorite makeup line Smashbox Cosmetics is giving you even more insider access with the launch of its new blog. The Smashbox blog will feature bi-weekly updates with photos and videos, offering you an all-access pass to what goes on behind-the-scenes at Smashbox Studios in Los Angeles. Packed with pro artist tips & tricks, celebrity gossip, runway recaps, VIP events, new product innovations and more, the blog is soon to be the go-to destination for beauty fans to find out about the hottest industry trends. Exclusive trend reports, how-to videos and step-by-step Get the Looks will help Smashbox fans and beauty addicts learn how to achieve the hottest new makeup looks.
Meet my new love: Clinique All about Eyes Serum de-puffing eye massage roll-on, $25.50. The stainless steel roll-on applicator is one of its best features: it is cooling, the gentle rolling motion increases circulation under eye, and it is also hygienic. This eye serum is formulated with calming ingredients, such as: Caffeine and potent anti-oxidants all to help reduce the appearance of puffiness, or in Marta's case, dark circles. Better yet, it fits perfectly in my makeup bag or my purse. Can be applied morning, night and as needed throughout the day.

I often get asked which products to use to help reduce the look of dark circles or 'party eyes'. Well,  Clinique All About Eyes Serum is one of my favorites.
The NEW Clinique All About Eyes Serum is available from April 2010 at Clinique counters nationwide and at www.clinique.com
We wanted to let you know about a giveaway Lancôme is running on the Lancôme Facebook page. Anyone who becomes a fan between now, March 31st, 2010, and Friday night (April 2nd, 2010) will be eligible to WIN all the products in Michelle Phan's new Lancôme Clubbing Makeup video (below). Existing fans are eligible as well!
WATCH Michelle Phan's new Lancôme video it has some good, practical makeup tips—plus a fun tip that involves using Scotch tape for the perfect cat-eye makeup
YouTube sensation Michelle Phan joined the Lancôme team earlier this year as their first-ever video makeup artist. Her latest video for Lancôme, Clubbing Makeup, went live a few days ago and has already passed 825,000 views.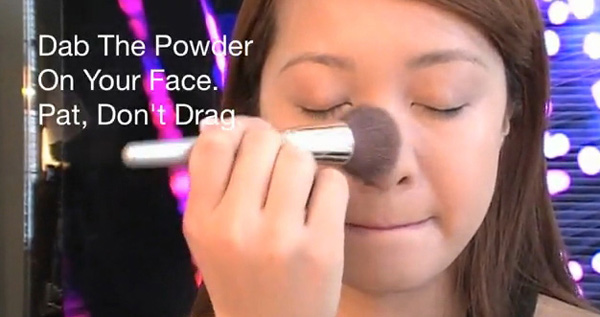 Estée Lauder introduces Bronze Goddess Makeup, Suncare and Fragrance 2010 and Sumptuous Bold Volume Waterproof Mascara. Talking Makeup has the behind the scene and product images.
Bobbi Brown Brightening Skincare NEW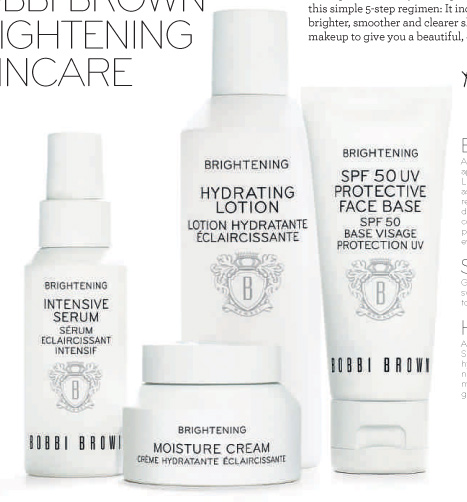 "I believe beauty starts with healthy, glowing skin. Traveling through Asia, I've discovered that many brightening skincare lines do not address women's immediate need to cover dark spots. I used my makeup artist's perspective to create this simple 5-step regimen: It includes skincare to give you brighter, smoother and clearer skin over time—and treatment makeup to give you a beautiful, even complexion instantly."– Bobbi Brown
Introducing Bobbi's ritual for fresh, radiant, lit-from-within skin:
1 PREPARE
BRIGHTENING HYDRATING LOTION
Instantly hydrated and perfectly prepared for the next step. Price: $50
CHANEL introduces NOIR ET OR Paris-Shanghai Collection
For the "METIER D'ART" fashion show in Shanghai, Peter Philips, Global Creative Director of CHANEL Makeup, created an exclusive collection, NOIR ET OR. The collection is a glamorous fantasy of Shanghai in the 30's and 40's as Coco Chanel herself may have imagined it. The black and gold eyes and nails complimented the gilded and jet black accents shown on the runway.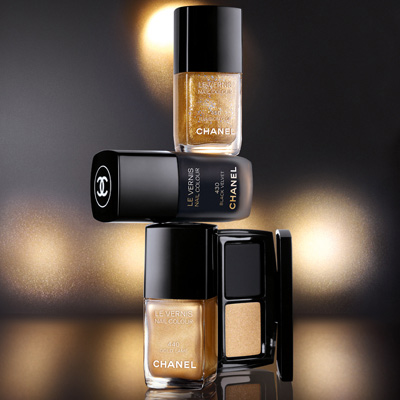 EYES:
Ligne et Ombre de Chanel in Jet-Gold
Matte black eyeliner and sparkling gold eyeshadow $45.00
NEW: Lancôme Bronze Riviera Makeup Collection Summer 2010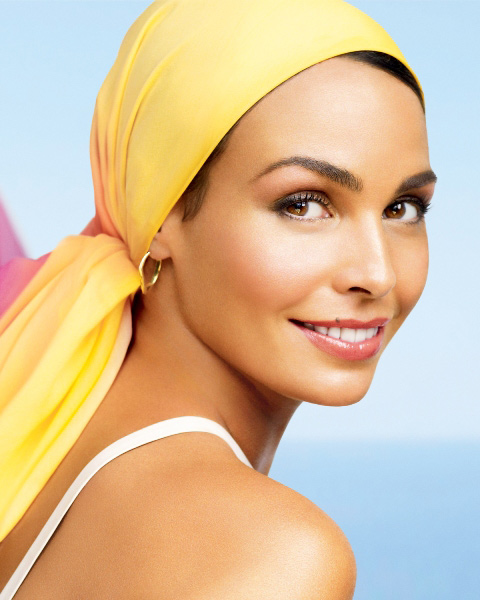 Lancôme is oh-so-ready to welcome the warm weather with its new summer collection, "Bronze Riviera." The makeup collection, a mix of mineral blushes, bronzers and sheer glosses, just launched this week (of March 22nd, 2010).
Among the highlights: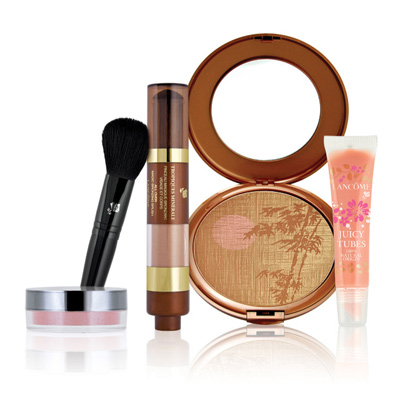 CHANEL introduces Summer 2010 Makeup Collection.
Bold and audacious, Gabrielle Chanel pushed the boundaries of style. Now Peter Philips continues the tradition by creating a free-spirited makeup collection inspired by an idyllic seaside vista: LES POP-UP DE CHANEL, fresh new cult-worthy hues for lips and nails. Vibrant pops of color, including neon pink, sunny coral and brilliant turquoise are beautifully complemented by bronzed, glowing skin…and sure to be the standout shades of summer. On counter: May 2010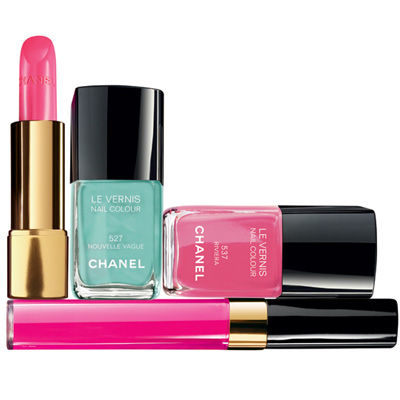 Available at www.CHANEL.com, CHANEL boutiques and department stores.