All Posts Tagged With: "Tori Spelling"
Tori Spelling looked fresh and polished in a frock! by Tracy Reese dress while promoting her new tell-all, "Uncharted Terri-TORI," on the "Today" show yesterday morning, June 17th, 2010. The frock by Tracy Reese ZWL3V7N- Alix in Wild Violet is from the current spring 2010 collection and retails for $225.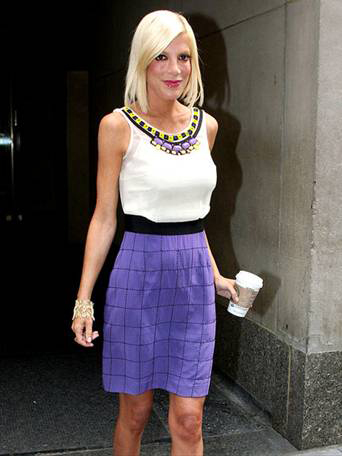 Key Makeup Artist Polly Osmond for  Created a Cleopatra-esqe Look for Christian Siriano's Fall 2009 Runway Show.
According to Osmond, "The look was based on a modern take of an Egyptian feel. We used heavy golds and blacks. The eyes were lined underneath with VS Makeup Eyeliner in Black Velvet with a more square shape rather than cat like. On the top of eyelids we used a gold shadow (VS Makeup Silky Eyeshadow in Champagne). We highlighted the face using the champagne shadow and lightly contoured with the VS Makeup Goddess Bronzer. On the darker skins, we used the bronzer as the highlighter. Mascara was then applied to top lashes only. Lips were a heavy gold. (For a more wearable shade, try VS Makeup Brilliant Lip Shine in Charm)."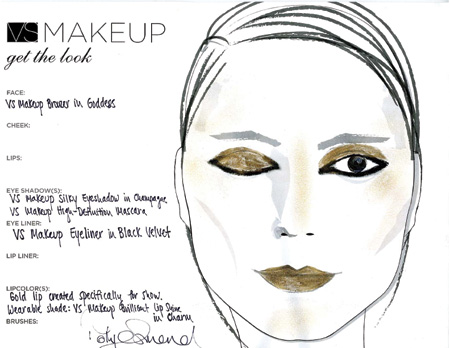 Click image above to enlarge to view Poly Osmond's face chart for Victoria Secret Beauty!
Behati Prinsloo, the new face of Victoria's Secret PINK Body, is pictured below with Tori Spelling after the show.