All Posts Tagged With: "Tory Burch"
This season, Redken Global Creative Director Guido capitalized on classic femininity at Tory Burch's FW 2017 Show.
"This season at Tory Burch, both Tory and I were inspired by Katharine Hepburn from the movie "Philadelphia Story". I've prepped the hair with Diamond Oil Shampoo and Conditioner to give it a lot of shine. To me, very clean hair can enhance individual texture. I've pulled the hair back into a low ponytail, and added this thick black velvet ribbon from Tory to evoke a romantic, sophisticated, soft, pretty look. I've kept the hair at a center part vs. a side part, to give a more girly, feminine touch that very much speaks to the Tory Burch brand." – Guido
GET THE LOOK
This Fall, celebrities in film, fashion and music will be donning one-of-a-kind carved creations by Turkish jeweler extraordinaire, SEVAN BICAKCI. Julia Roberts can be seen wearing a handmade angel necklace by the designer on this month's cover of ELLE (also seen again on pg. 481). This cover is one of six covers that were shot, styled, and printed in conjunction with the release of Roberts' new hit movie, Eat, Pray, Love.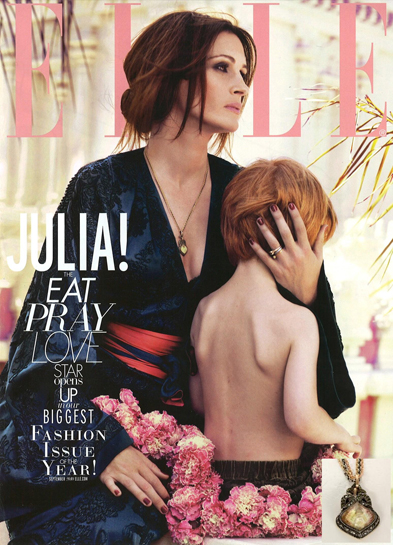 Additional Sevan fans include Princess of Pop, Lady Gaga, who is wearing Sevan's one-of-a-kind starfish sea pearl ring in VANITY FAIR. Lastly, please see fervent Sevan supporter, Tory Burch, showcasing her favorite Sevan ring in the September 2010 issue of TOWN AND COUNTRY.
American Express announces its continued partnership with top fashion designers including Diane von Furstenberg, Phillip Lim and Tory Burch, to provide Cardmembers with five days of exclusive shopping experiences during NYC & Company's NYC Extreme Local™. Now through December 20, Cardmembers may register their American Express Card at www.nycgo.com/x  to take advantage of special events and offers citywide.
From December 7 – December 11, DVF, Lim and Burch, along with J. Crew and Intermix, will invite American Express® Cardmembers into their stores for after-hours, private Cardmember-only shopping events.
Model, Coco Rocha, shoots a fashion-inspired music video for Modelinia.com at Meatpacking District, New York City, Tuesday, June 28, 2009.
Style: Coco Rocha was wearing: Skirt: Tory Burch. Top: Tory Burch. Jacket: Vintage. Boots: Tory Burch.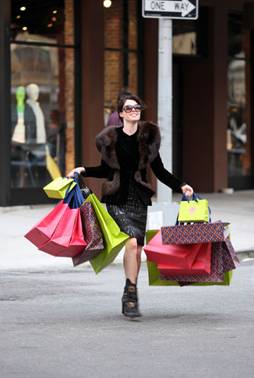 While watching the Tory Burch Fashion Show during New York Fashion Week Fall 2009, I spotted Kim Raver from Lipstick Jungle as one of the Tory Burch's celebrity guests.
Kim Raver is best known for her role as Nico Reilly on the TV show Lipstick Jungle.
Other celebrities seen at Tory Burch that night, included: Amanda Bynes and Kanye West.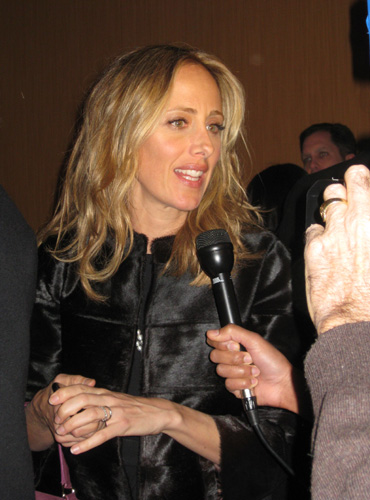 Lipstick Jungle Kim Raver at Tory Burch.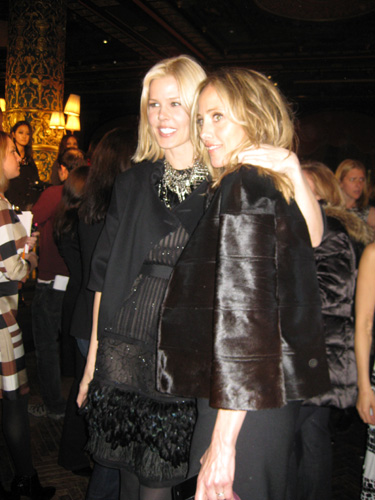 Kim Raver (right) not sure whi is on left lol:) Do you know? 
New York Fashion Week Fall 2009: I was supposed to cover backstage at Tory Burch fashion show during New York Fashion week last week, and for some reason I arrived when the show actually began. I have lots of great show coverage but missed the backstage hair & makeup look. Thanks to Daily Makeover Editors Rachel Hayes and Megan McIntyre, I have the scoop for you!
Tory Burch Goes For Bedroom Beauty: "This is a very sexy, gorgeous look," says makeup artist Diane Kendal for MAC.  She used a combination of black and gold shadows to create a sultry, smoky eye. "We didn't use any mascara which gives it an edgier look," she says. A hint of gold shimmer was also in the soft pink blush. "Gold is definitely a popular metallic accent for this season." Lips were neutral and glossy thanks to MAC Cremesheen Glass in Boy Bai, a light, pearly beige.
Kanye West was seen at the Tory Burch fashion show this past Wednesday during New York Fashion Week Fall 2009. And I have a small video of Kanye West and photos. Enjoy!
Tory Burch fashion was one my favorites during New York Fashion Week. I loved the clothes, the models, the music, and Tory Burch herself. Not sure if you've seen Tory Burch's photos before, but she is very pretty!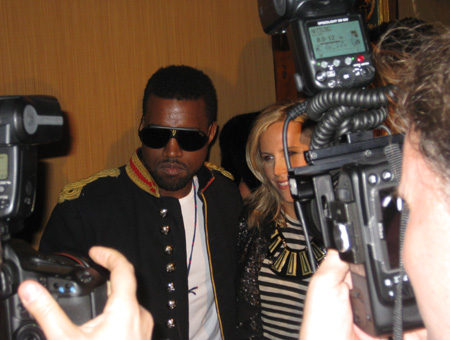 Kanye West (left) Fashion Designer Tory Burch (right). Excuse my photo it is not the best, I was trying to take a photo around very tall people lol and I'm only 5'2!:) (i.e Photo Credit: Marta Walsh).