All Posts Tagged With: "Viktor & Rolf"
This post is because I love shopping at Nordstrom and these are a good selection of perfumes just in time for Mother's Day or anytime.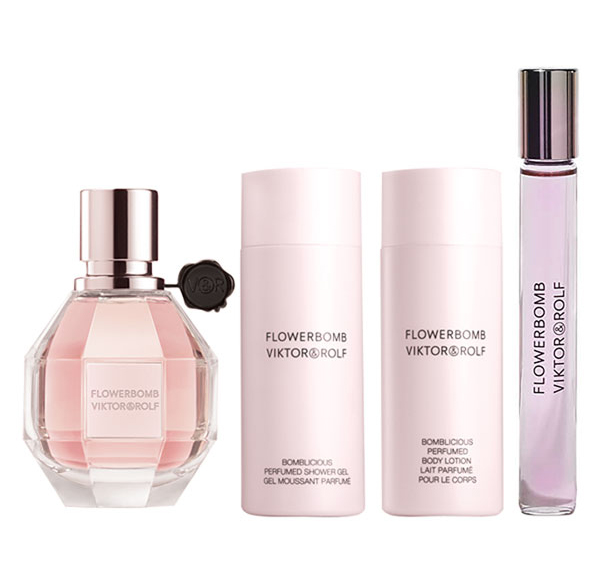 Viktor & Rolf 'Flowerbomb' Mother's Day Set
Full-bodied and opulent, Flowerbomb is a floral explosion, a profusion of flowers that has the power to make everything seem more positive. Set includes eau de parfum, body lotion and shower gel (1.7 oz. each) and a roller ball, (0.34 oz.). Notes include: bergamot, tea, freesia, jasmine, orange blossom, orchid, rose and patchouli. Price: $118 ($144 value);
The latest addition for Summer 2010 to the very gorgeous FLOWERBOMB by Viktor & Rolf perfume family is the FLOWERBOMB Eau de Parfum Rollerball ($22 for 0.33 fl.oz/10 ml). Exclusive to Sephora. I love this travel friendly version of FLOWERBOMB. Also, it is perfect if you are new to the perfume and not ready to buy the big bottle.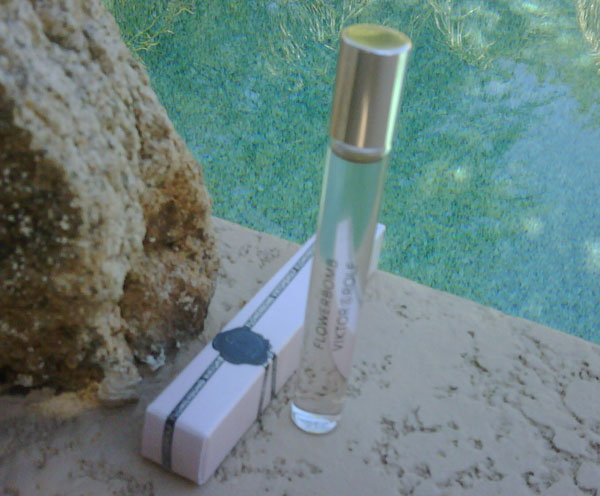 I must admit that at first I was a bit unsure if FLOWERBOMB perfume By Viktor & Rolf was the one for me, but after sometime it grew on me and I'm truly in love with it. After experimenting with many (and I mean very many) perfumes in my lifetime FLOWERBOMB By Viktor & Rolf is a total classic and on Marta Walsh's best perfume list of all time (at least 'of my time' LOL).
New Perfume for Summer 2010: Loving the new EAU MEGA Viktor & Rolf MINI MEGA eau de parfum ($50 for 20 ml). Flowerbomb fans I suspect you might be 'on fire' to find out how EAU MEGA smells in comparison. Well, EAU MEGA is not as musky and it has a bit of a zesty, fresh, and fruity notes to it. But it's not that pure floral and pure fresh scent which I'm not into it, it's much more complex and rounded. For day time use perhaps. If I like a perfume, though, I wear it day and night, so as always feel free to make that decision yourself. All in all, EAU MEGA MINI MEGA is a very lovely and very wearable perfume. It ranks on my top list of best perfumes of all time. A big responsibility I know, but I just love it!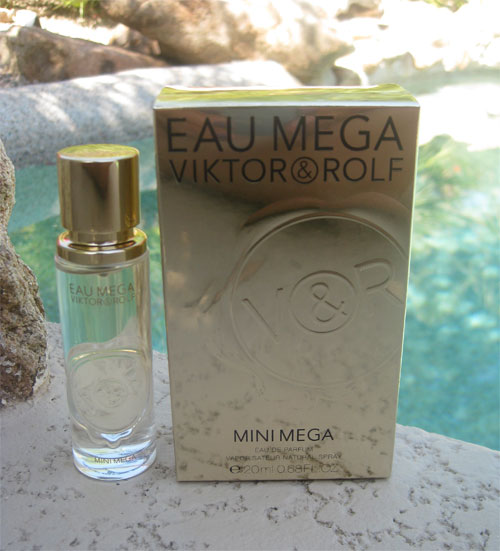 EAU MEGA Viktor & Rolf MINI MEGA Perfume. Fragrance notes: basil, sandalwood, peony, musk, aquatic notes, cedar, cashmere wood, white musk, citron, pear, jasmine, violet leaf.
EAU MEGA is back with MINI MEGA. "A new super heroine is born. Her world of beauty and glamour becomes reality, she megafies the world." Viktor & Rolf
So this weekend I felt a bit adventurist and decided to find my second signature fragrance. OK my fourth. My first is Dolce & Gabbana The One, my second is Miss Dior Cherie Eau de Perfume, and my third is By Gucci by Gucci Eau de Parfum. I reached out to FLOWERBOMB by Viktor & Rolf eau de parfum at Sephora here at the Fashion Square Mall in Scottsdale Arizona. It smelled amazing in the store, and I adore the packaging. The smell is powdery on me and not too strong, which I like. It kind of reminded me a little a bit of Gucci Flora Eau de Parfum.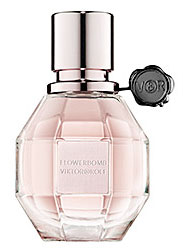 However after 2 days of giving FLOWERBOMB a go it didn't quite worked well with my body chemistry. I didn't like the dry down smell at the end of the day. I do believe FLOWERBOMB is still truly an exquisite perfume so you should try it yourself. Because after all a perfume is as good as the woman who is wearing it. It's all about your personal chemistry. I went a full circle, I ended getting a new bottle of D&G The One.
Viktor & Rolf for Shu Uemura lashes: Shu Uemura has partnered with the avant-garde designers of the moment Viktor & Rolf to create their first ever "couture" lashes as part of the Shu Uemura collection.
The limited-edition Viktor & Rolf for Shu Uemura lashes ($95 each) will be available at Shu Uemura boutiques, select retailers and www.shuuemura-usa.com beginning September 2008.
The Tokyo lash bar opened in 2005 world-wide, it is a testament to Shu Uemura's heritage has an eye lash artist. It quickly became an international phenomena. The 2006 collection transformed the eyelash into a fashion accessory. 2007 introduced individual customization, and a lash atelier service that became a favorite of top celebrities. Each year the Tokyo lash bar continues to elevate the lash to new dimension. In 2008 the master of false eye lashes Shu Uemura collaborated with fashions most talked about brand, avant-garde masters Viktor & Rolf. Together they have created the ultimate luxury "fashion beauty" accessories that give a new haute couture  concept to lashes. Couture eyelashes for a maximum transformation of everyday makeup into a spectacular beauty event.
"Shu Uemura eyelashes are almost a fashion accessory and we like it. It's something you can play with and transform yourself. This appeals to us because the idea of transformation is really important in our own work and in our philosophy."-Viktor & Rolf.
Check out these masterpiece eyelashes created by Viktor & Rolf for Shu Uemura. They so exquisite the seem to belong to a museum, or to a princess. The Viktor & Rolf for Shu Uemura lashes are like the diamonds of the false eye lash world.
Swirl: A blink of a smile. "The Swirl lash is an instant smile, the blink of an eye, a moment of attraction between the wearer and the person who was lucky enough to steal a glance. If ever a statement was true: a moment can last forever."-Viktor & Rolf.
The Swirl eye lash is a playful, opulent eyelash with a charming curl accent. The long outer eyelashes feature an airy curl that gently bounces with every blink! Cute, flirtatious, and elegant.