All Posts Tagged With: "Vincent Longo"
The lip stain is great if you want color, pigment but don't won't too heavy or even greasy feeling. These lip stains by liptini and Vincent Longo are sheer, light and cooling.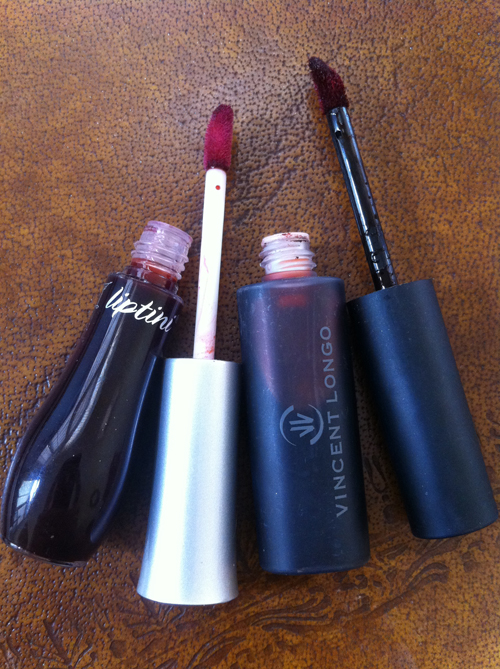 L to R: lip stain by liptini in Tawny Port and Vincent Longo in Cupid's Breath
Vincent Longo Pearl essence Gel Stains is a new product by Vincent Longo.  It is a water-resistant, pearlized lip and cheek stain, perfect if you an active life style. 
Vincent Longo Pearl essence Gel Stains is sip-resistant, swim-resistant, and sweat-resistant and can also be used on your cheeks.  Comes in 3 shades: Bellini Love, Dolceacqua, Fresh Water Rose.  Cost: $22.50. 
More good stuff from Vincent Longo make up line, Perfect Shine Lip Gloss.  This one lip gloss you must own.   The lip gloss has an incredible high shine without the thick, sticky, tacky or greasy sensation of traditional lip gloss formulas. Vincent Longo Lip Gloss has an ultra silky, high-shine, cushiony soft texture that perfectly balances color payoff and glossy moistness.  The lip gloss is extra long lasting, it slips over lips, evenly and smoothly depositing color and sparkle.  Our favorite shades are:  Cherros, a pale natural strawberry red, or Fioresh, a beautiful coral.  Cost:  $22.
If you ever considered the new and very popular treatment Permanent Eye Lash Extensions loved by many of your celebrities you might also want to try La Dolce Vita Lashes by Vincent Longo.  Vincent Longo lash tips are the professional makeup artist's secret for creating ultra sexy, glamorous eyes.  The lash tips are specially designed so they are only one-third the size of traditional false lashes for extra natural look.   The lash tips are also very easy to apply.  All you need is a Vincent Longo exclusive, non-latex glue which is bright blue when wet to guide lash placement) then dries to a clear finish.  La Dolce Vita Lashes by Vincent Longo kit come with how-to instructions.  Vincent Longo Lash Tips may be worn alone or followed by a coat of mascara for the fullest, most dramatic lashes possible.  Cost:  $14.
Wet Diamond Eyeshadow is Vincent Longo new addition.  This very sparkling eye shadow is made with high-tech light reflective pearls.  Wet Diamond Eyeshadow can be applied wet or dry.  When the eyeshadow powder is applied dry on eyelids it spreads smoothly into a beautiful sheer and a sparkling effect.  When the eyeshadow is applied wet, it turns into a long lasting shimmering cream, and the shadow does look like Wet Diamonds on your eyelids.  Every girl's dream!You can purchase the Wet Diamond Eyeshadow and the entire Vincent Longo line  on Sephora.com
Cost:  $24