All Posts Tagged With: "Vivenne Westwood"
London Fashion Week Fall Winter 2010. Show: Vivenne Westwood Red Label. Makeup by MAC Cosmetics.
The look and inspiration: "Vivienne's brief was for slightly boyish makeup that embraced the idea of shadows from light , so I looked to the photography of Penn and Avedon and how they would shape and shade a face with light ." – Gordon Espinet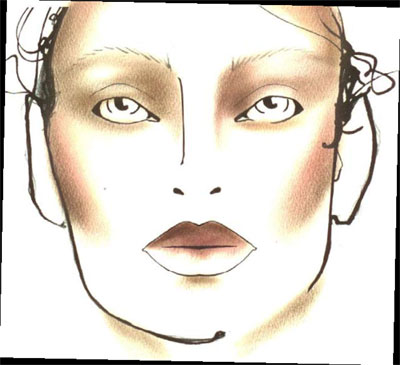 Vivenne Westwood Red Label Fall 2010 MAC Cosmetics makeup face chart
The makeup breakdown. All products by MAC Cosmetics.
Eyes:
POWDER BLUSH IN TAUPE, EYE SHADOW IN QUARRY, EYE SHADOW IN COPPERPLATE – All washed (layered from Taupe to Copperplate) from the lash line to the brow with a soft 224 brush, and taken beneath the eye and down the sides of the nose with a 219 brush.
NO MASCARA