All Posts Tagged With: "Ward Stegerhoek"
This Sundance, celebrities sought a look that was natural but still glamorous. Renowned celebrity stylist Ward Stegerhoek with Living Proof NO FRIZZ designed this mountain chic look for celebrities like Eliza Dushku and Denise Richards. The tousled natural curl is soft and easy yet still alluring.
How to get Eliza Dusku hairstyle at sundance 2009:
STEP 1: Apply 10-15 sprays of the Living Proof No Frizz Wave Shaping Spray and 10-15 sprays of the Living Proof No Frizz Straight Making Spray; the amount of product used depends on the length of the hair. Brush Living Proof No Frizz through the hair evenly and make sure your hair is fully saturated with product. The Wave Shaping Spray will hold the curl, and the Straight Making Spray will maintain the blow-dry.
Renowned Celeb Stylist Ward Stegerhoek creates Naturally Chic Hairstyles for: Ashley Judd, Karolina Kurkova, and Denise Richards.
The look for Sundance this year was natural yet whimsical. All the celebrities were looking for a casual look that still had style. Renowned hair stylist Ward Stegerhoek for Living Proof NO FRIZZ heat up Sundance with looks for Ashley Judd, Karolina Kurkova, and Denise Richards.
Ashley Judd: Attended the Premier of her new movie "Helen".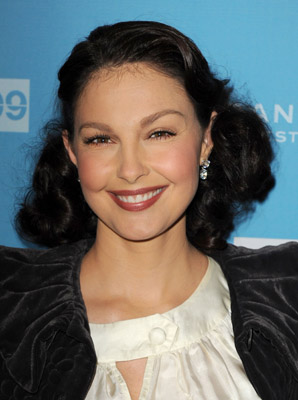 Ashley Judd's hairstyle: A soft fifties style wave.
How to get Ashley Judd's hairstyle: Ward suggests using about 15-20 sprays of Living Proof NO FRIZZ CREAM starting at the roots and working towards the ends.
Ward combed NO FRIZZ through fingers to make sure it's evenly distributed. He then blew the hair straight and added rollers to create Ashley's natural 50's wave.
For Ashley's extra volume Ward elevated her hair applied the heat directly to the roots. He then used a large curling iron to enhance some of the curls.
Karolina Kurkova: Attended the Screening of "The September Issue".
Karolina Kurkova's hairstyle: Karolina wanted a look that was soft and straight with a bit of body.
How to get Karolina Kurkova's hairstyle:  Ward used No Frizz Straight Making Styling Spray. After applying the product completely, Ward started at the roots, gently combed the brush through your hair one section at a time, aiming the blow-dryer down the hair shafts.