All Posts Tagged With: "Without Makeup"
This is revolutionary and I'm quite impressed with Jessica Simpson's move to pose without makeup and all natural on the cover of Marie Claire Magazine May 2010 edition. With the success of reality TV and our growing interest in watching real people why not show realism on Magazine covers too. Looks like posing nude for Playboy is not the only way to grab my attention. Star of VH1 's "The Price of Beauty" sets a good example for young women and all women to love and embrace the way they look. This is a good line: "I don't have anything to prove anymore. What other people think of me is not my business."-Jessica Simpson. I should always remember that!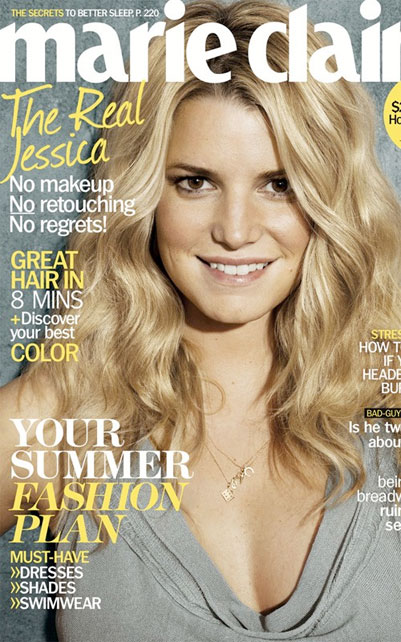 Reese Witherspoon, another celebrity spotted without makeup.
And this is Reese Witherspoon in her classic timeless red carpet look:
Mary Kate Olsen was spotted without makeup and very uncomfortable. I could imagine myself hiding as well! And you?
And here is Mary Kate Olsen with makeup and ready for a close up. She still looking shy somehow.
Jennifer Love Hewitt was spotted walking in pajamas and without makeup!
This is Jennifer Love Hewitt with makeup all dressed up on the red carpet.
Jennifer Love Hewitt is aloud to be casual and skip makeup, but which look do you like?