All Posts Tagged With: "Yves Saint Laurent"
Lancôme abassador Kate Winslet looked resplendent at the Academy Awards yesterday, clad in an Yves Saint Laurent gown and bold jewelry from Tiffany & Co. Kate's long-time makeup artist, Jillian Dempsey, topped off the look with soft, ethereal makeup. Both the eyes and the lips got equal attention on this Oscar winner. Shimmering, champagne-pewter shades highlighted the eyes, while very saturated mascara delivered that extra definition. A pop of pink blush on her cheeks gave Kate just a hint of a natural flush. Jillian topped off the look with nude-pink lips.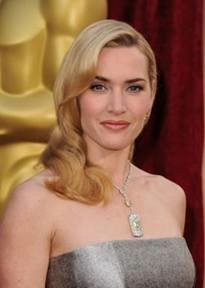 How to get Kate Winslet's Oscars 2010 makeup look:
EYES
Jillian Dempsey for Avon Professional Kohl Eyeliner in Black
Lancôme Hypnôse Drama Mascara in Excessive Black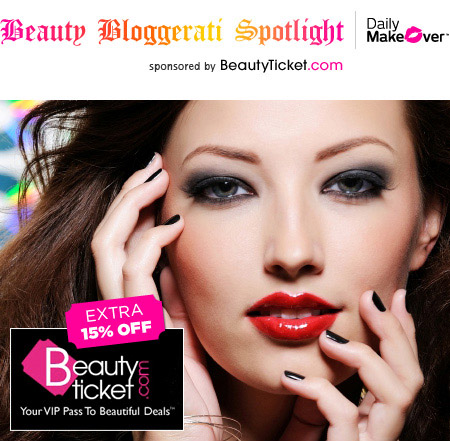 Want to know how to get department store beauty brands at drugstore prices?
Go to BeautyTicket.com! This online beauty boutique features your favorite hair, makeup and skin care brands like Stila, Smashbox, and Yves Saint Laurent at a fraction of their retail cost. How do they do it? With new cosmetics, skincare, bath & body, etc. coming out almost every single day, there is always a surplus of products. BeautyTicket.com purchases this surplus from premium beauty manufacturers and high-end retailers at a discount and passes the savings along to you. Try it out ASAP: The site boasts an incredible selection of party-ready palettes and gift sets for holiday.
Bonus Offer! From now through December 15, BeautyTicket.com will give you 15% off of your entire order! Use code DAILYMAKEOVER at checkout.
Last year I had an amazing opportunity to interview "CSI:Miami" star Eva La Rue about her beauty secrets. Eva was such pleasure to chat with. She was the sweetest!
I would like to share with my interview with Eva La Rue, just in case you've missed it.
Eva La Rue is the beautiful actress best known for her role of Natalia Boa Vista on CSI: Miami. Beginning season 5, Eva became a full-time cast member. Previous to CSI: Miami, Eva La Rue portrayed Dr. Maria Santos Grey on All My Children. In this interview, Eva La Rue reveals some of her beauty secrets, her romantic engagement in Africa, what some people may not know about her, and her movie with Samuel L. Jackson called: Lakeview Terrace.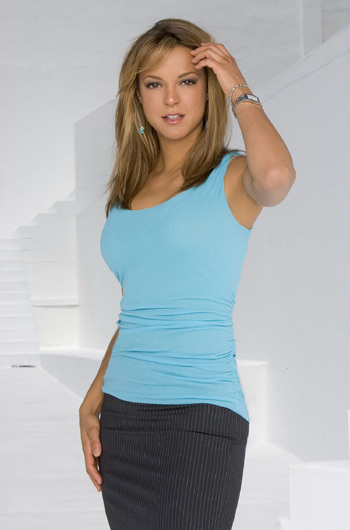 I keep my hair beautiful thanks to…
I have really oily hair, I have girlfriends who can go three days without washing their hair. My hair gets oily overnight. I do use a dry shampoo that extends my wash by one day, but no more than that. I use a Fortifying Deep Conditioning Sleek & Shine by Fructis by Garnier. It also works really well when you want to dry your hair straight.
My favorite skincare products are…
I use Astara Bio Genic Skincare. Of all the creams I have used, it's the only brand I re-buy. Astara is by far the most active. It supposed to be all natural too. Sometimes I see their masks at Sephora but I don't think they carry the whole line, so I always order Astara Skincare products online.
I get my eyelashes looking long, full, and sexy using…
Revita-Lash. It's pricey, $140, but it really works. It gives you spider leg long lashes. I was skeptical first. But for some reason, I put on false eye lashes, I pulled them and it pulled a whole chunk of my lashes, so I was desperate. You have to give it 3 weeks to work, and then you notice you have Daddy Long Leg size eye lashes.
In Marta's Makeup Bag: I've been using the classic lately: Yves Saint Laurent Touch Éclat ($40), or in translation: Radiant Touch. I've been reading about YSL Touch Éclat for many years now and I even remember buying it almost 10 years ago! Can you believe that? At the time, I made a bit of an error by getting the wrong shade. It was a very pale almost white shade that didn't do anything to my light olive complexion. So I was disappointed with the results back then. But it's OK sometimes to give anyone or anything a second chance. This time I got the Yves Saint Laurent Touch Éclat in shade 3, Marta's shade! And it works amazing on me now! Yoohoo. Finally. Touch Éclat is perfect to cover under eye dark circles and brighten the eye area. Now, I'm in love:)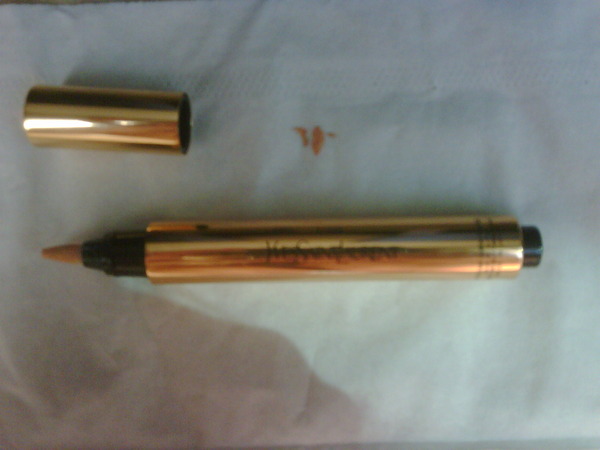 Yves Saint Laurent Touch Eclat: Image taken by Marta Walsh for www.twitter.com/TalkingMakeup
The description in www.yslbeautyus.com website:
TOUCHE ÉCLAT Radiant Touch: Light, luminosity, radiance. The award winning, must-have, take anywhere instant highlighter that banishes shadows, erases signs of fatigue and leaves your skin looking radiant. Touche Éclat is 8 hours of sleep in a pen – the one item no woman can be without.
New York Fashion Week Spring 2010: GOTTEX SS 2010 sneak peek
Molly Grad debuts her vision as the head of design for swimwear brand Gottex September 14th at 7PM in the Tent in Bryant Park during New York Fashion Week.
Grad comes to Gottex with an impressive resume, graduating from London's Central Saint Martins College of Art and Design where she received her undergraduate and graduate degrees. Her career began working with Stella McCartney and continued by honing her skills designing for Stefano Pilati at Yves Saint Laurent. Prior to Gottex she most recently held the title of senior designer at Gianfranco Ferre. " Gottex has an amazing heritage. I am going to take the DNA of the brand and give it a fresh direction with out foresaking its incredible past " said Grad.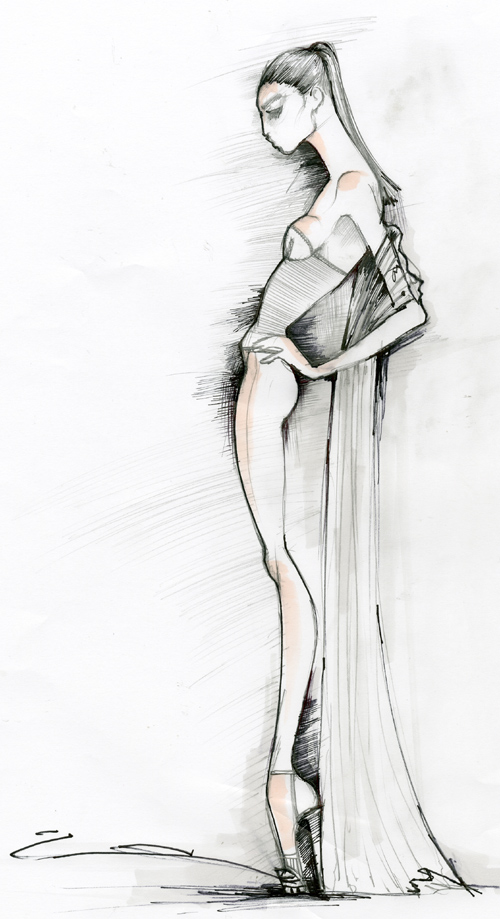 This season, The Yves Saint Laurent woman basks in the mesmerizing beauty and exoticism of Africa. With warm and radiant contrasting colours, she is bold and beautiful, and supremely glamorous.
YSL Summer Look 2009 is composed of 5 products, including 3 limited editions:
– Eye palette "Trésor d'Afrique" collector , offers 5 shades: ivory, to be used as a base; turquoise, plum, and navy blue for definition, and toffee to brighten the arch area and bring warmth and contrast to the eyes.
– Everlong Waterproof Lengthening Mascara in 'Ever Peacock Blue' (limited edition): A double innovation for a double lengthening effect, due to the association of a new generation brush with an exclusive complex – the LASH GROWTH BOOSTER – which favors lash growth.
Supermodel Selita Ebanks, attended the Premiere of Matt Tyrnauer's Valentino: The Last Emperor at the Museum of Modern Art New York City on Tuesday, March 17, 2009.
Selita Ebanks is wearing: Dress: Balmain. Shoes: Givenchy. Handbag: Kotur.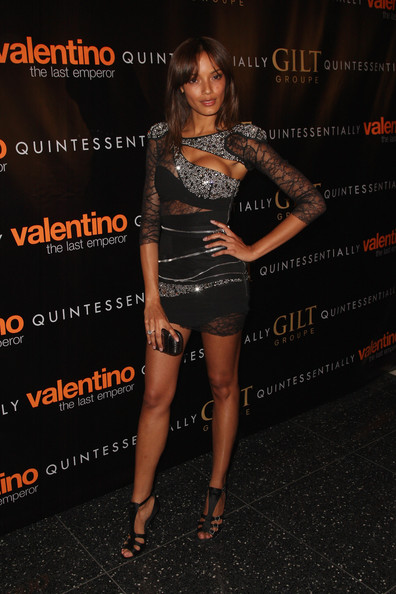 Supermodel Jeisa Chiminazzo also Attends the Premiere of Valentino: The Last Emperor in NYC.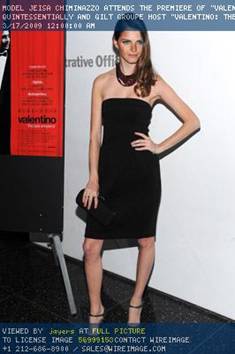 Jeisa Chiminazzo is wearing: Dress: Yves Saint Laurent. Purse: Bottega Veneta. Shoes: Miu Miu.
Discover the new Yves Saint Laurent Holiday 2008 Makeup Look!
" A tribute to the bow, an emblematic theme in Mr. Saint Laurent's creations, that reveals chic and festive make up. The voluptuous bow of an evening dress, the frivolous ribbon of a revealing gown, the YSL woman expresses her desire with sensuality. Through her hairstyle and make up, she combines strong colours and unexpected contrasts with boldness and elegance"
THE BOW COLLECTION, festive and colorful, unveils four Limited Edition, "must-have" accessories – PALETTE DUO POUR LES LÈVRES, Palette de Maquillage Multi-usage, FARD À PAUPIÈRES 4 COULEURS and Touche d'Or pen-brush – as well as, new Golden Gloss, FARD À LÈVRES ROUGE PUR, and La Laque shades.
"One should always be tempted to untie a woman's clothes" – Yves Saint Laurent.
This October, YSL Beauty is proud to support the search for the cure for breast cancer: 30% of the purchase of Golden Gloss N° 27 will be contributed to the National Breast Cancer Coalition Fund.
The NBCCF works to end breast cancer by increasing federal funding for research, making sure all low income and uninsured women have access to care, and educating and empowering advocates to play an active role everywhere breast cancer decisions are made.
Visit the official website: www.stopbreastcancer.org
With Golden Gloss, dress your lips in a pink veil of shimmering gold. The gloss forms a mirror-effect on the lips which sparkles with mother-of-pearl. A complex of nourishing oils protects the lips while providing total comfort. The magic and shimmer of gold* captured on the lips!
* contains 0,2% of 24 carats gold (And Yes, it's safe and approved by the FDA)
Available on YSL exclusive website, $28.
The new YSL Gloss Pur Black lip gloss is described as: "Mysterious, sensual, luminous… A cosmetic jewel that turns lips into a spectacular fashion statement. From plum to ebony, it dresses lips in an infinite range of shades, depending on how it is applied – feather light or rich and bold. Transparent yet intense, it plays on the depths of black and the pure shine of a sparkle-free formula.
For fashion designer Yves Saint Laurent, black is THE color. And as a make-up artist, lips are THE focus."
YSL GLOSS PUR Black unites these two facets of his art in a superb Limited Edition, available online now, for only $28.00, exclusively at Yves Saint Laurent Beaute US Offical Website!