Brazilian Peel by Advanced Home Actives is the first ever professional strength self-neutralizing at-home glycolic peel.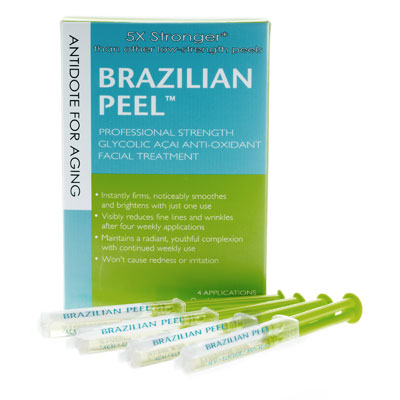 A foolproof alternative to tricky at-home treatments and pricey professional peels. When it comes to glycolic peels, timing is everything—a truly effective glycolic facial treatment requires a perfectly timed neutralizer step to deactivate the potent active ingredient.
Because many women don't know how to navigate this delicate process, they leave the treatment to the experts or risk irritation, redness and sensitivity from peeling incorrectly at home. But with the introduction of Brazilian Peel by Advanced Home Actives, the two-step process is a thing of the past: The unprecedented, time-released new glycolic treatment takes the guesswork out of neutralizing by streamlining the peel into one mistake-proof step. 5X stronger than the average at-home peel the clinically-tested, safe and effective treatment unites professional results and at-home convenience, bringing the doctor home.
In the one-step Brazilian Peel, the active ingredients and neutralizer are combined in pre-measured, equal amounts to act on skin until the time-released neutralizer automatically deactivates the glycolic acid within 10 minutes—no guesswork, no second step, no mistakes. The peel and neutralizer are housed in two separate chambers, preserving the purity and potency of the ingredients until you dispense the two formulas simultaneously from the patented syringe-like packaging. Because the single-step process controls the pH of the glycolic acid during the 10-minute treatment time, there's no tradeoff between potency and safety.
The treatment combines 30% glycolic acid with Açai, a natural antioxidant from the Brazilian rainforest that counteracts the damaging effects of free radicals, to visibly brighten, smooth, firm and tone skin. As the active ingredients uncover a tighter, firmer, more radiant complexion, the formula's patent-pending Q-Mag Mineral Neutralizer controls pH level to gradually deactivate the glycolic acid, maintaining a level of exfoliation that skin can safely tolerate.
Price: $78.00 for four weekly treatments (one month's supply)
Available at: Sephora, Sephora.com