Hello lovlies:) I'm super excited to share with you today my interview with Hollywood actress and star of an American dramatic television series Mad Men Christina Hendricks. Last month Christina Hendricks kicked off the LATTISSE Wishes Challenge. About the same time I was given the chance to interview Miss Hendricks about LATTISSE, her role in Mad Men, beauty, inspirations, and future plans.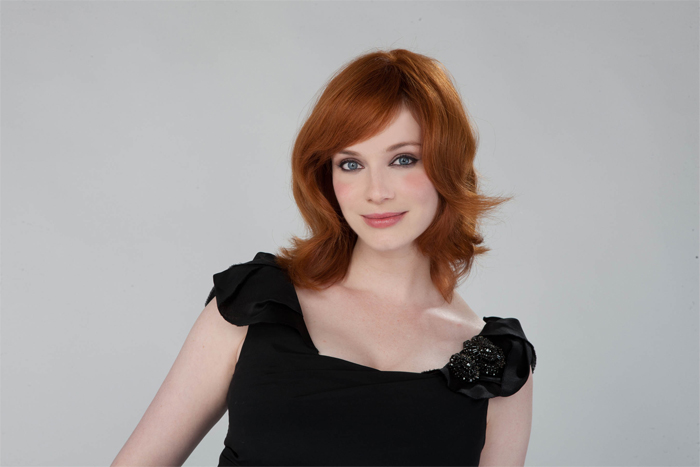 Christina Hendricks Interviews With Marta Walsh
Marta Walsh: Where do you call home?
Christina Hendricks: Home is in Los Angeles, where I live with my husband.
MW: How did you get into acting?
CH: I always wanted to be an actress. I started doing community theater in my home town when I was young, then moved to New York to pursue acting fulltime.
MW: How did your collaboration with LATTISSE come about?
CH: As an actress, I wear a lot of makeup and false lashes, which took a toll on my lashes. So when LATISSE® (bimatoprost ophthalmic solution) 0.03% was approved by the FDA as the first and only prescription treatment for inadequate or not enough lashes (eyelash hypotrichosis) that grows your own lashes longer, fuller and darker, I was very curious and interested to learn more.
My doctor determined LATISSE was right for me. I'm looking forward to seeing my full results after 16 weeks while helping to raise money for the Make-A-Wish Foundation® through the LATISSE® Wishes Challenge, a campaign inspired by the tradition of blowing on an eyelash to make wishes come true. Your readers can learn more at www.latissewisheschallenge.com.
MW: What do you love most about LATTISSE for your lashes?
CH: Of course, that it's making them grow! I've just started to see a little bit of length and am excited to see more. I also like that it provides an option for women who may notice their lashes thinning over time. This is another reason why they may choose to see a doctor about LATISSE®. I might even book my mom an appointment!
MW: What did your role in Mad Men bring to you as actress?
CH: Working on mad men is such a joy. Every single person that works on that show is so talented and it's an honor to go to work every day.
MW: What's your philosophy about beauty?
CH: It's important to have healthy, good-looking skin. I'm very fair so I take special care of my skin by applying sunscreen daily, not only on my face but also on my arms and chest.
MW: Who & what inspires you?
CH: My husband inspires me every day.
MW: Aside from LATTISEE for your lashes what are some of your other best kept beauty secrets or rituals?
CH: In the morning, when I feel I need a little pick-me-up, I sweep on my favorite cream-based blush and it instantly wakes up my face and I feel just the right amount of pretty! For the perfect shade of lips, I use Dolce and Gabbana classic cream lipstick in "cosmopolitan." It's a vibrant coral color – perfect for spring and summer.
MW: What one or two things some people may not know about Christian Hendricks?
CH: I love to sing and dance! I was a dancer for years. I recently got to go back to theatre while performing COMPANY with the NY Phil at Lincoln Center. It was so fun.
MW: What's next for Christina Hendricks?
CH: I go back to work on "Mad Men" soon which I'm super excited about. I also have two movies coming out in September. A comedy called, I Don't Know How She Does It and an action drama called Drive.