All Posts Tagged With: "Mad Men"
Mad Men Hair Department Head Stylist Terrie V. Owen reveals her on-set hair how-to for achieving Christina Hendricks' signature "Joan" style. Terrie's Recipe for Joan Harris Hair:
You will need:
A curling iron or you can set your hair in large sized hot rollers
Mad Men's Hair Department Head Stylist Terrie Owens uses White Sands Liquid Texture Thermal Styling Spray to achieve January Jones' signature on screen style.

Betty Draper from Mad Men
Terrie's 'Betty' How To: "I set January's hair on a small curling iron and finish with White Sands setting spray… hairspray, and lots of teasing," details Owens. "Her hair pretty much falls into the 'Betty' hairstyle."
Hello lovlies:) I'm super excited to share with you today my interview with Hollywood actress and star of an American dramatic television series Mad Men Christina Hendricks. Last month Christina Hendricks kicked off the LATTISSE Wishes Challenge. About the same time I was given the chance to interview Miss Hendricks about LATTISSE, her role in Mad Men, beauty, inspirations, and future plans.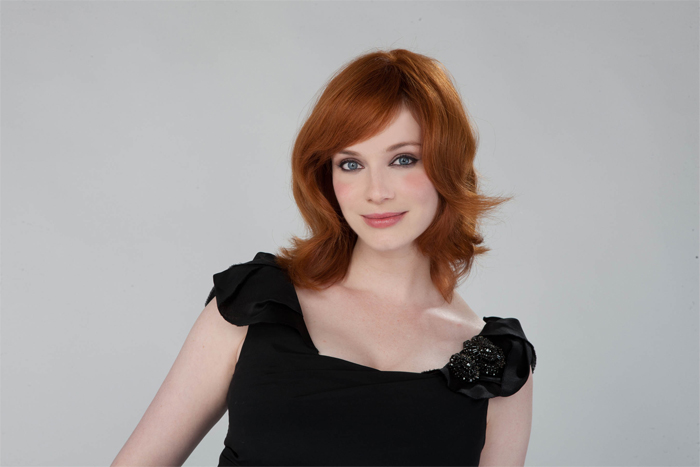 Christina Hendricks Interviews With Marta Walsh
Marta Walsh: Where do you call home?
Christina Hendricks: Home is in Los Angeles, where I live with my husband.
Makeup artist Fabiola used NARS Cosmetics on January Jones for last night's Season 4 Premiere of "Mad Men" in NYC. Pure Matte Lipstick was key in creating the look!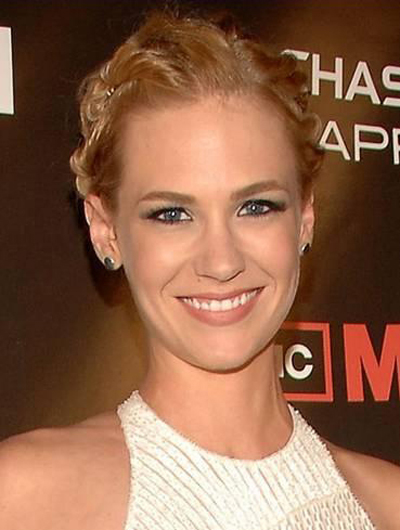 Get January Jones's look with the following NARS products:
· Bangkok Pure Matte Lipstick (for now, try Dolce Vita Velvet Matte Lip Pencil)
Sports Illustrated cover model and actress Brooklyn Decker presents the Best Play Award with Mad Men's Jon Hamm at the 2010 ESPY Awards at Nokia Theater Los Angeles, Wednesday, July 14th, 2010. Brooklyn Decker's dress is by Herve Leger. Shoes by Valentino. Clutch and necklace by Sydney Evans.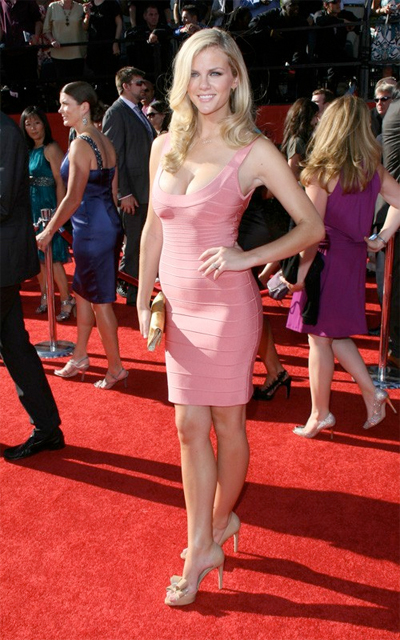 Lana Horochowski, Department Head of Makeup for Mad Men, loves using NARS on the cast-members of Mad Men. "I love, love, LOVE the NARS Velvet Matte Lip Pencils because they are long-lasting and give that perfect matte finish that is so authentic to the time period," says Lana. "In the past, we used mostly cream cheek color because that was used in the period. Since powder blush was invented in 1963, we were finally able to throw it in for this season!"
Below are details on what Lana has used to create the looks for January Jones' Betty Draper and Christina Hendricks' Joan Harris.
Betty Draper, January Jones: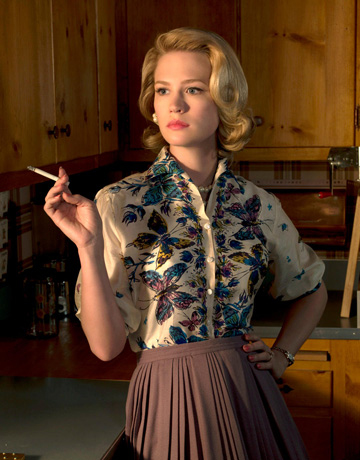 "January's character Betty wears NARS Madrague Duo Eyeshadow in almost every scene when she is at home. "It's a staple," explains Lana, "but when she goes out, we spice it up with color." To add emphasis to her eyes, Lana adds NARS Heart Of Glass Eyeshadow. For her lips, she uses NARS Calliope Velvet Matte Lip Pencil and NARS Belle de Jour Velvet Matte Lip Pencil. "I also love Barbarella Lipstick on January because it's perfect for her every day look." For blush, try NARS Penny Lane Cream Blush, NARS Gueule de Nuit Cream Blush, and NARS Gilda Powder Blush!
Find out what goes behind makeup on the set of Mad Men on AMC: MAC Artist Relations department provides makeup support to several movies, theater and TV shows. Of course, Mad Men is one of them! Talking Makeup is excited to share with you a Q&A with Mad Men's lead makeup artist Lana Horochowski.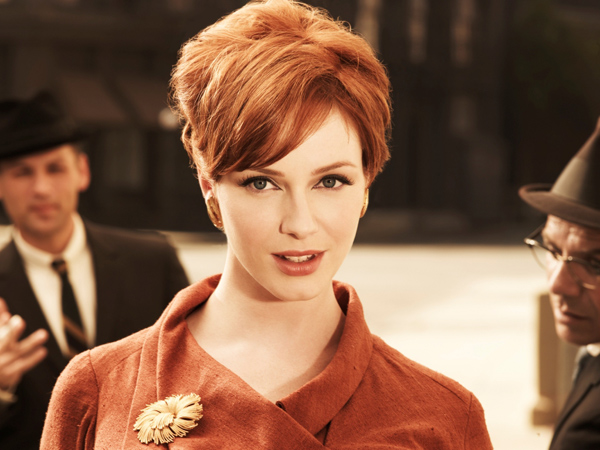 Q: You're the new department head at Mad Men for Season 3, will you be making any changes to any characters makeup?
A: Since we are moving a little forward into the future, we have changed up the color palette for each character to go along with the time period.
Q: When you were preparing for this season, did you do any research for inspiration? If so, what most inspired you?
A: Weeks and weeks of meetings and research. I love looking through the old magazines. They are a great reference and a huge source of inspiration; however, we do try to keep the characters looking like real people that do their own makeup and not like movie stars with a makeup artist standing by. Magazines and old movies are a great guideline for a basic look and color selection.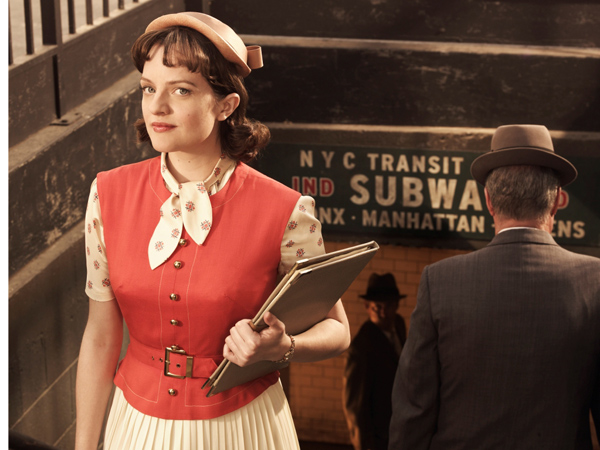 MAC Cosmetics provides artistry and product support to numerous films, television shows, theatrical productions and performances around the world. In addition to supporting such shows as Mad Men, Gossip Girl and Ugly Betty, MAC is also the official makeup of Cirque du Soleil.
One of the latest projects is the film production of Twilight, the highly anticipated, #1 New York Times Bestselling book by Stephenie Meyer brought to life. With over 17 million books in print, these books are a cultural phenomenon.
The movie Twilight, is scheduled to premiere in November 21, 2008.
Below is an interview with Makeup Department Head Jeanne Van Phue with some insight into the makeup direction of the movie.
Q: What was the process for creating the various characters' looks?
A: Katherine Hardwicke, the director, and I have previously worked together on a movie called "Lords of Dogtown," so we know each other very well. I began by preparing sketches of my vision, keeping in mind the descriptions Stephanie Myers (Twilight's Author) set forth in the books.
Bella's (Kristen Stewart's character) description in the novel is very pale and extremely beautiful with large chocolate brown eyes, so she wore colored lenses every day. I also pictured her as a natural beauty, which is exactly what Kristen is. I used a light hand while applying all neutral colors to make her look as though she had no makeup on.
Edward's (Robert Pattinson's character) description in the novel is impossibly handsome almost god-like. His skin is marble-pale, hard as stone and ice cold, but perfect and flawless. Edwards' eyes are described as topaz colored when he is normal and black like onyx, when hungry.