All Posts Tagged With: "Gossip Girl"
Blake Lively's character 'Serena' wore a gold Lorena Sarbu sequin scallop dress on last night's episode, 1/16/2012, of Gossip Girl "The End of the Affair". Blake paired it with a chunky, bold statement necklace and leggings. Do you love?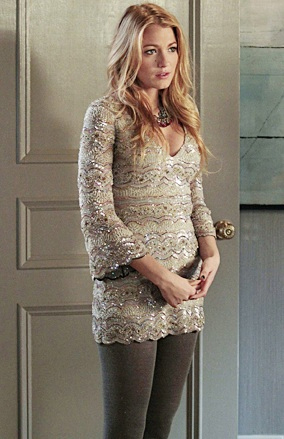 Blake Lively's Gossip Girl Character Serena
Lorena Sarbu Fashion
Vera Wang Lovestruck ad campaign. A modern day love story set in downtown New York City, the Lovestruck ad campaign features Leighton Meester, star of Gossip Girl, in a couture Vera Wang gown. She leans over a fire escape, awaiting the arrival of her Romeo, who races towards her with a bouquet of flowers for their Lovestruck moment.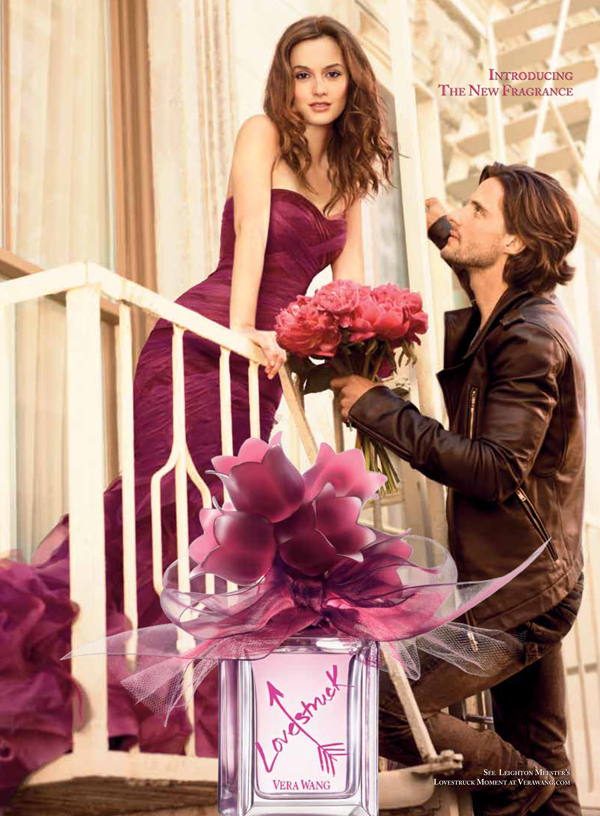 Leighton Meester's New Ad Campaign for Vera Wang Lovestruck perfume
Creative Director: Trey Laird
Gossip Girl Taylor Momsen's amazing transformation. I'm speechless! Talking about the power of hair and makeup (is it just me but her nose looks much smaller). Blond hair and smoky eye can take you a long way. Maybe?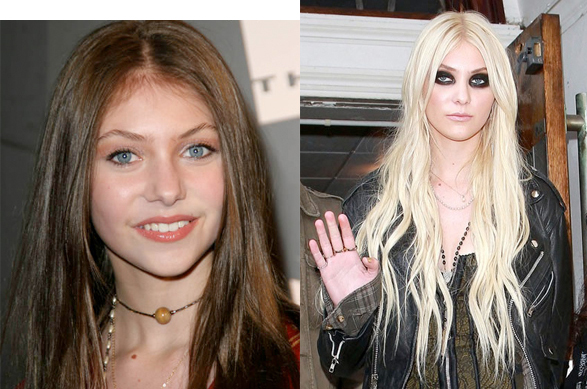 MCM's Amazoness Hobo and Notte Hobo were featured in Gossip Girl.
I'm excited to share with you my interview with Sofia Vintage Co-Owner Ashley Zisook!
Gossip Girl star, Leighton Meester, has recently spotted shopping at Chicago's premier shopping destination, Sofia Vintage at 1165 North Clark Street. Leighton was in town for her performance at The Underground and was dressed head to toe in Sofia Vintage's finest fashions for the red carpet including a sexy long sleeve open back, black lace top with trendy olive colored trousers.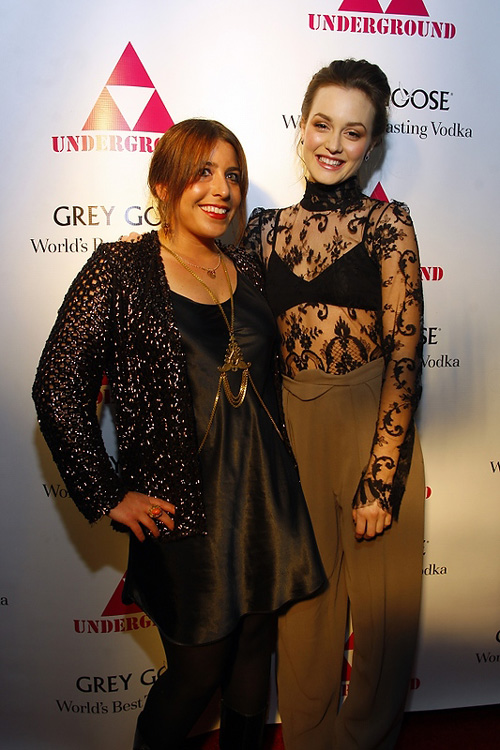 L to R: Sofia Vintage co-owner, Ashley Zisook and Leighton Meester
photo credit Rob Grabowski
Launched in the spring of '09, Sofia Vintage features a variety of men and women's vintage clothing, emerging designers, and accessories, at all price points. Co-owners, Ashley Zisook and Allison Zisook Goldstein, Chicago natives and sisters with two drastically different fashion styles and backgrounds, join forces to bring Chicagoans unique vintage pieces with a goal to revive class, grace and beauty from decades past intertwined with today's trends.
In this interview Ashley Zisook talks to Marta Walsh about her love for fashion and the creation of Sofia Vintage. Her meeting with Leighton Meester. How she makes her partnership with sister Allison work. Personal style and philosophy about life. 
Marta Walsh: When did you first become interested in fashion?
Ashley Zisook: I have always been into fashion… however, I never really thought it would be my career. I was in the music industry in Los Angeles and I felt I needed more creativity in my life so I enrolled in FIDM and started "The Piece" with 2 of my college friends from Boulder. The Piece was a once a month vintage sale for ladies we would do in our backyard–each month it would keep getting bigger! When I was moving back to Chicago I knew I wanted to continue doing something like The Piece, but on a much bigger scale—I wanted to offer Chicago a different type of shopping experience that hadn't ever been done before.
H&M and Nathalie Rykiel hosted an exclusive preview of the Sonia Rykiel pour H&M Knitwear Collection, on Thursday, February 4 at Bobo 181 West 10th Street New York.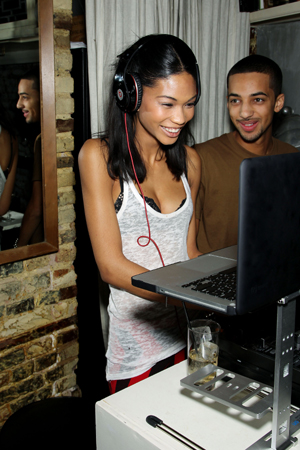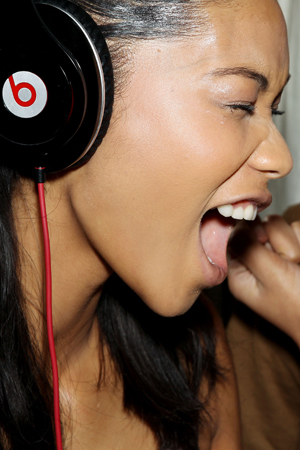 Chanel Iman
Chanel Iman made her DJ debut at the prelude to New York Fashion Week, welcoming industry insiders and celebrities to celebrate the launch. Bold faced names in attendance included Gossip Girl star Leighton Meester, actress Michelle Williams, Gossip Girl actresses Kelly Rutherford and Chanel Farrell, socialite Kelly Killoren Bensimon, writer and model Amanda Hearst, model Dree Hemingway, Ugly Betty star Mark Indelicato, models Hannah Holman and Siri Tollerod, and stylist Philip Bloch.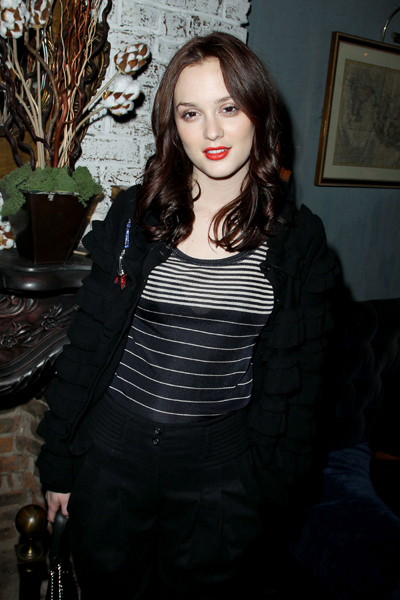 Leighton Meester
The exclusive Sonia Rykiel pour H&M knitwear collection follows the great success of Rykiel's recent lingerie collection for H&M, with the second part of the collaboration focusing on the knitwear pieces that have propelled Sonia Rykiel to legendary status. The Sonia Rykiel pour H&M knitwear collection will bring Rykiel's signature knit pieces to 200 stores worldwide, (20 stores in the U.S.), on February 20th and marks the first H&M designer series to create looks for both women and girls.
SPOTTED at the Victoria's Secret boutique in the SoHo on Thursday, January 14th, 2010: Gossip Girl Star Taylor Momsen celebrating the launch of Love Rocks perfume by Victoria's Secret Beauty.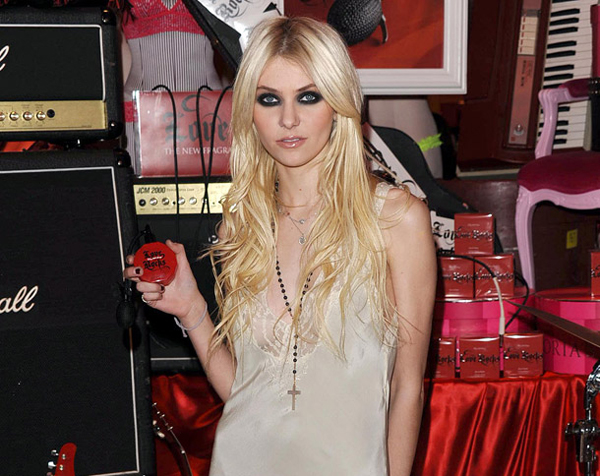 See more Taylor Momsen photos at the Love Rocks perfume by Victoria's Secret launch!
Meet Gossip Girl star Taylor Momsen and celebrate the launch of the new fragrance Sexy Little Things Love Rock by Victoria's Secret Beauty.
WHEN: Thursday January 14, 2010. 6:30-7:30 PM.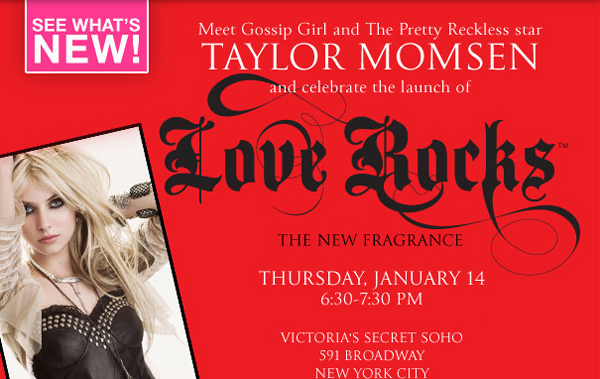 Sexy Little Things Love Rocks  The New Fragrance by Victoria's Secret Beauty: Equal parts hopeless romantic and untamed rebel, Love Rocks is the latest addition to our glamorous Sexy Little Things fragrance collection. Inspired by the edgy allure of rock 'n' roll, Love Rocks is a study in contrasts: Rock star leather paired with pop star lace. Soft in studded stilettos. Powerful and daring, yet intoxicatingly feminine, the scent itself is a rebellious riff on vivid Plum, hypnotic Violet and sensual Vanilla.
My favorite girl Blake Lively and Gossip Girl star is featured on the cover of Esquire Magazine February 2010. I love the darker wet hair, it creates a great contrast with her blue eyes and fair skin. Think: Megan Fox.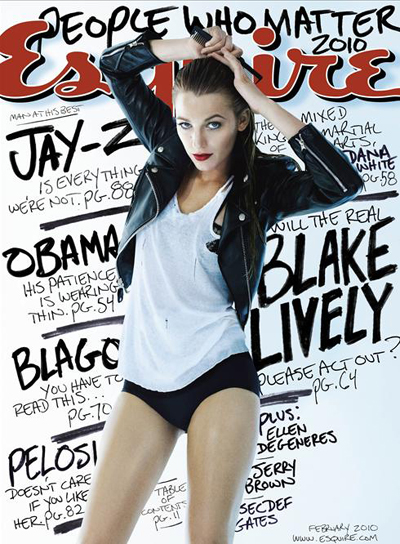 See more Blake Lively in Esquire Magazine February 2010!
With a private tour led by TV series hairstylist Betsy Reyes, IT&LY HAIRFASHION, NA. President/CEO Richard Zucckero visited the set of the smash CW phenomenon Gossip Girl in New York City.
As a professional manufacturer of superior Italian made hair color and color care products, IT&LY HAIRFASHION is an on-set favorite with celebrity hairdresser Betsy Reyes, who is responsible for creating some of the world famous Upper East Side styles of the cast. IT&LY HAIRFASHION spent a day on set in the hair and makeup room, while walking through the elaborate sets created for this New York City elite cast of Gossip Girl.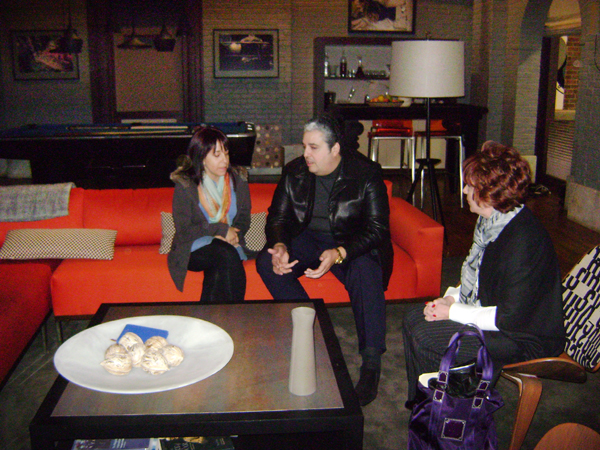 L-R, Gossip Girl Stylist Betsy Reyes talking to IT&LY CEO Richard Zucckero and Publicist Janice McCafferty on the set of character Chuck Bass' Penthouse Apartment.