All Posts Tagged With: "lingerie"
Whitney Port's Style. Spotted: Whitney Port out in her lingerie bottoms. Don't get me wrong, Marta Walsh approves. A great example of freedom and individuality! Well done Miss Port.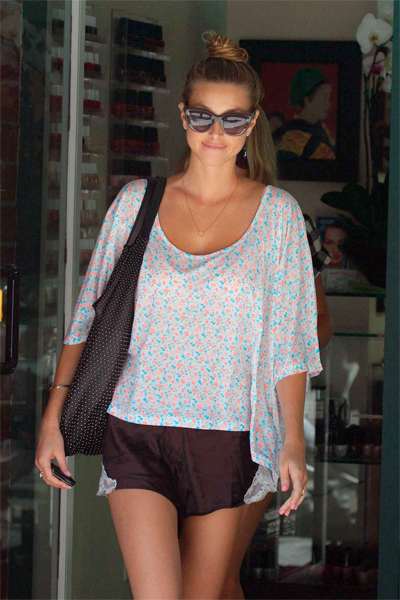 H&M and Nathalie Rykiel hosted an exclusive preview of the Sonia Rykiel pour H&M Knitwear Collection, on Thursday, February 4 at Bobo 181 West 10th Street New York.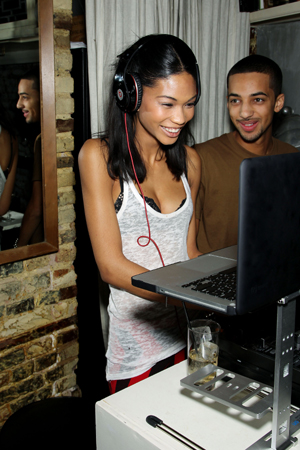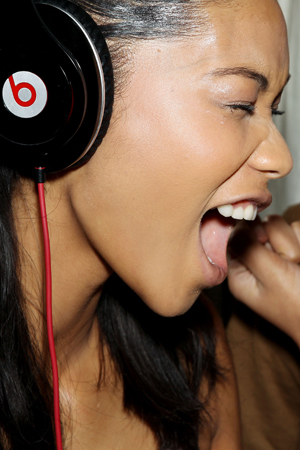 Chanel Iman
Chanel Iman made her DJ debut at the prelude to New York Fashion Week, welcoming industry insiders and celebrities to celebrate the launch. Bold faced names in attendance included Gossip Girl star Leighton Meester, actress Michelle Williams, Gossip Girl actresses Kelly Rutherford and Chanel Farrell, socialite Kelly Killoren Bensimon, writer and model Amanda Hearst, model Dree Hemingway, Ugly Betty star Mark Indelicato, models Hannah Holman and Siri Tollerod, and stylist Philip Bloch.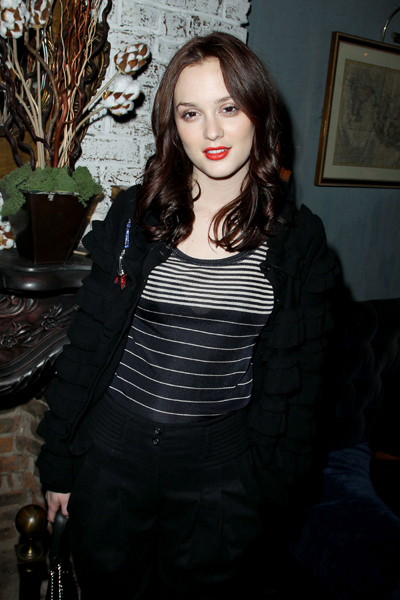 Leighton Meester
The exclusive Sonia Rykiel pour H&M knitwear collection follows the great success of Rykiel's recent lingerie collection for H&M, with the second part of the collaboration focusing on the knitwear pieces that have propelled Sonia Rykiel to legendary status. The Sonia Rykiel pour H&M knitwear collection will bring Rykiel's signature knit pieces to 200 stores worldwide, (20 stores in the U.S.), on February 20th and marks the first H&M designer series to create looks for both women and girls.
Here are Victoria's Secret Model Search Top Ten Finalists:
Kylie Bisutti, 19, Simi Valley, CA
Jamie Lee Darley, 23, Carmel, CA
Raven Ervin, 24, Birmingham, AL
Katelyn Fortes, 18, Boston, MA
Alicia Hall, 24, Las Vegas, NV
Krystina Holbrook, 20, El Dorado Hills, CA
Tika Ivezaj, 25, Detroit, MI
Catharina Lee, 20, Washington D.C.
Courtney O'Conner, 20, Raleigh, NC
Allison Turner, 23, Cape Girardeau, MO
For the first time ever, Victoria's Secret has opened its legendary runway to the public by holding open casting events in New York City, Miami, Los Angeles and Chicago where the country's most beautiful women competed for a chance to be the next Victoria's Secret's Runway Angel.
Victoria's Secret supermodels Marisa Miller, Alessandra Ambrosio, Emanuela de Paula and Lindsay Ellingson were in New York to introduce the new and improved Body by Victoria Collection.
Victoria's Secret celebrates women's bodies and wants women to feel confident in their bodies every day. That is why Victoria's Secret will also be kicking off the "Love Your Body by Victoria" contest. You are invited to log on to www.BodyByVictoria.com  where women from across the country can share with VS why they love their bodies for a chance to win a relaxing Victoria's Secret Body Pampering weekend.
Earlier today, Victoria's Secret supermodels Marisa Miller, Alessandra Ambrosio, Emanuela de Paula and Lindsay Ellingson were in the Big Apple to announce from the top of the Empire State Building that the sexiest show on earth will be back in New York City. The world-famous Victoria's Secret Angels will star in this holiday infused lingerie runway show, which will also include musical performances, red carpet interviews, model profiles and a behind-the-scenes look at the making of the world's most celebrated fashion show. The Victoria's Secret Fashion Show will return to the CBS Television Network for Fall 2009.