All Posts Tagged With: "Kelly Killoren Bensimon"
H&M and Nathalie Rykiel hosted an exclusive preview of the Sonia Rykiel pour H&M Knitwear Collection, on Thursday, February 4 at Bobo 181 West 10th Street New York.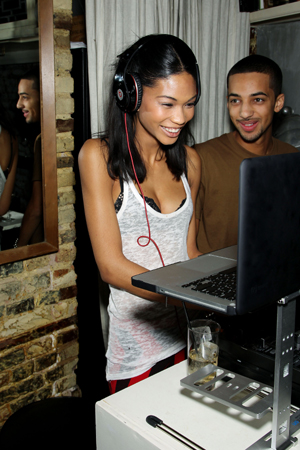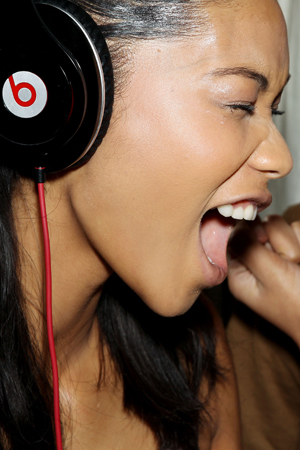 Chanel Iman
Chanel Iman made her DJ debut at the prelude to New York Fashion Week, welcoming industry insiders and celebrities to celebrate the launch. Bold faced names in attendance included Gossip Girl star Leighton Meester, actress Michelle Williams, Gossip Girl actresses Kelly Rutherford and Chanel Farrell, socialite Kelly Killoren Bensimon, writer and model Amanda Hearst, model Dree Hemingway, Ugly Betty star Mark Indelicato, models Hannah Holman and Siri Tollerod, and stylist Philip Bloch.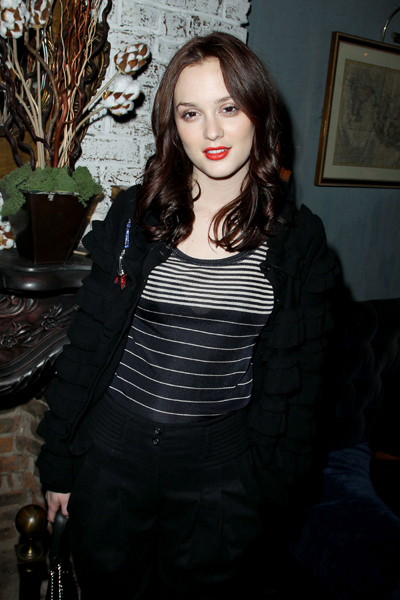 Leighton Meester
The exclusive Sonia Rykiel pour H&M knitwear collection follows the great success of Rykiel's recent lingerie collection for H&M, with the second part of the collaboration focusing on the knitwear pieces that have propelled Sonia Rykiel to legendary status. The Sonia Rykiel pour H&M knitwear collection will bring Rykiel's signature knit pieces to 200 stores worldwide, (20 stores in the U.S.), on February 20th and marks the first H&M designer series to create looks for both women and girls.
Alex McCord, Kelly Killoren Bensimon, Jill Zarin and Ramona Singer got powdered, color-perfected and runway-ready with the DEX New York makeup team and their mineral (anti-aging!) makeup collection in preparation for their big moment down the catwalk at the Brooklyn Fashion Week(end) in New York City!
All four Housewives loved the DEX New York Spring 2010 look created specifically for their show – a smokey, black-silver shimmery eye topped off with a pearly sheen, off-set by pale Guava-colored light pink lips.

From left: Kelly Killoren Bensimon and Alex McCord
Kelly who loves natural beauty products and makeup was ecstatic about the photogenic and super-vibrant mineral makeup colors and requested that DEX's makeup team create her top secret look for Halloween that she was coordinating with her daughter.
Ramona, who was so struck by how youthful she looked after the DEX makeover requested the photographer take a photo of her, so that she can use it as her Facebook profile image!
And Jill demanded that DEX create a special Beauty Portfolio for her so she can use the healthy-for-skin and anti-aging makeup everyday and plans on stopping by the DEX New York Studio (www.dexnewyork.com ) for her beauty day with the makeup and hair artistry team at 224 West 30th Street – at the heart of Chelsea in NYC!
If you love watching The Real Housewives of New York City on Bravo like myself, and Ramona Singer is your favorite housewife you might want to learn about her skincare line: Tru Renewal by Ramona.
Ramona Singer is a strong and an independent business woman who has a bit of a hutzpa and doesn't afraid to speak her mind. Since Ramona Singer, and needless to say her husband Mario, are so good looking I'm very curious to find out if it is all to do with great genes, or is it Tru Renwal.
"Now that the product is done (Tru Renewal), I cannot begin to tell you how thrilled I am with the outcome; I finally found a product that works!!! After using the product for 6 weeks all of my friends and doctors have noticed a difference in my skin. My skin looks and feels healthier; it is more vibrant and glowing."-Ramona Singer.

Ramona Singer star of The Real Housewives
of New York City on BRAVO and founder of
Tru Renewal skincare.
Talking Makeup is excited to introduce to you Tru Renwal by Ramona and its main products:
Tru Renewal Ultra Repair Cream with Algae Enzymes: An enriched, anti-inflammatory, rejuvenating, age-defying cream for all skin types that repairs and protects. Silica-rich bamboo thickens the dermal matrix and provides a protective shield. Solar photospheres from algae repair damage to skins DNA and stimulate collagen synthesis for firmer, youthful-looking skin. Bio-fermented laminaria algae, shea butter, squalene, and hyaluronic acid moisturize and revitalize your skin. SRP: $69.