All Posts Tagged With: "Exfoliate"
My morning started with this face cleanser: REN Micro Polish Cleanser and it's simply lovely. It exfoliates skin with amber microbeads, they feel gentle. It lathers nicely but not too much to a point where it's hard to rinse off. And it has a citrus refreshing scent. Other Bio Active ingredients include: Papaya Enzyme, Glycolic and Lactic Acid, Arctic Seabuckthorn Oil.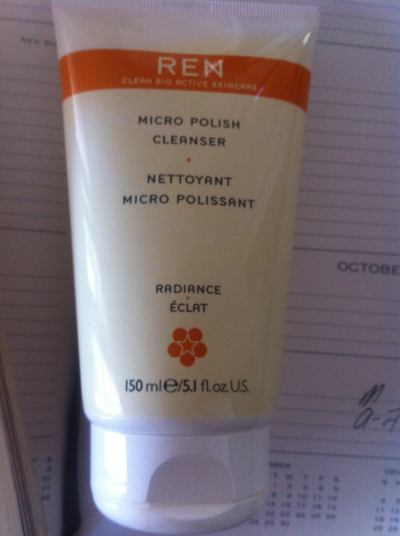 REN Micro Polish Cleanser
Also in the NEW REN Radiance Range and I really like using…
My recent skincare discovery: Kate Somerville ExfoliKate Intensive Exfoliating Treatment. I love to exfoliate my skin and always on the look out for the best ones. This one by Kate Somerville is colored green and smells good. I can use in the shower which is a plus. My skin is not that very sensitive but this one did have a slight burning feel but after using it few times it's not as bad. The feeling is like when you apply an intensive mask it feels strong at first but then it goes away. I like the after feel, my skin is super smooth. So maybe it's worth it.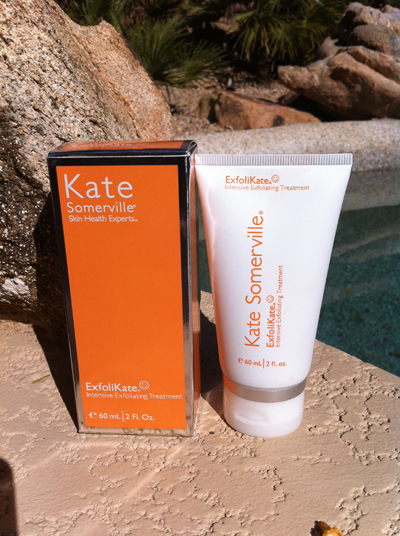 Best Body Wash: Tried and loved NIVEA Touch of Sparkle Cream Oil body wash, $6.49. The calla scent is amazing and the diamond powder leaves skin soft and shimmering (and you know how much Marta loves shimmer!). I also love NIVEA Touch of Radiance  Cream Oil  body wash for days I like to exfoliate my body. This one has a light lime blossom scent which is super fresh. Men also love it this body wash!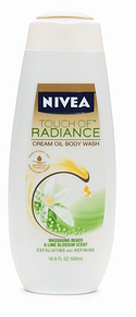 Visit www.nivea.com  for addtional details.
I like to get in the Halloween and fall mood with my beauty products as well. I blogged earlier about my favorite food and holiday inspired body wash by Philosophy I Love Candy Corn and I also love the June Jacobs Perfect Pumpkin Peeling Enzyme Masque. Can you get more Halloween inspired beauty products with a name like Pumpkin:) This my version of a Halloween masque (pun intended).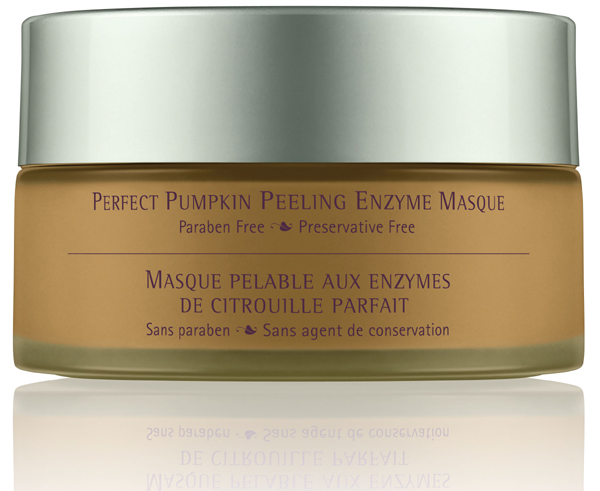 June Jacobs Perfect Pumpkin Peeling Enzyme Masque the official description:  This detoxifying spicy enzyme masque is designed to target and digest dead surface cells while stimulating cellular turnover. Combining the exfoliating benefits of Vitamin A and the repairing benefits of Pumpkin enzymes this wonderful masque acts as a home "peel" treatment. Exposing soft, supple, naturally hydrated skin.
I'm always on the look out for great makeup removers. I like the process of removing my makeup before bed easy, clean , and very simple. This is why I love La Roche-Posay Rosaliac Gelee Micellar Make-up Removal Gel, $24.50. It literally feels like water on your face, maybe because one of its ingredients is actually La Roche-Posay's Thermal Spring Water? Skin feels fresh as soon as you apply this makeup remover on your face. It's fragrance-free, not oily, and very simple to remove or wipe off. Which means, there isn't a residue left after you apply. Do you know the feeling? Major plus!!  It felt gentle and didn't irritate my skin. OK to remove eye makeup as well. And, it's available at CVS *.

La Roche-Posay Rosaliac Gelee Micellar Make-up Removal Gel the company description: The first step in a dermatological regimen for redness-prone and reactive skin.
Glow for It. Here is how to Maintain a Clear Complexion for Fall: Expert skin care and makeup advice for bright skin year-round.
Healthy-looking skin never goes out of style; though darker makeup and matte complexions appeared on the fall 2009 runways clean, glowing faces made their mark too. With autumn in full swing, however, it's no wonder that maintaining a bright, luminous look may be proving difficult. But don't let the change in seasons get you down—there are ways to battle the cold and wind and keep your smooth skin intact.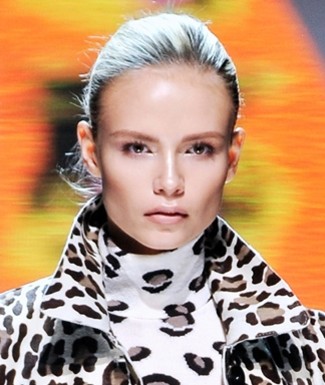 Photo: Imaxtree
Fight Back Against Flakes: Wearing a liquid foundation is a great way to achieve a dewy glow—but if you apply it over dry, flaky skin the results can be less than satisfactory. For a quick fix, Nicholas Perricone, MD, FACN recommends using a toner formulated with alpha lipoic acid and DMAE, "two excellent antioxidants that act as natural anti-inflammatories.
I love a good deep face cleanser and a face scrub in the mornings. Not sure if it's the right thing to exfoliate everyday, I'm just an amateur you know, but I can't stop. My favorite to use in the shower these days is: DDF Advanced Micro-Exfoliation Cleanser, $46. This DDF exfoliating cleanser is not greasy and leaves my skin refreshed and smooth. Perfect!
Available at www.sephora.com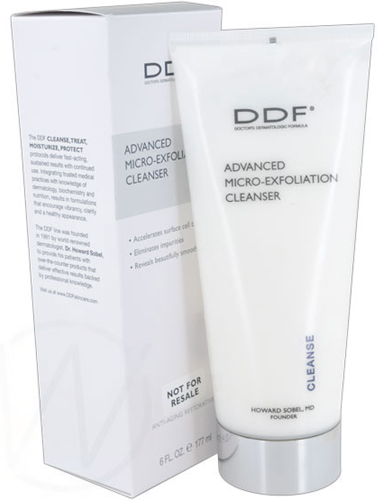 DDF Advanced Micro-Exfoliation Cleanser the description on sephora.com: A facial wash that stimulates cell turnover to impart a youthful glow. DDF Advanced Micro-Exfoliation Cleanser contains a breakthrough Turmeric Complex with exfoliating rice bran that is designed to accelerate surface-cell turnover and eliminate impurities. The complexion takes on a fresh, healthy, radiant quality as this rejuvenating must-have works its wonders.
"General Hospital" actress Rebecca Herbst who plays Elizabeth Webber and long-time PURPOSE skincare user will be greeting fans and signing autographs. This is as part of Soap Opera Digest "Shop Like a Soap Star" national campaign. Fans in attendance will get the inside scoop on their favorite stars must-have products, as well as receive free samples of them, including Rebecca's favorite products from the PURPOSE Brand.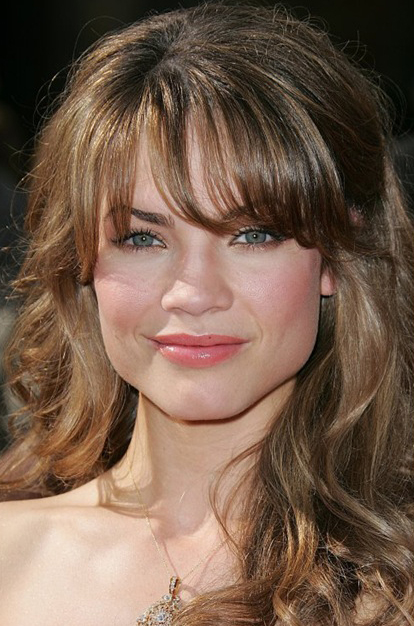 Soap Opera Digest, America's premier entertainment magazine celebrating 34 years as the best selling soap magazine, takes to the road again this year with more opportunities for fans to meet their favorite stars in person at select Walmart stores nationwide through the "Shop Like a Soap Star" campaign. Rebecca, who has appeared on "General Hospital" since 1997, has been using the PURPOSE Gentle Cleansing Wash and Moisturizer consistently since her dermatologist recommended them the products when she was fifteen.
Orlane Lightbox is one of Marta's favorite beauty treats in the world. It's good to know that other beautiful people are also loving it. Talking Makeup has just found out the Orlane Lightbox was used on Adele for VH1's Divas. Here you go, it's not a secret anymore!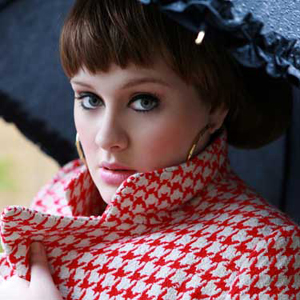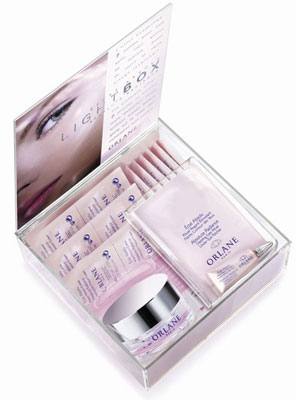 All About The Eyes: Talika, SAMPAR & Orlane
NEW from Patricia Wexler M.D. Dermatology: Anti-Aging for Sensitive Skin product line designed for both anti-aging treatment and sensitive skincare.
Sensitive skin sufferers have long been faced with a choice: combat the signs of aging and risk redness and irritation, or accommodate sensitive skin. With the introduction of Patricia Wexler M.D. Dermatology Anti-Aging for Sensitive Skin, you don't have to choose — the breakthrough four-step regimen gently and effectively addresses the needs of both aging and sensitive skin.
Patricia Wexler M.D. Dermatology is one of my favorite skincare lines. Her products are always gentle on my skin, smell clean and not loaded with fragrance, and her moisturizers are very hydrating.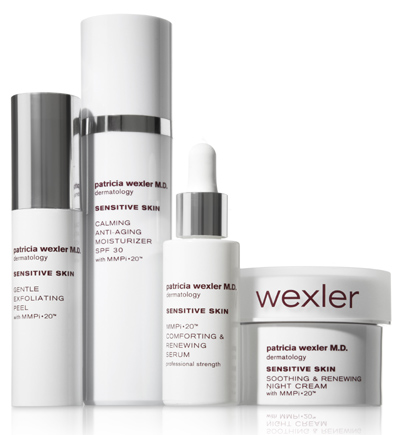 Each product in the regimen is specially designed to soothe and calm skin while reversing signs of aging without irritation:
· Gentle Exfoliating Peel reveals healthy, fresh skin in one trauma-free step ($34.50)
· MMPi20 Comforting & Renewing Serum decreases skin's reactivity while visibly diminishing signs of aging ($55)