All Posts Tagged With: "face scrub"
I always have luck with Votre Vu skincare. Their products feel good and smell good. My latest picks from the brand are Votre Vu Self Preservation Self Tanning Milk for Face, and Votre Vu Royal Treatment Gentle Pearls Scrub an organic formula of refining pearls enrobed in a soothing exfoliating emulsion.
Think of the Votre Vu Royal Treatment Gentle Pearls Scrub as an 'exfoliating water'. Apply on dry skin, massage, and rinse. It has a very liquid consistency, lighter than a serum, cream, or lotion.
Face Scrub and Face Exfoliator. From the Sephora Collection Skincare NEW Smart Dual Action Exfoliator & I love it smells so good. It is gentle enough to massage my face with and get that fresh and clean invigorating feeling in the morning while in shower.

Sephora Collection Skincare NEW Smart Dual Action Exfoliator
Expert Skincare Tips: St. Ives Q&A with Dr. Marsha Gordon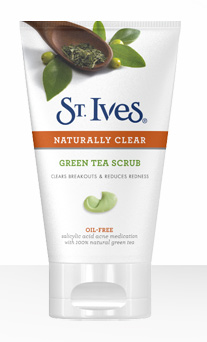 As the weather gets warmer, my breakouts and irritation become worse. To keep my skin acne-free all year round, should I be adjusting my regimen as the seasons change?
While many women need to adjust their skin care regimen as the seasons change, this can be especially true for women with acne-prone or oily skin. Your regimen that worked in the winter may leave skin feeling oily and clogged during the warmer months. In the spring, I recommend switching to a light, oil-free moisturizer and using a cleanser and scrub to help remove dead skin cells and keep pores clear. I personally like the new St. Ives Naturally Clear Green Tea Cleanser and Scrub (image above), which contain a safe concentration of Salicylic Acid to effectively fight blemishes and reduce redness, while 100% natural Green Tea soothes skin.
RoC Multi-Correxion Exfoliating Cleanser is my favorite face cleanser these days. It's a cross between a cleanser and a very gentle face scrub, this is why I use it almost everyday. It cleans my skin thoroughly and it prepares it for the face cream right after my shower. I also love the RoC Multi-Correxion Daily Perfecting Cleanser for the same reason mentioned above. The latter is part of the RoC Multi Correxion Skin Perfecting System.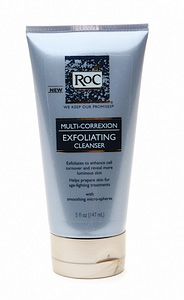 I'm in love with the latest Clarins Spring 2010 product launches. Clarins was always my favorite skin care brand for years now and I didn't quite realize how much my skin was missing it LOL.
Clarins Gentle Refiner Exfoliating Cream, $28: Very creamy exfoliator or face scrub . Smells amazing and is very comforting. I use this exfoliator once a week because the micro grains are a bit on the coarse side. My face feels super refreshed and smooth after use.

These are Marta's latest and favorite Mario Badescu skincare products:
Mario Badescu Glycolic Foaming Cleanser, $15: Mario Badescu's lathering deep cleanser has the exfoliating power of glycolic acid to break down build-up from skin's surface, reduce minor discoloration and minimize clogged pores which can cause pimples.

Marta says: This cleanser foams really well and is gentle considering it's glycolic.
Masks and Exfoliators: I'm the exfoliating girl! I love to exfoliate my face often. I'm not sure how this is good for yourself but I'm just an amateur, remember? I like what I like. My latest love is Erno Laszlo C-Peel Two phase face exfoliator, $75. This exfoliating system smells amazing, the perfect zesty citrus scent. As soon as you apply Peel Phase 1 it feels soft and warm on skin. It didn't irritate my skin at all (*note you might have different skin type than me! I tend to test on small area on my skin with new products to check how my skin reacts.) Phase 2 is the mask which leaves my skin super smooth. A must-have mask after a long night out or anytime you feel like giving your skin that little extra something.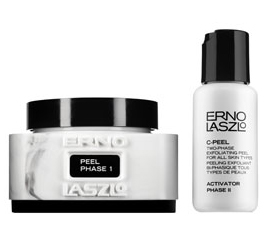 Erno Laszlo C-Peel the official description on www.ernolaszlo.com: Purify, refine and replenish with Laszlo home spa treatments. Begin by sloughing off dead surface cells from head to toe, then finish off with one of our specialty masks to give your skin instant lift, radiance and glow.
This season, give your loved ones the gift of soft, moisturized skin (Marta is all about it:) with St. Ives.
St. Ives Moisturizing Oatmeal & Shea Body Wash offers superb non-drying cleansing for visibly healthy skin. By incorporating two of nature's BEST ingredients, this body wash wraps skin in natural Oatmeal and Shea Butter extracts for the ultimate skin nourishment. ($2.99 for 13.5 fl. oz. bottle)
About 2 years ago I've discovered Nude Skincare. I remember reading and interview with the founder Bryan Meehan and was completely fascinated. So much so I requested to interview Bryan myself and learn about his new skincare line. Mr. Meehan was actually the first ever celebrity I've ever interviewed over the phone for Talking Makeup, and of course, the one I will never forget.
In my interview with Bryan Meehan he told me that "Helena Christensen is in love with Nude products. She said she loves them so much she is practically eating them." Marta's says, I love Nude Skincare SO much that I treat it like gold, LOL. I do not want any of it to go to waste. Nude Skincare, in my opinion, is one of THE best organic and chemical free skincare lines on the market!! The products are very gentle on your skin (no burning feeling, turning red, or initiated skin). The icing on the cake, they smell divine. Nude just got it right.
Here are my favorite Nude Skincare picks.
Nude Smoothing Body Refiner, $70: Bioactive fig stimulates lipolytic activity and gently breaks down the build-up of fat cells. Mountain ash, ginger and ginkgo increase localised circulation to safely metabolise the fat cells and toxins for visibly smoother, firmer skin.
Marta says: Goes on skin smoothly, it has a faint scent of warm chocolate (I'm trying here to describe the scent), and skin is immediately hydrated.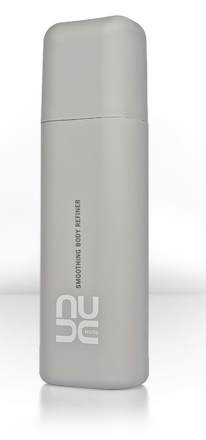 Hi Guys! Talking Makeup is excited to *give 2 Lucky winners products by RAW Essentials, a skincare line created by Carol Alt. What you will get: RAW-COVERY Facial Revive Wash. RAW Finish Rigorous Face Scrub. RAW-Scue Night Restore Cream. RAW-Suscitate Body Moisturizer.
How To Enter To WIN:
1. Go to Talking Makeup's YouTube Channel and subscribe HERE!
2. Leave a comment under the video giveaway ON YOUTUBE HERE!
Good luck!!
*Above giveaway is made possible thanks to RAW Essentials.