All Posts Tagged With: "exfoliating"
NEW from St. Ives is their Scrub-Free Exfoliating Pads. It is formulated with AHA Complex to help get rid of dead skin cells and smells very fruity. St. Ives also has a similar formula for the hands, check out their Naturally Smooth Hand Cream with Natural Fruit AHA Complex.
See what's inside St. Ives scrub-free exfoliating pads…
These are Marta's latest and favorite Mario Badescu skincare products:
Mario Badescu Glycolic Foaming Cleanser, $15: Mario Badescu's lathering deep cleanser has the exfoliating power of glycolic acid to break down build-up from skin's surface, reduce minor discoloration and minimize clogged pores which can cause pimples.

Marta says: This cleanser foams really well and is gentle considering it's glycolic.
Masks and Exfoliators: I'm the exfoliating girl! I love to exfoliate my face often. I'm not sure how this is good for yourself but I'm just an amateur, remember? I like what I like. My latest love is Erno Laszlo C-Peel Two phase face exfoliator, $75. This exfoliating system smells amazing, the perfect zesty citrus scent. As soon as you apply Peel Phase 1 it feels soft and warm on skin. It didn't irritate my skin at all (*note you might have different skin type than me! I tend to test on small area on my skin with new products to check how my skin reacts.) Phase 2 is the mask which leaves my skin super smooth. A must-have mask after a long night out or anytime you feel like giving your skin that little extra something.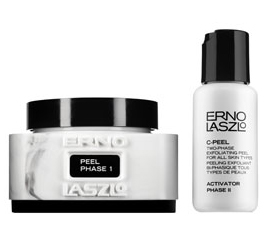 Erno Laszlo C-Peel the official description on www.ernolaszlo.com: Purify, refine and replenish with Laszlo home spa treatments. Begin by sloughing off dead surface cells from head to toe, then finish off with one of our specialty masks to give your skin instant lift, radiance and glow.