All Posts Tagged With: "Erno Laszlo"
Iconic skincare company Erno Laszlo announces the arrival of a new addition to its legacy, the Erno Laszlo Boutique in London.
Forty years after the closing of Dr. Erno Laszlo's original Institute on Fifth Avenue in New York, a new Erno Laszlo Boutique in London's Covent Garden has opened on June 10th, 2010, promising the same unrivalled treatment and service that gained the Doctor the trust of some of the most beautiful women in the world.
Masks and Exfoliators: I'm the exfoliating girl! I love to exfoliate my face often. I'm not sure how this is good for yourself but I'm just an amateur, remember? I like what I like. My latest love is Erno Laszlo C-Peel Two phase face exfoliator, $75. This exfoliating system smells amazing, the perfect zesty citrus scent. As soon as you apply Peel Phase 1 it feels soft and warm on skin. It didn't irritate my skin at all (*note you might have different skin type than me! I tend to test on small area on my skin with new products to check how my skin reacts.) Phase 2 is the mask which leaves my skin super smooth. A must-have mask after a long night out or anytime you feel like giving your skin that little extra something.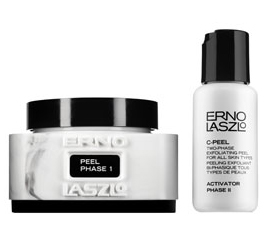 Erno Laszlo C-Peel the official description on www.ernolaszlo.com: Purify, refine and replenish with Laszlo home spa treatments. Begin by sloughing off dead surface cells from head to toe, then finish off with one of our specialty masks to give your skin instant lift, radiance and glow.
Talking Makeup, together with Erno Laszlo, is giving you a chance to win a FREE Erno Laszlo Gift set, perfect for you (why not?! Treat yourself with a gift:), to your friend, or Mother's Day…it's coming up!!!
Erno Laszol Gift Set Includes: Erno Laszlo Multi-pHase Highlighter Facial highlighter, a travel-friendly brush for flawless application and a  TranspHuse Lip pHixative Lip plumper for all skin types.
VALUE: $90.
HOW TO ENTER Erno Laszlo GIVEAWAY:
1. Subscribe to Talking Makeup's YouTube channel HERE!
2. Leave a comment on Talking Makeup's You Tube Channel
3. Next Monday 5/4/2009 I'm going to randomly pick 1 lucky winner and send him/her the prize!
GOOD LUCK everyone:)
Check out Erno Laszo January special: ERNO LASZLO Hydra-Therapy Skin Vitality Treatment 12-piece moisturizing mask worth $150.00 now for only $80.00!
Erno Laszlo Hydra-Therapy Skin Vitality Treatment is limited edition and contains 12 applications. Two-Phase Moisture Mask for All Skin Types. This intensive face mask immediately moisturizes and firms your skin. A perfect way to refresh tired and lackluster skin and instantly impart a healthy glow for 2009!
Hydra-Therapy Skin Vitality Treatment is a re-hydrating mask that refreshes and recharges the skin. The deep moisturizing mask also works to soothe and cool sunburned skin. It's ideal before special evenings out, or anytime dull, dehydrated skin needs a boost of hydration.
Features and Benefits:
Watch Marta's video blog for today listing her top favorite daily moisturizers!
Products mentioned in Marta's video blog:
1. Olay Definity Daily Moisturizer with SPF 15.
2. L'Oreal Paris Skin Genesis Daily Moisturizer and Serum.
3. DDF Protect & Correct UV Moisturizer SPF 15.
4. Patricia Wexler M.D. Dermatology's Intensive 3-in-1 Day Cream SPF 30: Lifting, Firming, Anti-Wrinkle Formula with MMPi 20
5. Borghese Crema Straordinaria Da Giorno SPF 25.
6. Erno Laszlo pHormula No. 3-9 face cream.
7. Elizabeth Grant Biocollasis Advanced Cellular Hydration (Day).
Talking Makeup is excited to announce the launch of the brand new Erno Laszlo online store.
Dr. Erno Laszlo created in 1927 the legendary approach to skin care that begins with the best cleansing system in the world. The brand's heritage of introducing proven, cutting-edge treatment formulas continues to be its hallmark today. All is now available online at www.ernolaszlo.com  with useful tools for your skin:
I had the luxury to try the Erno Laszlo pHormula No. 3-9 face cream and I love it. It is a very thick cream and seems to intensely hydrate my skin. It is also a good moisturizer to apply right before a foundation. It makes my skin dewy and the foundation to go on my skin smoothly.
Sometimes the skin needs extra TLC. That is what Erno Laszlo pHormula No. 3-9 was made for. Clinical Tests confirm its effectiveness on dry patches, sunburns and post-surgical scars.
Erno Laszlo pHormula No. 3-9 is unparalleled in its healing and hydrating capacity, allowing skin under siege to heal itself more quickly.
Why Erno Laszlo pHormula No. 3-9 face cream is so good for your skin? It should promote better oxygenation, brighten skin tone, reverse dehydration and increase radiance and glow.
Erno Laszlo Antioxidant Complex for Eyes protects your delicate under eye skin with botanical extracts.  Erno Laszlo Antioxidant Complex for Eyes will also lighten dark circles ans reduce under-eye puffiness.  Cost: $48.   
Looking for a healthy glow?  All you need is Erno Laszlo Multi Phase Bronzer which is a unique mosaic powder with five warm bronze shades.  Erno Laszlo was founded by Erno Laszlo an Hungarian Dermatologist who created the world's first dermatological skincare line over 75 years ago.  In 2002 Cradle Holdings Inc acquired this brand and kept Erno Laszlo principles and vision.
Erno Laszlo Multi Phase Bronzer is triple-milled to deliver a perfectly flawless application.  Sheer texture blends with all skin tones.  Looks natural and blends in beautifully.  You will get a sun-kissed skin without sitting in the sun.   Cost:  $38.