All Posts Tagged With: "skin care"
Everyone needs a little gold in their life. Whether you're in the market for flawless skin, a killer next-day blowout, or 8 hours of shut eye, the following products will make sure you are golden.
STARSKIN The Gold Mask™ VIP Revitalizing Luxury Bio-Cellulose Face Mask – The Gold Mask a luxurious pampering treat for complexions in need of a boost.
Expert Skincare Tips: St. Ives Q&A with Dr. Marsha Gordon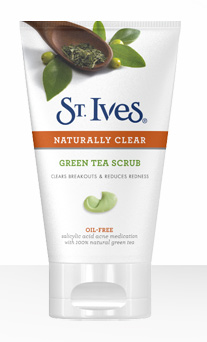 As the weather gets warmer, my breakouts and irritation become worse. To keep my skin acne-free all year round, should I be adjusting my regimen as the seasons change?
While many women need to adjust their skin care regimen as the seasons change, this can be especially true for women with acne-prone or oily skin. Your regimen that worked in the winter may leave skin feeling oily and clogged during the warmer months. In the spring, I recommend switching to a light, oil-free moisturizer and using a cleanser and scrub to help remove dead skin cells and keep pores clear. I personally like the new St. Ives Naturally Clear Green Tea Cleanser and Scrub (image above), which contain a safe concentration of Salicylic Acid to effectively fight blemishes and reduce redness, while 100% natural Green Tea soothes skin.
I'm a sucker to skin care products that 'wake my skin up'. I'm all about feeling rejuvenated and invigorated, especially in the morning. Lately I've been using the NEW Orlane Anagenese 25+ Morning Recovery Concentrate to get that re-gained radiance and glow effect. It is a very light and clear serum and feels like fresh water on my skin. Very gentle and soothing.

The star ingredients in Orlane's Anagenese 25+ Morning Recovery Concentrate are a combination of pro cellular growth factors and specific peptide, Hibiscus seed extract, and Ginseng extract. All designed to activate the production of collagen and the synthesis of hyaluronic acid, entourages cell renewal and stimulates micro circulation.
I'm in love with the latest Clarins Spring 2010 product launches. Clarins was always my favorite skin care brand for years now and I didn't quite realize how much my skin was missing it LOL.
Clarins Gentle Refiner Exfoliating Cream, $28: Very creamy exfoliator or face scrub . Smells amazing and is very comforting. I use this exfoliator once a week because the micro grains are a bit on the coarse side. My face feels super refreshed and smooth after use.

Introducing Luxury-to-Go, a new way to try before you buy Essential Complements Samples by La Prairie. Starting week of March 15th, 2010, at La Prairie counters nationwide.

La Prairie, the renowned Swiss beauty company best known for their cult-favorite Caviar and Platinum-infused anti-aging creams, will be doling out complimentary "essential" trial samples from a particular collection to clients who participate in an at-counter skincare consultation. The trial samples of assorted eye, serum and face products are signature La Prairie chic and luxury, meaning packaged in deluxe tubes and jars – no messy packets.
Neutrogena Clinical Skin Care: Arriving in stores next week, and currently available at www.neutrogenaclinical.com, Neutrogena introduces Neutrogena Clinical- a new skin care line inspired by bioelectricity.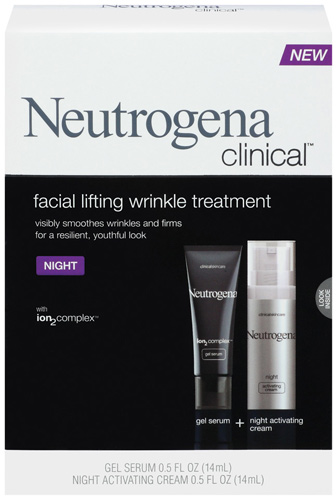 What is bioelectricity you may ask? Bioelectricity is the body's innate electrical signaling system and, as the body ages, diminished bioelectric signals can result in decreased cell-to-cell communication. This decreased communication, in turn, can cause a decrease in collagen production, which leads to visible signs of aging, including wrinkles and sagging skin. Neutrogena Clinical, featuring ion2complex technology, works by facilitating optimal cell-to-cell communication at the surface level of the skin to promote healthy collagen levels.
What's in it for you? Women with collagen-depleted skin, which is visible as wrinkles and sagging skin, will benefit most from Neutrogena Clinical.
The Neutrogena Clinical Skin Care products:
There are 4 systems. Each comes with an ion2complex Gel Serum and a specifically formulated Activating Moisturizer.

philosophy miracle worker miraculous anti-aging is a new skin care savior that boasts the highest level of antioxidants of any philosophy moisturizer. The satiny formula leaves skin feeling soft, while it helps strengthen skin's natural rejuvenation potential to guard against signs of aging. All this while it helps protect against free radical attack.
Want to try it? philosophy is providing *a free deluxe sample of the new eye hope advanced anti-aging eye cream* (2 ml) with any purchase of the philosophy miracle worker miraculous anti-aging moisturizer. The offer will be valid *through March 31*. Use code *ageless *to take advantage.
*Above post is a sponsored post.
GET THE LOOK: Makeup artist Olaf Derlig tells Talking Makeup about the secret behind Marisa Tomei's radiant skin at Sundance 2010.
"I had an amazing result using VOTRE VU today on Marisa Tomei. Getting Marisa ready right after she arrived from the airport going straight to her premiere it was very important to give her a nice fresh, glowy look and perfect skin appearance.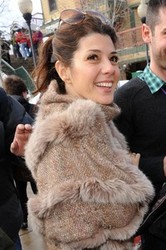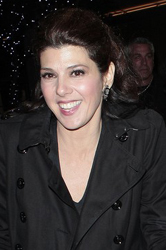 "Using "Wrinkle Eraser" all over her face was magic, it worked wonders!!"
MAL-LIGNE Wrinkle Eraser
Masks and Exfoliators: I'm the exfoliating girl! I love to exfoliate my face often. I'm not sure how this is good for yourself but I'm just an amateur, remember? I like what I like. My latest love is Erno Laszlo C-Peel Two phase face exfoliator, $75. This exfoliating system smells amazing, the perfect zesty citrus scent. As soon as you apply Peel Phase 1 it feels soft and warm on skin. It didn't irritate my skin at all (*note you might have different skin type than me! I tend to test on small area on my skin with new products to check how my skin reacts.) Phase 2 is the mask which leaves my skin super smooth. A must-have mask after a long night out or anytime you feel like giving your skin that little extra something.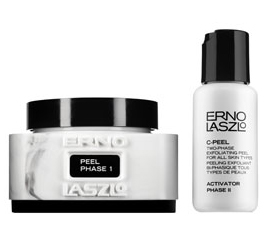 Erno Laszlo C-Peel the official description on www.ernolaszlo.com: Purify, refine and replenish with Laszlo home spa treatments. Begin by sloughing off dead surface cells from head to toe, then finish off with one of our specialty masks to give your skin instant lift, radiance and glow.
Winter Skin: Kiehl's NEW Ultra Facial Kits: In response to customer feedback, Kiehl's Since 1851, the venerable New York-based purveyor of fine quality skin and hair care is introducing two Ultra Facial Kits. Inspired by Kiehl's classic Ultra Facial Moisturizer, a favorite since the early 1970s that provides superior moisture, these kits consist of hydrating formulations enriched with restoring Squalane to deliver restored and healthier skin – ideal for the harsh winter weather.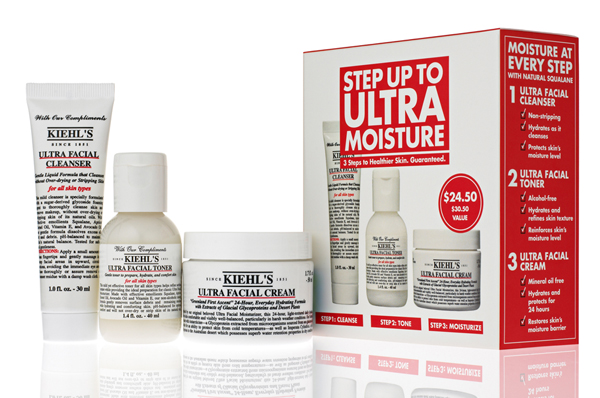 Formulated for all skin types, each product in the Ultra Facial Kits is infused with a blend of Kiehl's classic ingredients including Squalane*, Apricot Kernel Oil, Avocado Oil, and Vitamin C and E – providing moisture and hydration at every step.
Ultra Facial Cream Kit: $24.50. Set includes: Ultra Facial Cleanser, Ultra Facial Toner, and Ultra Facial Cream