All Posts Tagged With: "facial cream"
Winter Skin: Kiehl's NEW Ultra Facial Kits: In response to customer feedback, Kiehl's Since 1851, the venerable New York-based purveyor of fine quality skin and hair care is introducing two Ultra Facial Kits. Inspired by Kiehl's classic Ultra Facial Moisturizer, a favorite since the early 1970s that provides superior moisture, these kits consist of hydrating formulations enriched with restoring Squalane to deliver restored and healthier skin – ideal for the harsh winter weather.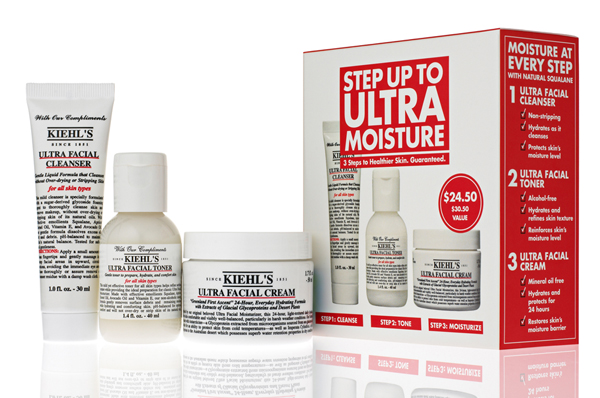 Formulated for all skin types, each product in the Ultra Facial Kits is infused with a blend of Kiehl's classic ingredients including Squalane*, Apricot Kernel Oil, Avocado Oil, and Vitamin C and E – providing moisture and hydration at every step.
Ultra Facial Cream Kit: $24.50. Set includes: Ultra Facial Cleanser, Ultra Facial Toner, and Ultra Facial Cream
This year, Beauty.com has partnered with CEW's Cancer and Careers initiative. In addition to creating a BCA (Breast Cancer Awareness) store with an assortment of products that benefit different BCA charities, from October 12-18, if you click on www.beauty.com/cancerandcareers , 10% of all purchases made on Beauty.com will be donated to CEW's Cancer and Careers. You can buy ANYTHING sold on the site, not just BCA products (nothing is restricted in any way). This gives you the opportunity to stock up on their favorite brands and products you would normally buy and help give back – so easy.
Darphin Arovita C Energic Firming Cream for BCA: This invigorating, vitamin-enriched Darphin facial cream helps firm skin and fortify its natural resiliency to visibly correct first loss of elasticity of the face and neck. Arovita C Energic Firming Cream moisturizes and renews radiance while helping safeguard the complexion against environmental aggressors. Key Ingredients Include: Artemia salina, Carrot Protein, Noni Extract, Vitamins C and E. Darphin will donate $20 from each sale of Arovita C Energic Firming Cream during the month of October to The Breast Cancer Research Foundation.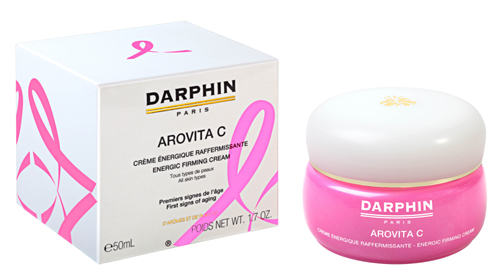 Price: $80, Available at www.darphin.com