All Posts Tagged With: "Philosophy"
NEW from philosophy: field of flowers spray fragrance, $30. A flower is the embodiment of everything that is right and beautiful in this world. philosophy has captured the essence of an incredible field of flowers and infused it into their signature new spray fragrance. This fresh, floral scent contains notes of peony. Available exclusively at Nordstrom stores and Nordstrom.com in April 2010.
Pull out your party hats because philosophy is turning another year older. To celebrate their 14th birthday, philosophy is launching an instant win game beginning today, March 2nd, 2010. Visit www.philosophy.com/birthday  daily for a chance to win great instant win game prizes and to be entered for a chance to win the grand prize which is a $1000 shopping spree on philosophy.com. The game will run from 3/1-3/31/2010.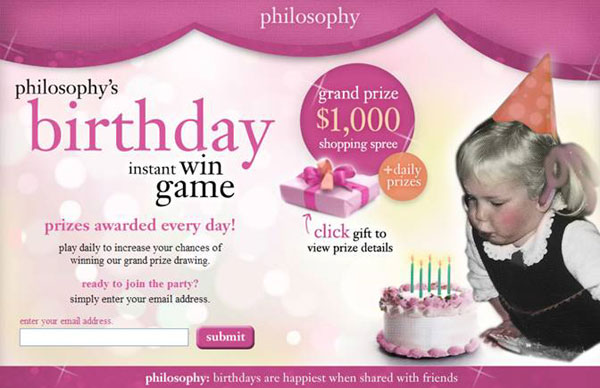 philosophy miracle worker miraculous anti-aging is a new skin care savior that boasts the highest level of antioxidants of any philosophy moisturizer. The satiny formula leaves skin feeling soft, while it helps strengthen skin's natural rejuvenation potential to guard against signs of aging. All this while it helps protect against free radical attack.
Want to try it? philosophy is providing *a free deluxe sample of the new eye hope advanced anti-aging eye cream* (2 ml) with any purchase of the philosophy miracle worker miraculous anti-aging moisturizer. The offer will be valid *through March 31*. Use code *ageless *to take advantage.
*Above post is a sponsored post.
The following are Marta's picks of her favorite skincare products for face and body & also perfume 2009 ! Please note that the numbers don't go in order of importance.
Hey guys, I don't look a day over 25 thanks to my top skincare products LOL (see images below).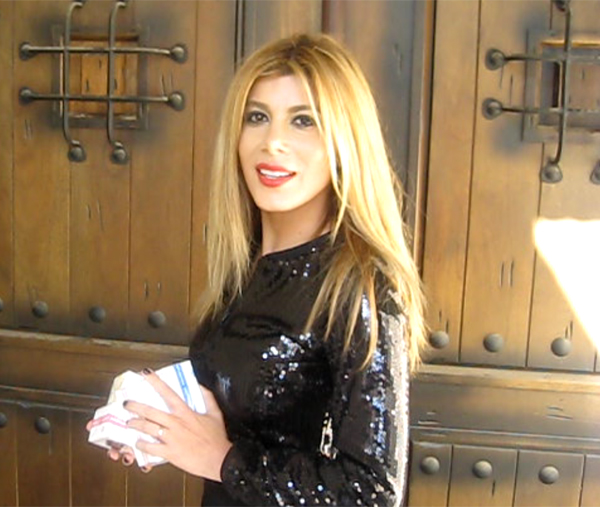 Marta Walsh Founder & Editor of Talking Makeup
Face Cleanser
1. Philosophy purity made simple one-step facial cleanser
2. CHANEL PRECISION Gel Purete: Purity + Anti Pollution Foaming Gel Cleanser
3. Liz Earle Cleanse & Polish Hot Cloth Cleanser
4. Mission Skincare Active Daily Facial Cleanser Sweet Citrus By Serena Williams5. Purpose Gentle Cleansing Wash 
5. Mario Badescu Enzyme Cleansing Gel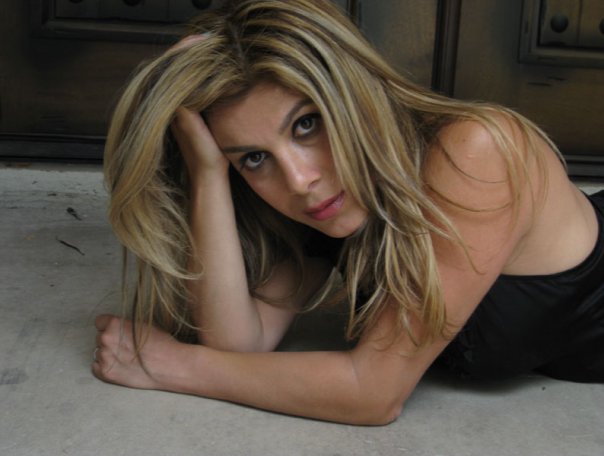 Makeup Removers & Eye Makeup Removers
1. Boscia MakeUp BreakUp Cool Cleansing Oil
2. La Roche-Posay Rosaliac Micellar Make-Up Removal gel Cleanses and Soothes Face & Eyes
3. Lumene Eye Makeup Remover Senstive Touch
4. Almay Oil-Free Eye Makeup Remover Pads
5. Talika lash conditioning cleanser oil free mascara & waterproof mascara
6. Physicians Formula Organic Wear Facial Makeup Remover Lotion
7. Pampers Sensitives Fragrance Free Baby Wipes
Looking for a last minute Holiday gift? You can't never go wrong with philosophy Party Girl Pomegranate Bubbly Scented Gift Set, $35! The cutest gift ever. A black makeup bag titles: philosophy: life is a party! contains: 4.0 oz Pomegranate Bubbly Exfoliating Shower Gel, 4.0 oz Pomegranate Bubbly Shimmer Body Lotion, and 0.5 oz Pomegranate Bubbly Lip Shine (sheer plum).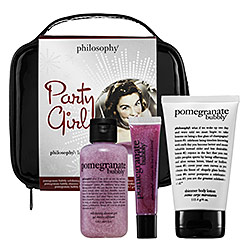 Ring in 2010 with the bubbly that packs a pomegranate punch and guarantees a hangover-free New Year's Day. Whether you give it as a gift or decide to treat yourself, philosophy's Party Girl pomegranate Bubbly Scented Gift Set is the perfect way to get ready or your New Year's Eve celebration. The reusable party pouch comes stocked with an exfoliating shower gel, body lotion and lip shine, which may even help you snag a romantic kiss at midnight.
I can't get over how cute is the NEW Limited Edition philosophy Classic Cookbook. It is THE perfect holiday gift for your beauty obsessed loved ones. They would be very impressed, and of course, love you dearly!:)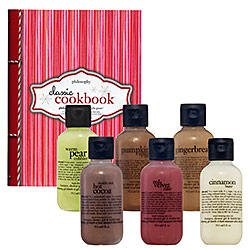 philosophy Classic Cookbook ($35) is a set of six delicious, high-foaming, multipurpose cleansers. This decadent ensemble of three-in-one Shampoo, Shower Gel & Bubble Bath formulas will make you swoon with scents of the decadent treats that come from the crinkled pages of well-loved holiday baking recipe books. This set contains: 6 x 2.0 oz Shampoo, Shower Gel & Bubble Baths in Pumpkin Spice Muffin, Red Velvet Cake, Double Rich Hot Cocoa, Warm Pear Cobbler, Gingerbread, Cinnamon Buns.
philosophy and The Knot introduce tying The Knot a bridal gift set.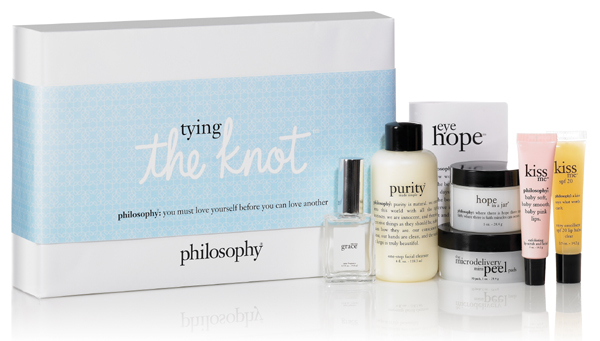 philosophy introduces tying The Knot, a new bridal must-have gift set created exclusively for The Knot, the leading online wedding resource. tying the Knot contains everything a bride needs to pamper herself in preparation for her big day. available for purchase on TheKnot.com (www.theknot.com/philosophy ) and philosophy.com, the set retails for $100 and includes the following nine essential philosophy beauty products:
Give Thanks with These Beautiful Buys …Only at Sephora
Now that you've satisfied your tummy with hearty eats, it's time to satisfy your craving for beauty! Beat the crowds this Black Friday and make Sephora your first shop stop for true holiday magic. From adorable stocking stuffers, to larger than life makeup sets and fragrance kits, Sephora is offering sweet steals and deals you and your wallet won't want to miss!
Check out these Black Friday finds:
· Kat Von D Painted Love Lipstick Gift Set ($34, $54 Value!) – This trio of rich, full-color lipsticks is perfect for creating a smoldering, sultry holiday look. NEW! LIMITED EDITION!
philosophy's new "gingerbread man instant win game", is scheduled to launch tomorrow, November 3rd. philosophy is getting ready for a magical holiday season with a fun online game that you can play daily to win great prizes. Each week for the next six weeks, a different holiday prize will be awarded to five lucky winners every day. And, at the end of the six weeks, one person will win the grand prize — a $2,500 philosophy shopping spree. You can only play the game once per day, but each time you play you will be entered to win the grand prize… so the more you play, the better your chances are.
To Enter To Win: Starting tomorrow (11/3/09), simply visit: philosophy.com
I like to get in the Halloween and fall mood with my beauty products as well. I blogged earlier about my favorite food and holiday inspired body wash by Philosophy I Love Candy Corn and I also love the June Jacobs Perfect Pumpkin Peeling Enzyme Masque. Can you get more Halloween inspired beauty products with a name like Pumpkin:) This my version of a Halloween masque (pun intended).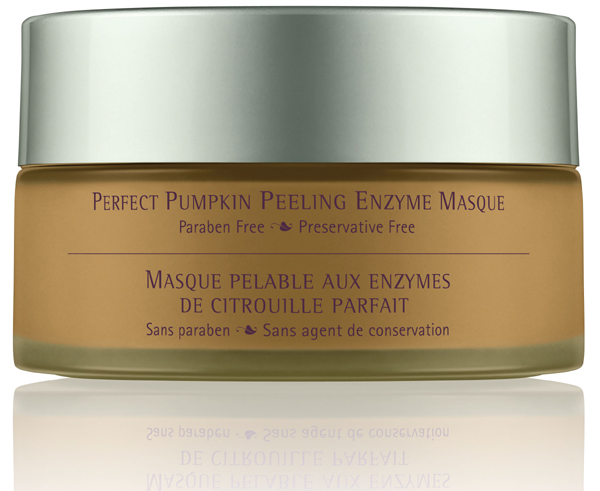 June Jacobs Perfect Pumpkin Peeling Enzyme Masque the official description:  This detoxifying spicy enzyme masque is designed to target and digest dead surface cells while stimulating cellular turnover. Combining the exfoliating benefits of Vitamin A and the repairing benefits of Pumpkin enzymes this wonderful masque acts as a home "peel" treatment. Exposing soft, supple, naturally hydrated skin.