All Posts Tagged With: "Borghese"
Classic At-Home Masks: Borghese FANGO Active Mud For Face And Body. You will find this beauty in Marta Walsh's vanity, somewhere, I promise:) Now, Borghese, the venerable beauty brand steeped in rich Italian heritage, is celebrating the 25th Anniversary of its iconic FANGO Active Mud. This revolutionary nutrient and mineral-rich mud has popularized at-home masks for women around the globe since 1985. To celebrate the 25th anniversary of FANGO, Borghese is launching an advertising campaign, beginning August 2010.

Borghese FANGO Active Mud For Face And Body the jar
The following are Marta's picks of her favorite skincare products for face and body & also perfume 2009 ! Please note that the numbers don't go in order of importance.
Hey guys, I don't look a day over 25 thanks to my top skincare products LOL (see images below).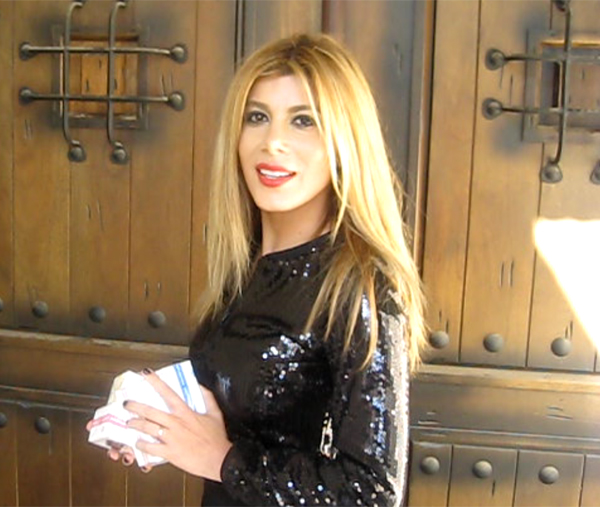 Marta Walsh Founder & Editor of Talking Makeup
Face Cleanser
1. Philosophy purity made simple one-step facial cleanser
2. CHANEL PRECISION Gel Purete: Purity + Anti Pollution Foaming Gel Cleanser
3. Liz Earle Cleanse & Polish Hot Cloth Cleanser
4. Mission Skincare Active Daily Facial Cleanser Sweet Citrus By Serena Williams5. Purpose Gentle Cleansing Wash 
5. Mario Badescu Enzyme Cleansing Gel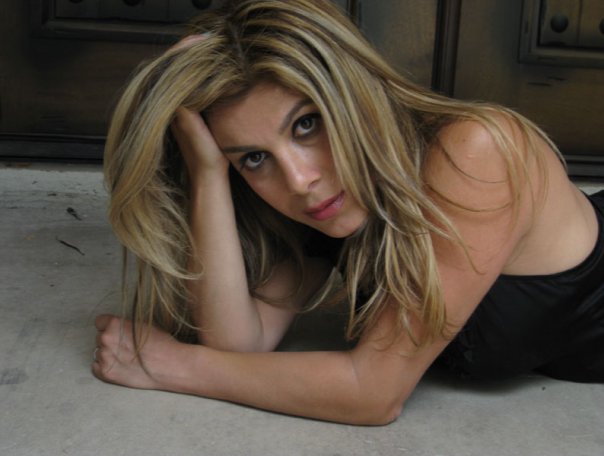 Makeup Removers & Eye Makeup Removers
1. Boscia MakeUp BreakUp Cool Cleansing Oil
2. La Roche-Posay Rosaliac Micellar Make-Up Removal gel Cleanses and Soothes Face & Eyes
3. Lumene Eye Makeup Remover Senstive Touch
4. Almay Oil-Free Eye Makeup Remover Pads
5. Talika lash conditioning cleanser oil free mascara & waterproof mascara
6. Physicians Formula Organic Wear Facial Makeup Remover Lotion
7. Pampers Sensitives Fragrance Free Baby Wipes
Few weeks ago I was given an incredible chance to chat with Tim Quinn over the phone. Tim Quinn is Giorgio Armani's Celebrity Face Designer National Director, Creative Artistry.
I met Tim in New York City during my trip with DailyMakeover.com this past July (2009). The meeting was in Pastis one of my favorite restaurants to hang out when I used to live in New York City. As soon as I was introduced to Tim during breakfast I knew I had to interview him and share with you his beauty insights and story of top celebrity makeup artist. As you can sense, I'm a huge fan. I remember telling him that I loved his style and that he looks "Very Armani": That very pale almost platinum blonde hair, and the chic eye glasses. Believe it or not, Mr. Giorgio Armani himself set a table next to me in Cipriani Downtown SOHO few years ago, so I got to know the look:)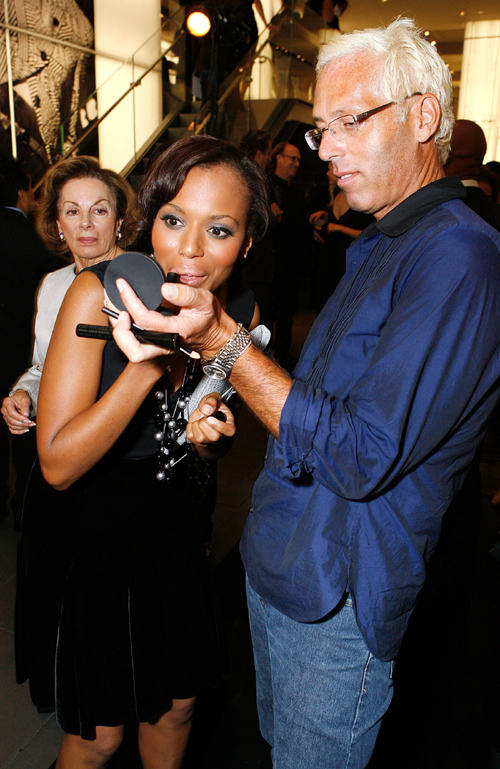 Tim Quinn and Kerry Washington
A little bit about Tim Quinn: After training in Milan alongside world-renowned makeup artist Pat McGrath, Tim Quinn joined the Giorgio Armani Beauty team with the launch of the brand in September 2001. His myriad experience as an artist includes work in TV, print, and film. Tim has been featured as one of the "25 Beauty Stars" in W Magazine and has worked backstage at several award shows including the Academy Awards and the Golden Globes. Tim has worked with a number of celebrities such as Glenn Close, Debra Messing, Victoria Beckham, Kim Cattrall, Gwen Stefani, Kate Bosworth, Minnie Driver, and Brooke Shields. He has designed faces for Helen Mirren, Julia Roberts, Naomi Campbell, Katie Holmes, Sarah Jessica Parker, Barbara Walters, Lucy Liu and Drew Barrymore.  I might even missed few names!
Marta Walsh: When did your fascination with beauty begin?
Tim Quinn: From as far back as I can remember I was drawn to the world of fashion and beauty. I was born and raised in the countryside of Connecticut and was always encouraged by my parents to go outside and play – TV was only for special occasions and the internet was still years away, so my siblings and friends would create our own worlds of entertainment. My paternal grandmother was widowed rather young and she remarried an attorney from New York. They lived in New York City during the week and at her country home in Litchfield, CT on the weekends. My visits and travels with them truly influenced my young mind – I thought of her life as my very own 'Green Acres'. I became a glamour addict – watching her dress for dinner in NY, DC and even Iceland – the whole idea of the hair, makeup, jewelry and furs created such a glamorous world that was so different then the life I knew in Connecticut.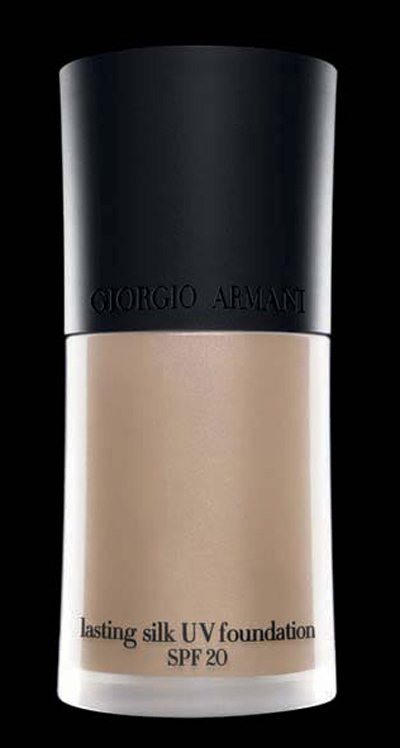 Borghese is doing a one-day only 25% off sale off anything and everything (your complete order, no minimum) when you order online at www.Borghese.com  just use the promo code – LASTCHANCE at checkout.
The sale starts at 12:01 am on Tuesday, December 16th and ends at 11:59 pm on December 16th.
Borghese Sample Sale – TWO DAYS ONLY!
WHEN: Thursday December 11th, and Friday December 12th. 10:00AM-2:00PM.
WHERE: 10 East 34th Street, Third Floor, New York NY 10016.
 
Click image above to enlarge!
As usual there will be gift sets and some individual items and there probably will be nothing over $20. It's CASH ONLY and we're being green, so BRING YOUR OWN BAG!
Watch Marta's video blog for today listing her top favorite daily moisturizers!
Products mentioned in Marta's video blog:
1. Olay Definity Daily Moisturizer with SPF 15.
2. L'Oreal Paris Skin Genesis Daily Moisturizer and Serum.
3. DDF Protect & Correct UV Moisturizer SPF 15.
4. Patricia Wexler M.D. Dermatology's Intensive 3-in-1 Day Cream SPF 30: Lifting, Firming, Anti-Wrinkle Formula with MMPi 20
5. Borghese Crema Straordinaria Da Giorno SPF 25.
6. Erno Laszlo pHormula No. 3-9 face cream.
7. Elizabeth Grant Biocollasis Advanced Cellular Hydration (Day).
According to In Touch Weekly Renee Zellweger loves Borghese Superiore Mascara.
Renee Zellweger raved about her Borghese Superiore State-of-the-Art Mascara on the Baltimore set of her new movie, My One and Only, on July 15.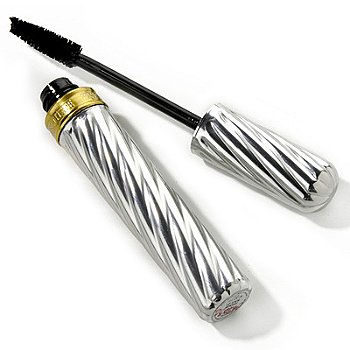 About Borghese's Superiore State-of-the-art Mascara: After one use of this thickening mascara, you will understand why it is called "Superiore." Infused with a built-in, silk-powder foundation for superior wear, delicate lashes are coddled in natural conditioners while providing smudge-proof, flake-proof coverage. Suitable for contact lens wearers and sensitive eyes. Comes in 3 shades: Black, Prima Plum, and Brown. SRP: $19.00.
Borghese's Lumina Hydrating Concealer is a remarkable new concealer that does more than cover up under eye shadows. This dual-action, advanced formula concealer and firmer works to balance skin texture and smoothness. It is ideal to use during the day or night. Fatigued eyes appear refreshed, radiant and much younger looking.

Lumina Hydrating Concealer by Borghese.
BENEFITS: Restores strength and tone to the entire eye area. Helps to de-puff and firm the delicate eye tissue. Concealer deflects dark shadows while illuminating line diffuser smooths away the appearance of fine lines and wrinkles. Hypoallergenic and sensitivity tested.
INGERDIENTS: Formulated with sodium Hyaluronate to hydrate skin. Anti-oxidants A, C and E to guard against free radicals and environmental toxins.
Comes in 3 skin-matching shades: Light Oro-01, Medium Neutrale-02, and Dark Rosso-03.
Available: Department store launch from May 16th, 2008. Borghese.com launch date: June 2nd, 2008.
SRP: $23.
New from Borghese Color is Linea Precisa Liquid Eyeliner which is a long lasting water resistant liquid eyeliner. Borghese Linea Precisa Liquid Eyeliner goes on precisely and thanks to its easy-glide felt applicator.
Your eyeliner will not smudge or run.  How to use: apply Borghese Linea Precisa Liquid Eyeliner on lid area from inner to outer corner of eye.  A liquid eyeliner adds a dramatic definition at the lash line.  Cost: $18.
On November 2nd Borghese and Lord & Taylor 5th avenue (5th Ave btw 39th and 40th) invite you to experience the following: spa facial and hand massage or Reflexology Treatment and Hand Massage.  A makeover with Borghese's new holiday color collection "Elegant Evening".  And a full size skincare product with your purchase of $50.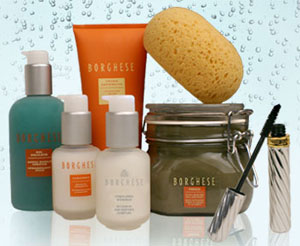 This event is by appointment, so please call Borghese counter at: 212-391-5376 and one of Borghese's representatives can schedule your appointment.  (Source: Borgehse Inc In-House PR)