All Posts Tagged With: "Eyes"
NEW from Laura Mercier. The original, cult favorite year after year is now available in luxe, matte shades. Get inspired with these pigment rich, long lasting shades that are perfect to smudge, blend, line, fill or define to create the perfect sultry eye.
Laura Mercier Caviar Stick Eye Colour Matte. $29; Available beginning July 2017 at all Laura Mercier retailers
From London to Sephora inside jcpenny the Eyeko SKINNY BRUSH MASCARA LONG & TALL. Marta LUVS:). Makes my eye lashes super long and thick in an instant. I would say it makes my lashes look almost false. It's a yes!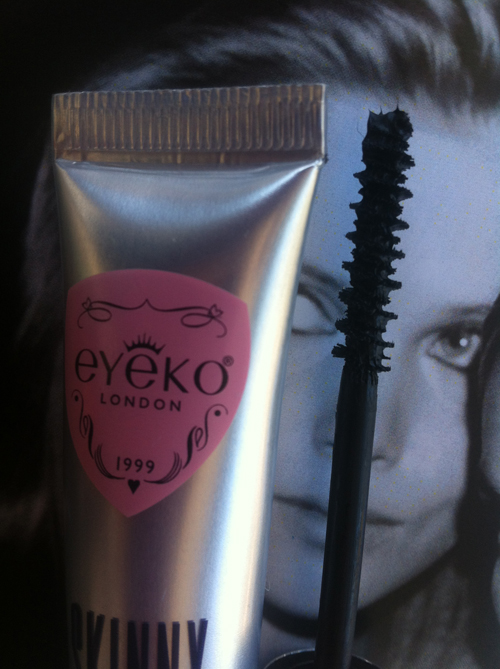 Eyeko mascara
The Eyeko mascara designed to be "smudge proof, maximise length, clump free, hold & lift"-via Eyeko.
Best Mascaras: My new very favorite is the Sumptuous Waterproof Bold Volume Lifting Mascara by Estee Lauder ($19.50). It makes my lashes long, curled and it's long lasting. Perfect for summer time, all the brides out there, vacations and honeymoon, and sporty women.

Get maximum waterproofing against all wet conditions: water, chlorinated water, and saltwater with Sumptuous Waterproof Bold Volume Lifting Mascara by Estee Lauder.
Meet my new love: Clinique All about Eyes Serum de-puffing eye massage roll-on, $25.50. The stainless steel roll-on applicator is one of its best features: it is cooling, the gentle rolling motion increases circulation under eye, and it is also hygienic. This eye serum is formulated with calming ingredients, such as: Caffeine and potent anti-oxidants all to help reduce the appearance of puffiness, or in Marta's case, dark circles. Better yet, it fits perfectly in my makeup bag or my purse. Can be applied morning, night and as needed throughout the day.

I often get asked which products to use to help reduce the look of dark circles or 'party eyes'. Well,  Clinique All About Eyes Serum is one of my favorites.
The NEW Clinique All About Eyes Serum is available from April 2010 at Clinique counters nationwide and at www.clinique.com
YSL Eye Event 2010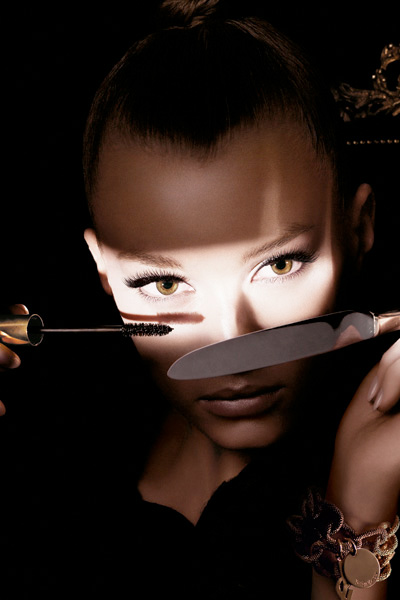 The NEW product additions include:
OMBRES SOLO – Smoothing Effect Eyeshadow in 12 individual shades. Comes with a brush applicator for a truly professional finish.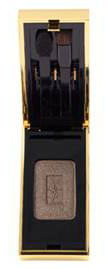 My love for the Christi Harris Brow System was instant. I recently even got a compliment from a brow expert I met in a spa on how great my brows looked. Really? Me? I did it myself I answered quickly. Glad you love. Thanks to Christi Harris brow products even a brow amateur such as myself can get brows just right. Here's is the latest from the brand: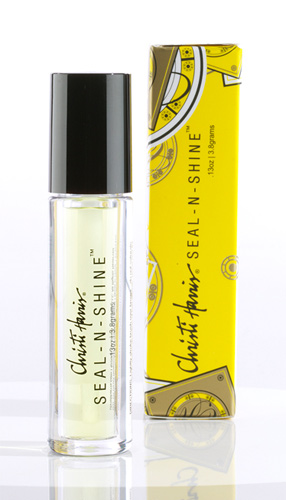 Christi Harris Seal-N-Shine, $15.99: A clear, brush-on serum, Seal-N-Shine offers 24-hour wear, holding brow hair in perfect place and maintaining color all day. The formula also contains protein to strengthen brow hair for added fullness and imparts a naturally luminous sheen.
Christi Harris brow products are available at christiharrisbrows.com
Carey Mulligan Oscars 2010: The Makeup
Makeup artist Georgie Eisdell prepped Oscar nominee Carey Mulligan for the big Oscar night.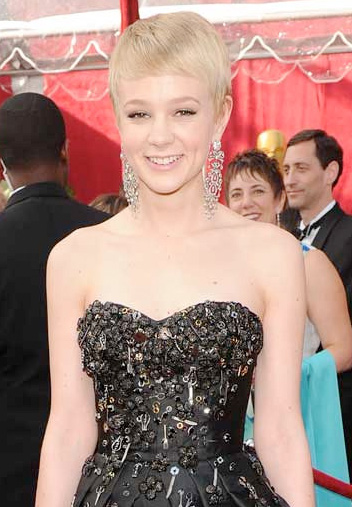 How to get Carey Mulligan's Oscars 2010 makeup look by makeup artist Georgie Eisdell:
"This was Carey's first Oscars so I wanted to make sure she looked age appropriate but still embrace the glamour of the night. Carey's dress was edgy and elegant so I wanted to keep her makeup looking fresh and youthful. I wanted to enhance the natural beauty of her skin so I used La Mer foundation lightly powdered with La Mer's translucent powder over that. For her eyes, I used Chanel soft beige and pink shadows from their spice palette. I used MAC's black track eye liner followed by YSL's Faux Cils mascara in black. To finish off her eyes I sharpened up her eyebrows with Laura Mercier's soft blonde brow powder duo. For her cheeks, I wanted to give them a pinched cheek look with Dior's glowing color powder blush in fruit de la passion. For the finishing touch on her skin, I used Bobbi Brown bronzing powder in medium. And finally on her lips I used Dior addict lip polish 004. I used La Mer body creme on the way out the door to give her body the same glow."
Fall 2010 NYC Fashion Week. Show: Narciso Rodriguez. Makeup by Dick Page, Shiseido Artistic Director.
The look and inspiration: The statement of the look was the bold, dark eyebrows. The graphic eyebrows worked with the collection.
Get the Look from Shiseido Backstage at Narciso Rodriguez. The makeup breakdown, all products from Shiseido Makeup collection.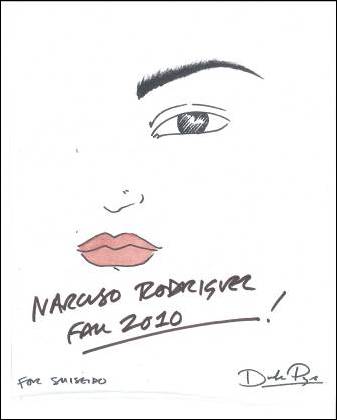 EYES
Dick swirled a mix of Shiseido Makeup Luminizing Satin Face Colors in High Beam White (WT905) and Soft Beam Gold (BE206) on the eyes. 
GET THE LOOK: Lancôme made yet another star appearance at the 2010 Golden Globes, this time on Sofia Vergara and Camilla Belle.
Sofia Vergara's Makeup Look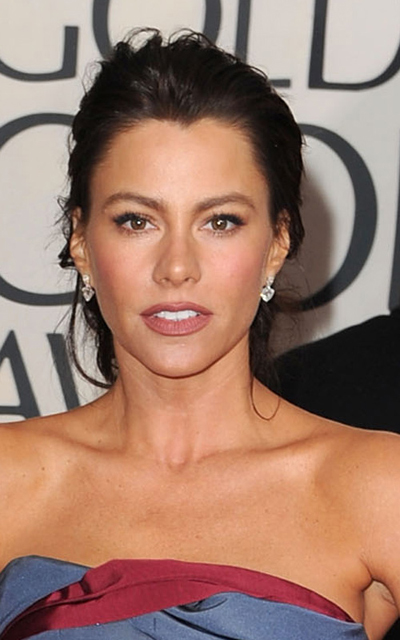 For the gorgeous Modern Family star, celebrity makeup artist Julie Harris dusted Lancôme Star Bronzer ($36.50) on the temples, chin and neck. This cult bronzer enhanced Sofia's tawny complexion while adding that ideal touch of glamour.
GET THE LOOK: Funny lady and Golden Globes nominee Tina Fey was made up by celebrity makeup artist Ana Marie last night at the 67th Golden Globe Awards using Lancôme products. Here's the scoop on Tina Fey's makeup at the awards straight from Ana Marie. The inspiration, says Ana Marie, was Old Hollywood/1950's with a twist.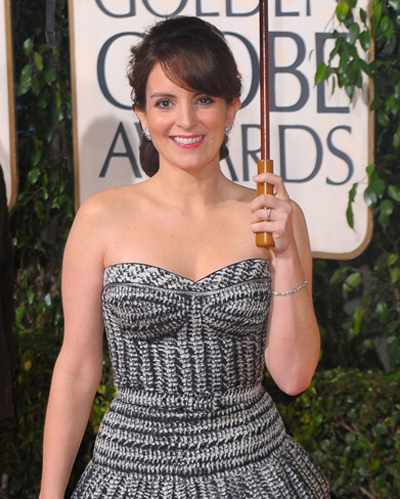 The makeup tutorial on how to get Tina Fey's makeup look by celebrity makeup artist Ana Marie for Lancôme:
Tina's skin was prepped with Lancôme Secret de Vie Toner (Ana Marie's favorite!) and moisturized with Bienfait Multi Vital, a combination that keeps the skin looking vibrant all day. Lancôme Absolue Foundation in Pearl evened out Tina's complexion. Ana Marie applied it with a foundation brush and blended with a damp sponge to make the foundation more transparent.