All Posts Tagged With: "Estée Lauder"
The winners in this category are: Hourglass Immaculate Liquid Powder Foundation Mattifying Oil Free, and the best thing about this foundation it applies so clean you can skip your face powder. It also won't rub on your clothes and hands during the day. If you find the 'Mattifying' effect a bit drying just make sure to use your most moisturizing face cream before.
My second winner is ESTEE LAUDER Double Wear Light Stay-in-Place Makeup. Same as above, this foundation stays on all day and doesn't transfer.
Bit of nostalgia. The First American Scent to Revolutionize an Industry Celebrates 60 Years with New Limited-Edition Bottle. "I created Youth-Dew as the first bath oil to double as a skin perfume. I knew that would appeal to women. And it suits my 'philosophy' of fragrance, as well: magnificent scents should not be doled out stingily, but like love, be given abundantly." — Estée Lauder
In 1953, Estée Lauder's introduction of Youth-Dew bath oil took the fragrance industry by storm – heralding revolutionary changes that continue to resonate today. Often described as one of the sexiest fragrances ever created, this voluptuously provocative Oriental fragrance was a true departure from the norm of the day. It re- wrote the way in which perfumers created and distributed their fragrances and forever altered how women perceived, acquired and enjoyed scent.
For the second season, the Estée Lauder brand embarked on Paris Week – sponsoring the beauty look (makeup & nails) at the Anthony Vaccarello Spring 2013 show! Estée Lauder Global Spokesmodels Constance Jablonski and Arizona Muse walked the runway at Docks En Seine on Tuesday, September 25th.
The Estée Lauder brand today announced that it has signed Arizona Muse, one of fashion's brightest stars, as a new face of Estée Lauder for skincare, makeup and fragrance. Arizona is the latest model to join Estée Lauder's roster of global beauties which includes Elizabeth Hurley, Carolyn Murphy, Hilary Rhoda, Constance Jablonski, Liu Wen and Joan Smalls.
Arizona Muse
For the very first time, the Estée Lauder brand embarked on Paris Fashion Week – sponsoring the beauty look (makeup & nails) at the Anthony Vaccarello Fall 2012 show! Estée Lauder Global Spokesmodel Joan Smalls walked the runway.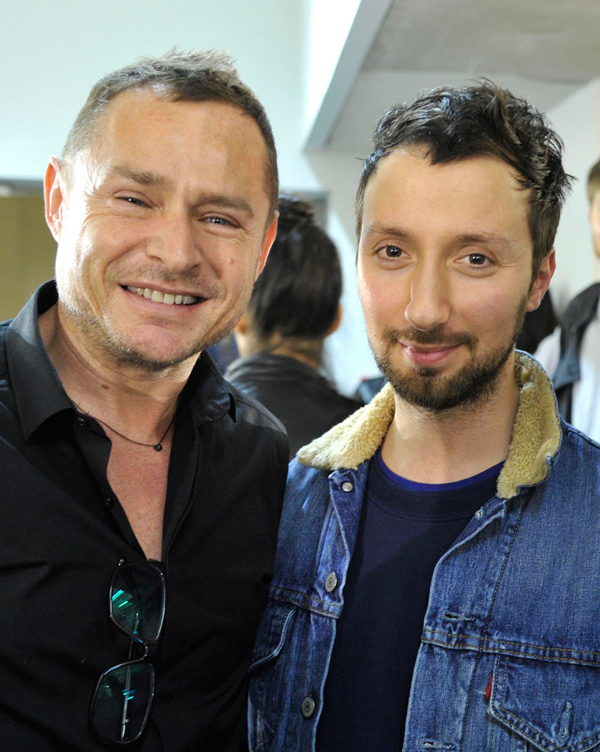 Tom Pecheux Estée Lauder Creative Makeup Director and fashion designer Anthony Vaccarello, Paris
Estée Lauder announced today the launch of the brand's new official YouTube channel. The Estée Lauder channel, Your Source for Expert Beauty Advice (www.youtube.com/esteelauder) houses 35 original videos showcasing Creative Makeup Director Tom Pecheux, and global spokesmodels Hilary Rhoda, Constance Jablonski, Liu Wen, Joan Smalls, Carolyn Murphy and Elizabeth Hurley.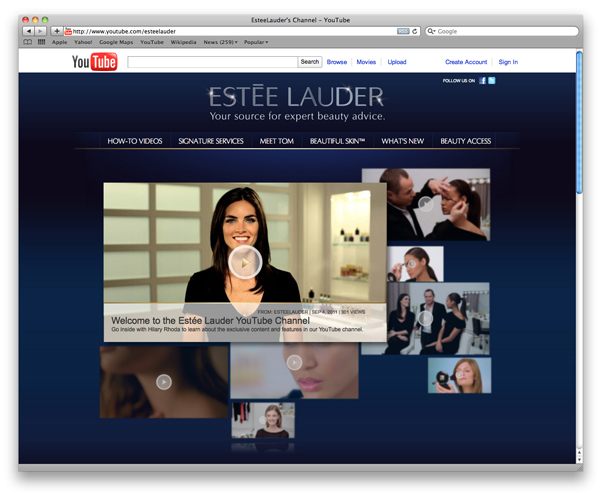 Featuring original content that is highly interactive, viewers will be engaged in a visual, tactile way that gives a new and insightful look into the Estée Lauder brand. The Estée Lauder YouTube channel is a self-contained platform where consumers can see product information, read ratings and reviews, get beauty tips, comment and share – all without having to leave the channel.
Estée Lauder & Derek Lam SS2012. For the fourth consecutive season, Estée Lauder sponsored the beauty look (makeup & nails) at the Derek Lam SS 2012 runway show! Translucent skin with sun-drenched contours, a glaze of a ginger-hued gloss and neutral nails ruled the catwalk at Lincoln Center on Sunday, September 11th.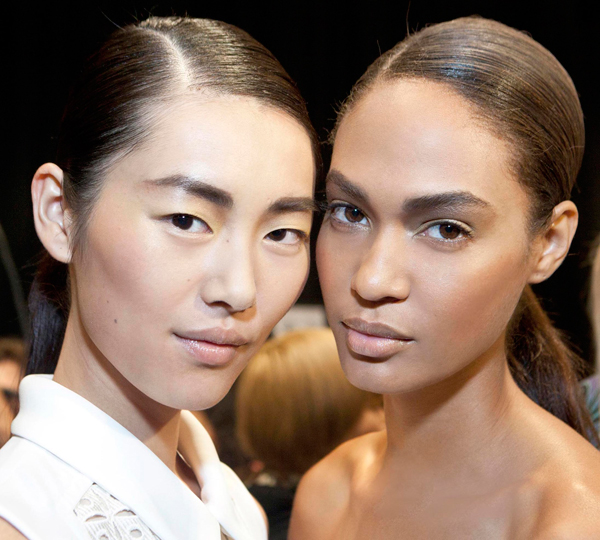 Model Liu Wen (L) and Joan Smalls beautiful at the Derek Lam SS2012 runway show
For the first time, Estée Lauder teamed up with The Row for New York Fashion Week– sponsoring the beauty look (makeup and nails) for the Spring 2012 Presentation that took place at The DiMenna Center for Classical Music in NYC on Friday, September 9th.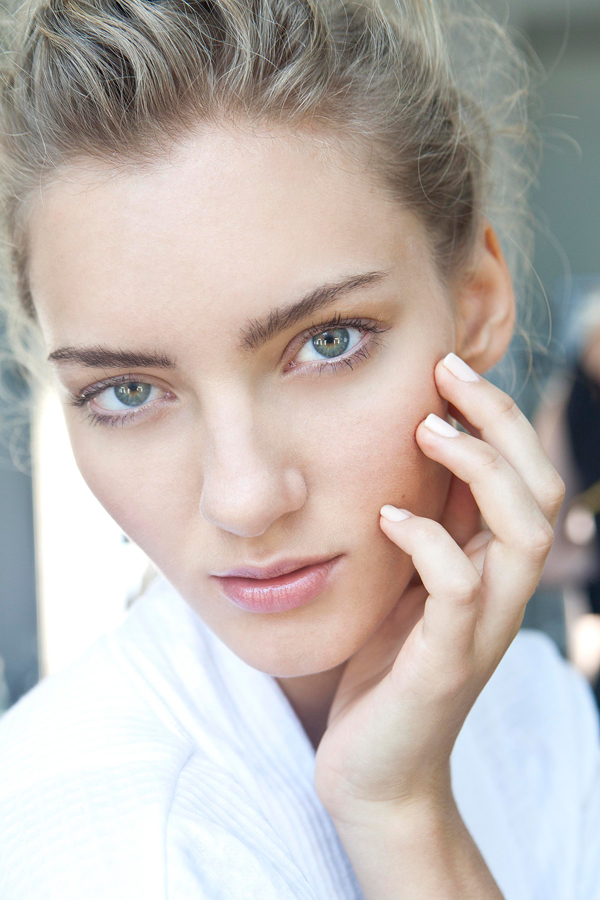 The Row Spring 2012 with Estée Lauder
Estée Lauder Creative Makeup Director Tom Pecheux lead a team of makeup artists to create the fresh and beautiful look on 15 models – While famed manicurist Deborah Lippman and her team polished their nails using Estée Lauder Pure Color Nail Lacquer.
"The beauty look for The Row presentation is softly sophisticated. The models look fresh, natural and beautiful – what any woman would want to look like when she wakes up in the morning." – Tom Pecheux, Estée Lauder Creative Makeup Director.
Estée Lauder Modern Mercury New Pure Color Fall 2011. New star makeup products to look for this Fall from Estée Lauder created by Tom Pecheux their Creative Makeup Director. Pecheux took the Estée Lauder makeup collection into a new level. Fabulous colors & shades and more bold and long lasting pigments. There is definitely a new era at the Estée Lauder house. Turned me into a loyal fan.
Pure Color Velvet lipstick in Nude Velvet which is matte yet moist and perfect with smoky eyes. If you're into matte lipsticks this one is brilliant.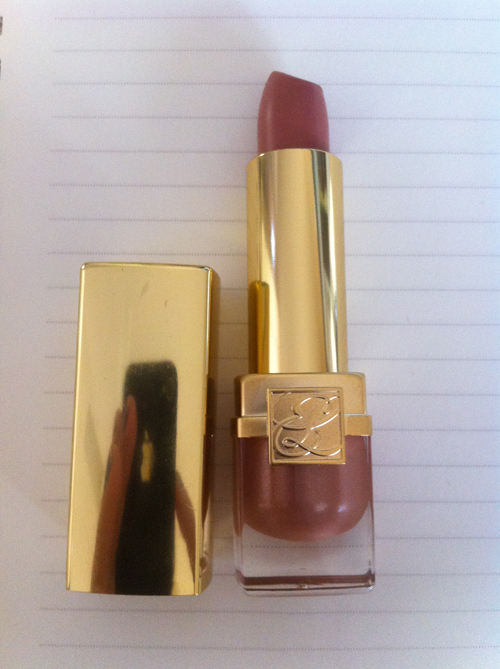 This just came in on TM's desk this AM from the Estée Lauder headquarters in New York City: "Great news! We are pleased to announce that Estée Lauder has joined Twitter! We are very excited to be part of the beauty conversation and will be offering our followers an inside look in to our beauty adventures.