All Posts Tagged With: "Hourglass"
Christian Siriano was inspired by a recent trip to Isla Mujeres on Mexico's Yucatan Peninsula, and the destination's exuberant color palette. The new collection features vivid prints, woven raffias, and sculptural organzas all in vibrant hues. "I wanted the collection to be light, feminine and romantic," says Siriano. "Like the girl left the beach but she had a cocktail party to go to, and threw on a dress, a bright lip, and little highlighter."
Did you know that 60 million Americans are affected by acne and 20 million experience facial scarring due to acne? Just it time for "National Acne Awareness Month"in June.
Hourglass Miracle Foundation For Oily Skin" – Immaculate Liquid Powder Foundation– just got more miraculous. The liquid to powder formula absorbs oil, camouflages imperfections, and delivers a long-lasting velvet matte finish—without the need for touchups. After an influx of emails from customers claiming Immaculate had improved their skin, hourglass came to the realization that Immaculate was not only helping people with oil-absorption and shine-diffusion, it was also remedying their skin.
Acne-fighting makeup
watch the Hourglass video here
Fall is in the air. That means it's going to get cooler soon. It also means that now I can play around with my favorite makeup and beauty products for this season.
NARS Andy Warhol Back Room Nail Polish, a black nail polish perfect for the darker and colder days, is a very mysterious polish… it's a bit edgy, yet elegant.
NARS Andy Warhol Satellite of Love Highlighting comes from the house of NARS, the masters when it comes to blushes. To combat looking pale in the fall I like to fake it with this one.
I already blogged about how much I love the NEW Hourglass OPAQUE ROUGE Liquid Lipstick especially the MUSE shade which is the perfect light coral red. Here's another favorite shade in EDITION a light pink. The OPAQUE ROUGE has a matte finish, I like to use it with a lip brush, and it is super long lasting.
Absolutley loving the NEW Hourglass OPAQUE ROUGE Liquid Lipstick  especially the Muse (coral) shade. I was craving for the perfect light red coral and viola. And did I say long lasting, this is probably the most long lasting lipgloss I've ever owned. It lasts for hours even after drinking and eating. Wow.  Also, this liquid lipstick is Paraben free, fragrance free, sulfate free, phthalate free, and synthetic dye free.
Other good stuff:
Great makeup line and my latest favorite is Hourglass. Star products: NEW Nº 28 Primer Serum is intensely hydrating. Calligraphy Liquid Eye Liner is fantastic  easy to control when lining and long lasting, Extreme Sheen High Shine Lip Gloss come in the chic-est colors mine is ORIGAMI a pink coral.
And another plus Hourglass it is formulated WITHOUT: Parabens, Sulfates, Synthetic Fragrances, Synthetic Dyes, Phthalates, GMOs,Triclosan.
TM & Marta Walsh has got the word that celebrity makeup artist Kindra Mann worked with Lea Michelle for the LACOSTE L!VE Desert Pool Party In Celebration Of Coachella on Saturday, April 14th in Thermal, CA. And we have the breakdown on how to get Lea Michelle's makeup look.
BEAUTY INSPIRATION
"Lea wanted a fresh, flirty and fun Palm Springs look. We wanted to keep it light since the event was during the day but play up the eyes to give it a bit of a sexy feel."
This Liquid Powder Foundation by Hourglass Cosmetics is brilliant! Matte powdery finish, oil free, fragrance free,water-resistant, synthetic dye-free, gluten free, and vegan. I was looking for a foundation like this one, liquid to powder matte finish and non greasy. It's super light on the skin and doesn't feel like you're wearing a foundation. You can even skip your powder. Marta approves:)
Hourglass IMMACULATE Liquid Powder Foundation
Available at Sephora and Sephora.com.
What I call the NEW Film Noir Lash Lacquer by Hourglass is revolutionary. By introducing a whole new lash makeup category the Lash Top Coat, Lash Paint, or Lash Lacquer. Quite brilliant. I'm wearing it right now and just love it. It adds instant gloss, bold pigment, length, and volume to lashes. Another plus, it doesn't rub of and is long lasting. The applicator looks like a lip gloss brush or a nail polish brush. You simply paint lashes top and bottom and done. Super drama. You can also apply after a mascara to elongate the outer corner of your lashes. Needles to say, I'm also impressed with the Hourglass Film Noir Full Spectrum Mascara in Onyx. Star products in my option and a must-have for all the lash lovers.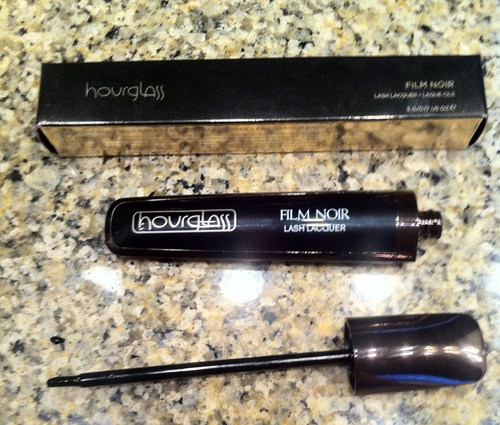 Hourglass Film Noir Lash Lacquer in Kohl. "An ultra-glossy, inky black top coat for lashes that creates length, volume, and showstopping shine. Hourglass Cosmetics Founder Carisa Janes and Artistic Director Gina Brooke are breaking new ground in the beauty space, offering the first product in a new category to redefine lashes."-via Hourglass.
Hourglass Artistic Director Gina Brooke did Madonna's makeup for this evening's "Alexander McQueen: Savage Beauty" Costume Institute Gala at The Metropolitan Museum of Art. "The Met Ball is one of fashion's biggest nights out, and I wanted Madonna's look to be elegant, timeless and absolutely luminous – inspired by 1930s glamour. The focus is flawless skin and ravishing eyes—Madonna's gorgeous eyes and lashes are among her best attributes—which always resonate on the red carpet," says Gina Brooke.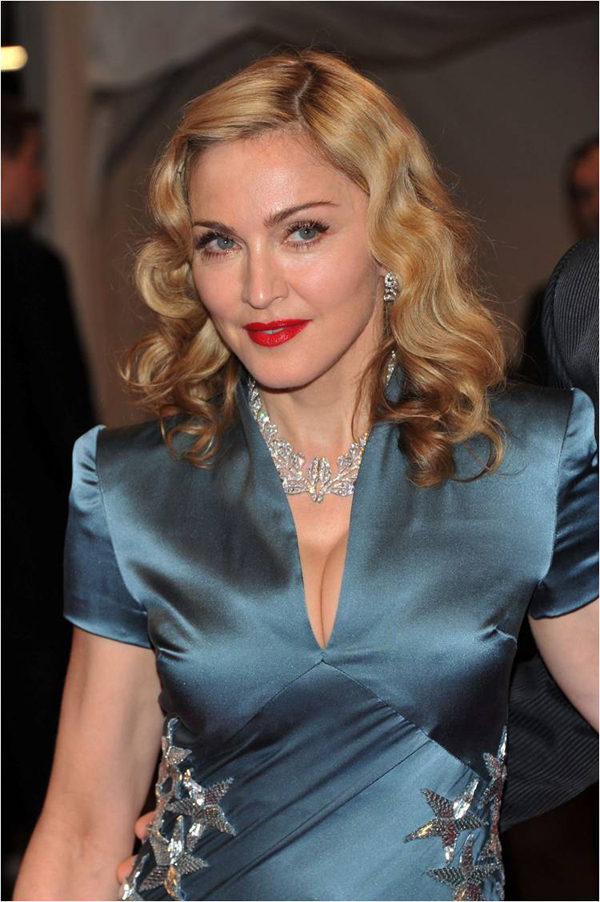 Madonna at the 2011 Met Gala in Stella McCartney dress and Cartier jewelry
How to get Madonna's makeup look:
Skin:
Prep skin first with Intraceuticals Rejuvenate Daily Serum to increase vital moisture and visibly revive the complexion. Follow with Hourglass Veil Mineral Primer, a must-have product for any event because it ensures that makeup lasts all night. It also neutralizes the skin, reduces the appearance of fine lines and pores and enables an artist to paint the perfect canvas.