All Posts Tagged With: "Hourglass"
TM & Marta Walsh has got the word that celebrity makeup artist Kindra Mann worked with Lea Michelle for the LACOSTE L!VE Desert Pool Party In Celebration Of Coachella on Saturday, April 14th in Thermal, CA. And we have the breakdown on how to get Lea Michelle's makeup look.
BEAUTY INSPIRATION
"Lea wanted a fresh, flirty and fun Palm Springs look. We wanted to keep it light since the event was during the day but play up the eyes to give it a bit of a sexy feel."
This Liquid Powder Foundation by Hourglass Cosmetics is brilliant! Matte powdery finish, oil free, fragrance free,water-resistant, synthetic dye-free, gluten free, and vegan. I was looking for a foundation like this one, liquid to powder matte finish and non greasy. It's super light on the skin and doesn't feel like you're wearing a foundation. You can even skip your powder. Marta approves:)
Hourglass IMMACULATE Liquid Powder Foundation
Available at Sephora and Sephora.com.
What I call the NEW Film Noir Lash Lacquer by Hourglass is revolutionary. By introducing a whole new lash makeup category the Lash Top Coat, Lash Paint, or Lash Lacquer. Quite brilliant. I'm wearing it right now and just love it. It adds instant gloss, bold pigment, length, and volume to lashes. Another plus, it doesn't rub of and is long lasting. The applicator looks like a lip gloss brush or a nail polish brush. You simply paint lashes top and bottom and done. Super drama. You can also apply after a mascara to elongate the outer corner of your lashes. Needles to say, I'm also impressed with the Hourglass Film Noir Full Spectrum Mascara in Onyx. Star products in my option and a must-have for all the lash lovers.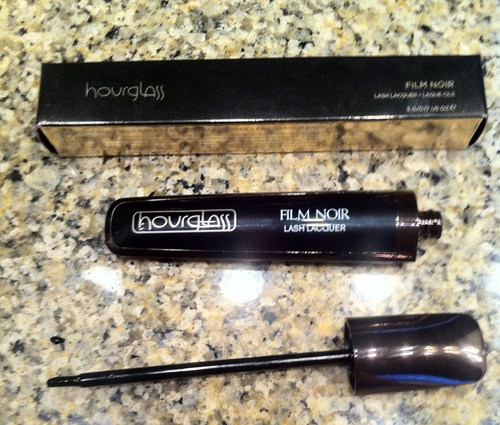 Hourglass Film Noir Lash Lacquer in Kohl. "An ultra-glossy, inky black top coat for lashes that creates length, volume, and showstopping shine. Hourglass Cosmetics Founder Carisa Janes and Artistic Director Gina Brooke are breaking new ground in the beauty space, offering the first product in a new category to redefine lashes."-via Hourglass.
Hourglass Artistic Director Gina Brooke did Madonna's makeup for this evening's "Alexander McQueen: Savage Beauty" Costume Institute Gala at The Metropolitan Museum of Art. "The Met Ball is one of fashion's biggest nights out, and I wanted Madonna's look to be elegant, timeless and absolutely luminous – inspired by 1930s glamour. The focus is flawless skin and ravishing eyes—Madonna's gorgeous eyes and lashes are among her best attributes—which always resonate on the red carpet," says Gina Brooke.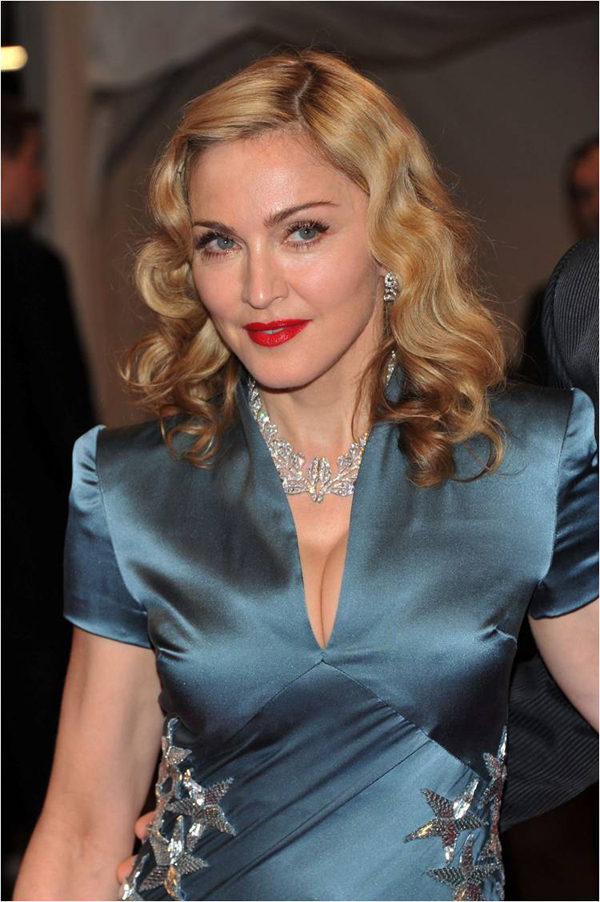 Madonna at the 2011 Met Gala in Stella McCartney dress and Cartier jewelry
How to get Madonna's makeup look:
Skin:
Prep skin first with Intraceuticals Rejuvenate Daily Serum to increase vital moisture and visibly revive the complexion. Follow with Hourglass Veil Mineral Primer, a must-have product for any event because it ensures that makeup lasts all night. It also neutralizes the skin, reduces the appearance of fine lines and pores and enables an artist to paint the perfect canvas.
Hourglass extreme sheen kit is a limited edition set containing mini trio of the newly repackaged extreme shin lip glosses, $45 US.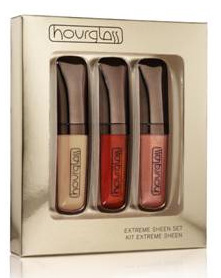 Hourglass extreme sheen kit, shades: CHILD (new), IGNITE, SIREN.
AVAILABLE AT: Sephora, www.sephora.com, Barneys New York
With the holiday season about to begin, Marta Walsh has a sneak peel on Hourglass' holiday gift set, as well as holiday looks and tips from Hourglass Artistic Director Gina Brooke who is one of the most sought-after makeup artists in the world. Gina has worked with such luminaries as Madonna, Anne Hathaway, Naomi Campbell and Gwen Stefani. The makeup artist believes in radiant looking skin without too much sparkle—even during the holiday season. "I like fresh, beautiful makeup all year round," she says. "That said the holidays are the perfect time to make a statement." Here's how to pull it off elegantly.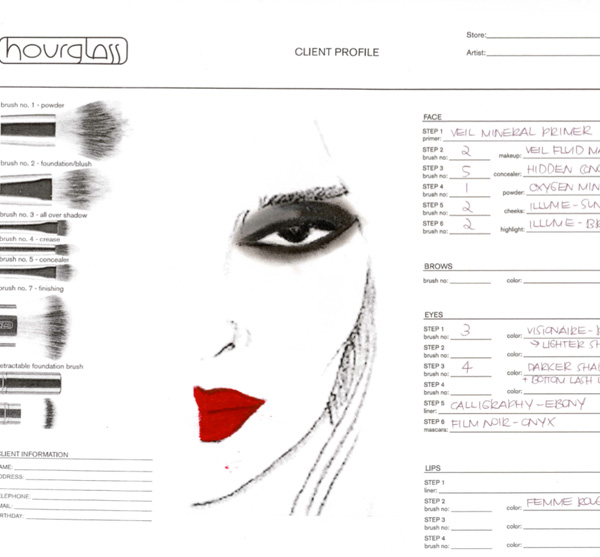 • "When it comes to chic cheeks, I have a three-dimensional approach that anyone can replicate at home.
Hourglass Artistic Director Gina Brooke led an exciting choreographed makeup show with two other makeup artists last week for FNO, Friday September 10th, 2010.  Set to music, three models were meticulously and fluidly transformed into beautiful faces of art.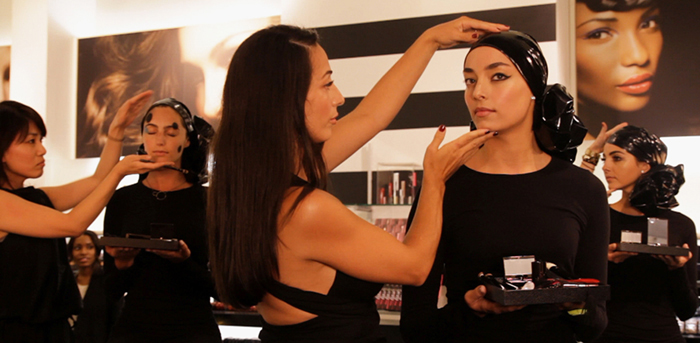 Gina Brooke with model
Gina Brooke said, "The show's about artistry, being innovative and making it fun." The looks featured Hourglass' Fall launches – Femme Rouge Velvet Crème Lipstick and Film Noir Full Spectrum Mascara.
Celebrity makeup artist Gina Brooke gave Anne Hathaway her elegant, timeless look at last night's Met Costume Institute Gala. Read on to get the details on what Gina used.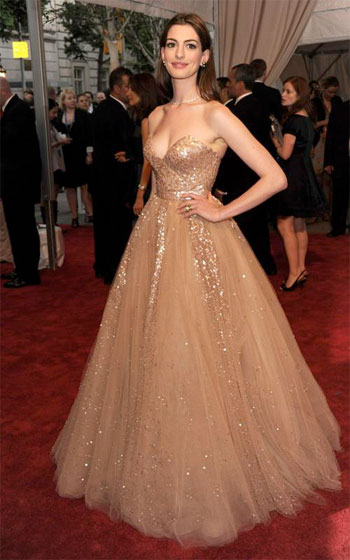 Makeup How To:
First, she shaped and defined Anne's brows using Lancôme Le Crayon Poudre in Brunet. Then she applied Lancôme Le Crayon Khôl in Black Ebony along the lash line and blended with a sponge tip to get rid of any hard edges.
Terri Seymour at the Elton John Annual Oscar Party 2010: Makeup by Celebrity Makeup Artist Melissa Walsh.
"This is how I did Terri Seymour's makeup this afternoon for Elton John's annual Oscar party for his his Aids Foundation – if you aren't going to the actual Academy Awards ceremony this is the place to be!"-Melissa Walsh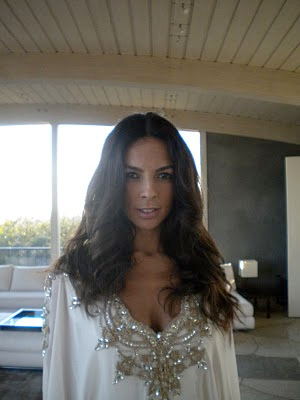 Base: Smooth Hourglass Cosmetics Fluid Veil evenly over the whole face blending out from the middle and downwards.
Under eyes: Dot a little Smashbox Photo-Op Eye Brightener under the eyes to brighten.
Hourglass Cosmetics lead makeup artist Michael Pierce created the LA PERLA Fall 2010 Collection Preview makeup look. The preview took place at the Lehmann Maupin gallery in NYC on the first day of Fashion Week.
"LA PERLA is known for stunning, one-of-a-kind lingerie," say Michael Pierce. "Women simply feel beautiful when wearing their pieces and when creating the makeup, I wanted to reflect the inner-confidence and radiance that comes with wearing LA PERLA."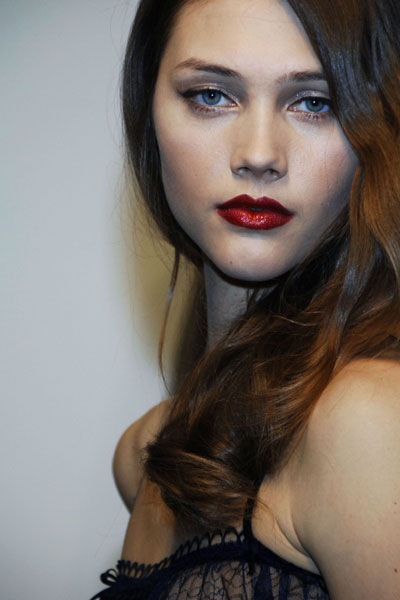 Makeup Tutorial:
For the LA PERLA collection, I was inspired by 40s Hollywood – Veronica Lake and other silver screen sirens. The focus is on a gorgeous, strong red lip, but a red that every woman can wear. LA PERLA is beautiful, sexy and feminine and nothing portrays a woman's beauty like the ability to wear a truly stunning red. Hourglass' "Raven" lipstick is gorgeous and sexy– and works for all women. To add to this look, the eyes are light with tight black eyeliner.