All Posts Tagged With: "Laura Mercier"
Laura Mercier created an exclusive look for Marchesa Bridal Spring 2013 Runway Show, previewing what blushing brides will be coveting next year.
BRIDAL MAKEUP INSPIRATION
For the Marchesa Bridal Spring 2013 Runway Show, Talia Shobrook, lead makeup artist for the show, was inspired by the fashionable and fresh Marchesa bride-to-be. The makeup look she created was whimsical and effervescent. By carefully selecting a palette of warm and diffused colours, she was able to develop the natural flush that people love for brides, evoking a woman that is both innocent and sensual.
TM & Marta Walsh has got the word that celebrity makeup artist Kindra Mann worked with Lea Michelle for the LACOSTE L!VE Desert Pool Party In Celebration Of Coachella on Saturday, April 14th in Thermal, CA. And we have the breakdown on how to get Lea Michelle's makeup look.
BEAUTY INSPIRATION
"Lea wanted a fresh, flirty and fun Palm Springs look. We wanted to keep it light since the event was during the day but play up the eyes to give it a bit of a sexy feel."
Another great foundation find this week laura mercier oil free supreme. The magic word is oil free because I can't stand oily foundations they feel too heavy on the skin and look too shiny. This one has a matte finish. It's silicone-free, fragrance free, and doesn't rub off too quickly. Comes in 12 shades, mine is Honey Beige. $42. Available at Neiman Marcus, Saks Fifth Avenue, Nordstrom, Bloomingdales and Sephora.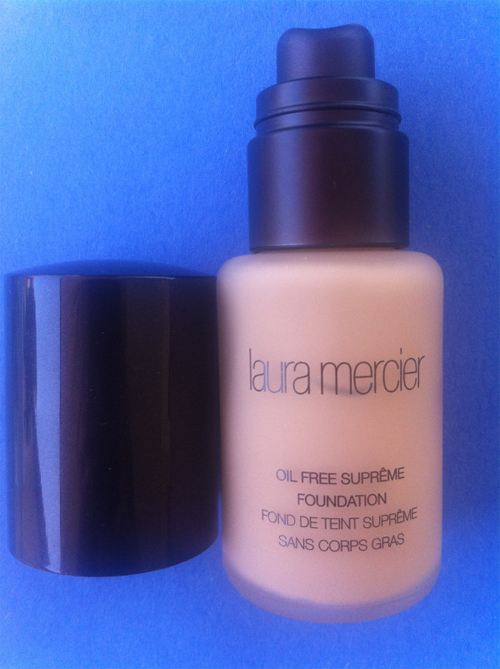 laura mercier oil free foundation
Other shades include: Porcelain Ivory, Blush Ivory, Warm Ivory, Sunny Beige, Vanilla Beige, Golden Beige, Shell Beige, Tawny Beige, Honey Beige, Suntan Beige, Toffee Bronze, Rich Sienna.
Jenny Packham Spring 2012 NYC Fashion Week. Date: Monday, September 12, 2011. Makeup by Talia Shobrook.  All products from Laura Mercier Makeup Collection. BTW Did you know that…we hear that Kate Middleton was spotted purchasing Laura Mercier in London a few months ago and wore a lot of Jenny Packham on her recent North American tripShow…

Jenny Packham Spring 2012 makeup face chart
INSPIRATION: The makeup look is a modern take on the glamorous 1970s, inspired by Jerry Hall and the lyrics from the Rolling Stones song about her, "She's a Rainbow."
Pamella Roland Spring 2012 NYC Fashion Week. Date: Monday, September 12, 2011. Makeup by Matin Maulawizada, Global Artistry Director and Brand Ambassador. All products from Laura Mercier Makeup Collection.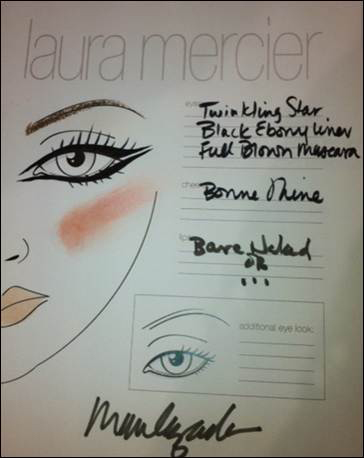 Pamella Roland Spring 2012  makeup face chart
INSPIRATION: The makeup look is inspired by the abstract compositions of American Abstract Expressionist painters from the 1940s. It was designed to complement Pamella Roland's collection which is infused with special fabrics and bold treatments that are evocative of the iconic paintings of the era.
Laura Mercier, creator of the signature Flawless Face, launches a new, thought-provoking campaign called "What Is Flawless?" With this new campaign, Laura Mercier invites you to contribute to a unique online conversation, by submitting a personal definition of "What is flawless?"
Get The Look: Talking Makeup is excited to with you Lancôme Ambassadress Julia Roberts' makeup look details from the buzzed-about premier of Eat, Pray, Love, Tuesday, August 10, 2010. Julia's red carpet makeup was created by celebrity makeup artist Genevieve Herr who channeled a chic and modern look that played up Julia's light brown eyes and her sleek black ensemble.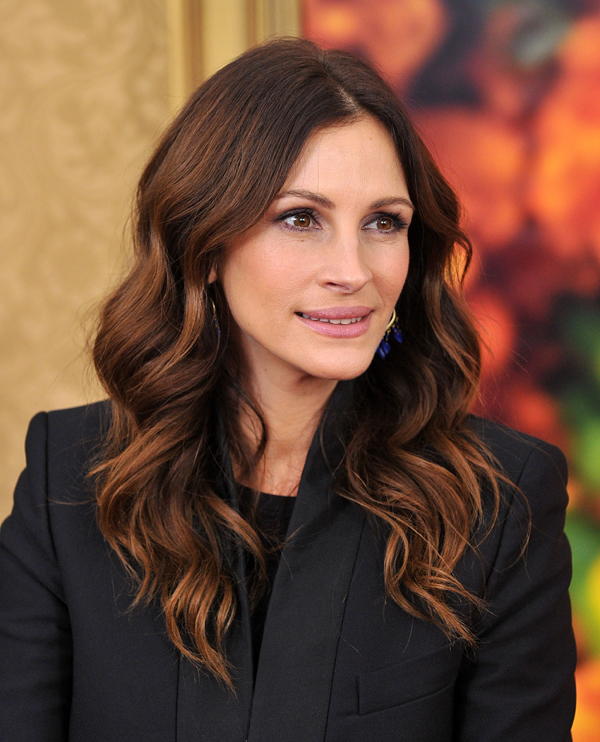 Julia Roberts' makeup look at the Eat, Pray, Love film premiere
Photo: WireImage
Terri Seymour at the Elton John Annual Oscar Party 2010: Makeup by Celebrity Makeup Artist Melissa Walsh.
"This is how I did Terri Seymour's makeup this afternoon for Elton John's annual Oscar party for his his Aids Foundation – if you aren't going to the actual Academy Awards ceremony this is the place to be!"-Melissa Walsh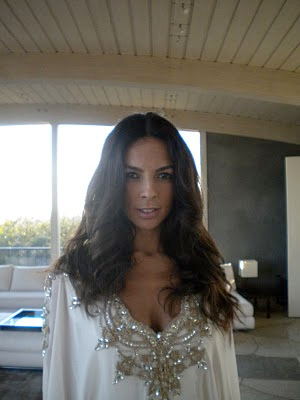 Base: Smooth Hourglass Cosmetics Fluid Veil evenly over the whole face blending out from the middle and downwards.
Under eyes: Dot a little Smashbox Photo-Op Eye Brightener under the eyes to brighten.
Carey Mulligan Oscars 2010: The Makeup
Makeup artist Georgie Eisdell prepped Oscar nominee Carey Mulligan for the big Oscar night.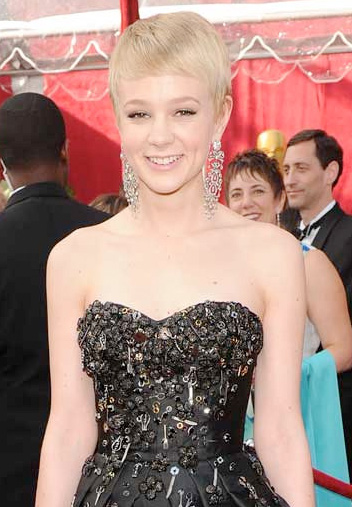 How to get Carey Mulligan's Oscars 2010 makeup look by makeup artist Georgie Eisdell:
"This was Carey's first Oscars so I wanted to make sure she looked age appropriate but still embrace the glamour of the night. Carey's dress was edgy and elegant so I wanted to keep her makeup looking fresh and youthful. I wanted to enhance the natural beauty of her skin so I used La Mer foundation lightly powdered with La Mer's translucent powder over that. For her eyes, I used Chanel soft beige and pink shadows from their spice palette. I used MAC's black track eye liner followed by YSL's Faux Cils mascara in black. To finish off her eyes I sharpened up her eyebrows with Laura Mercier's soft blonde brow powder duo. For her cheeks, I wanted to give them a pinched cheek look with Dior's glowing color powder blush in fruit de la passion. For the finishing touch on her skin, I used Bobbi Brown bronzing powder in medium. And finally on her lips I used Dior addict lip polish 004. I used La Mer body creme on the way out the door to give her body the same glow."
I met Tayaba Zehra Jafri the lead makeup artist for Laura Mercier backstage at the Pamella Roland Spring 2010 during New York Fashion Week last month. Tayaba was kind enough to give us a sneak peek to the makeup look and to some of her Laura Mercier must-have products she used on models at the Pamella Roland show.
The Show: Pamella Roland Spring 2010 Collection.
The Trend: A luxurious spring time look that is eye focused. There is definitely a strong amount  of smoky eye, but it is a smoldering smoke. A reminiscent of the cat eye bit a little softer.
The Inspiration: The luxury glam makeup of the 50′s and 60′s and the paintings of Georgia Totto O'Keeffe.

 
Tayaba touch up the lids with a highlight of a special product called the VIP to give a little texture. A little bit of corner lashes are added to lift up the eyes. And as the look is eye focused Tayaba kept the cheeks and lips subdued. On cheeks she used Second Skin Cheek Colour in Barely Pink by Laura Mercier. To highlight the cheeks she used Illuminating Tinted Moisturizer by Laura Mercier. To add intensity inside the lashes Tayaba applied Laura Mercier Caviar Eye Liner with a brush. On the lips: HydraTint SPF 15 by Laura Mercier was applied.