All Posts Tagged With: "Pamella Roland"
The Pamella Roland Spring/Summer 2015 nail lacquer, appropriately named, "Cherry Blossom!" Inspired by the pamella roland  SS15 collection, the lacquer was created with famed celebrity nail guru Pattie Yankee.
Available now for $12.00 at pamellaroland.com
For Pamella Roland's first ever bridal collection, makeup artist Alexis Comforti created a flawless makeup look that conveyed "classic, radiant and youthful beauty" evocative of a modern Audrey Hepburn.  The key to this look is Laura Mercier's classic formula, Silk Crème Foundation ($47), which helps skin look radiant, fresh and photo-ready.
Pamella Roland Spring 2012 NYC Fashion Week. Date: Monday, September 12, 2011. Makeup by Matin Maulawizada, Global Artistry Director and Brand Ambassador. All products from Laura Mercier Makeup Collection.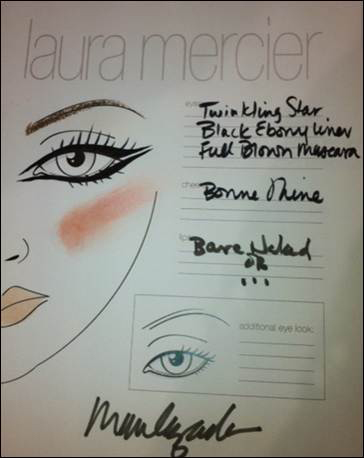 Pamella Roland Spring 2012  makeup face chart
INSPIRATION: The makeup look is inspired by the abstract compositions of American Abstract Expressionist painters from the 1940s. It was designed to complement Pamella Roland's collection which is infused with special fabrics and bold treatments that are evocative of the iconic paintings of the era.
I met Tayaba Zehra Jafri the lead makeup artist for Laura Mercier backstage at the Pamella Roland Spring 2010 during New York Fashion Week last month. Tayaba was kind enough to give us a sneak peek to the makeup look and to some of her Laura Mercier must-have products she used on models at the Pamella Roland show.
The Show: Pamella Roland Spring 2010 Collection.
The Trend: A luxurious spring time look that is eye focused. There is definitely a strong amount  of smoky eye, but it is a smoldering smoke. A reminiscent of the cat eye bit a little softer.
The Inspiration: The luxury glam makeup of the 50's and 60's and the paintings of Georgia Totto O'Keeffe.

 
Tayaba touch up the lids with a highlight of a special product called the VIP to give a little texture. A little bit of corner lashes are added to lift up the eyes. And as the look is eye focused Tayaba kept the cheeks and lips subdued. On cheeks she used Second Skin Cheek Colour in Barely Pink by Laura Mercier. To highlight the cheeks she used Illuminating Tinted Moisturizer by Laura Mercier. To add intensity inside the lashes Tayaba applied Laura Mercier Caviar Eye Liner with a brush. On the lips: HydraTint SPF 15 by Laura Mercier was applied.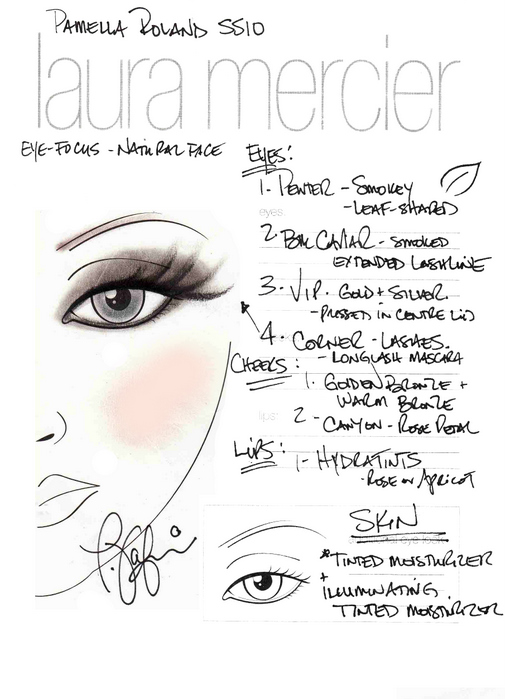 Show: Pamella Roland Spring 2010 Collection
Lead Hair Stylist: Paul Labrecque for Paul Labrecque Salon & Spa & Paul Labrecque Premium Hair Care Collection
Hair Trend: 1940's with a modern textured look.
Inspiration: The hair is inspired by the indirect sexuality of Georgia O'Keeffe's paintings.

Watch Marta Walsh's interview with Paul Labrecque backstage at Pamella Roland Spring 2010. Please excuse for the interview question in writing, my microphone broke during New York Fashion Week. I know, frustrating!:) Lesson: Always check your work as you go along!:)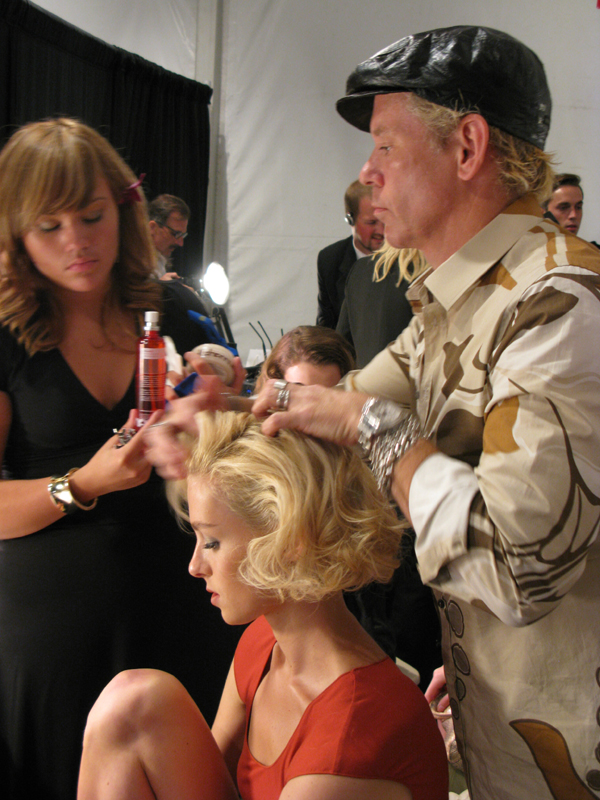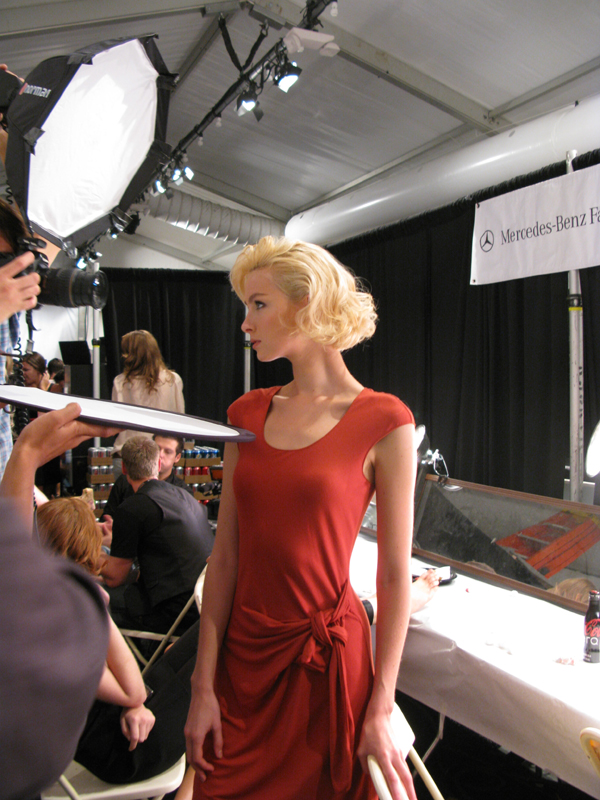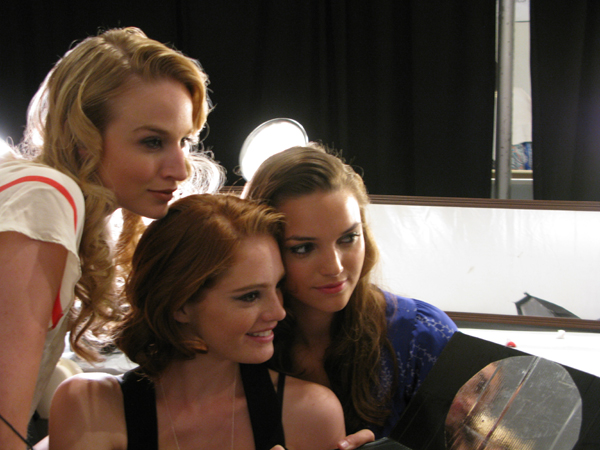 I met Paul Labrecque again backstage at Pamella Roland during New York Fashion Week Spring 2010 and he is the nicest guy! He is always excited to talk to me and tell me all about the hair trends backstage. I met Paul for the firs time this past February also during New York Fashion Week. Actually, I have the interview video with Paul from New York, and I promise to share with you soon. Very soon.
"Each day, I am inspired by my clients. I love the one-on-one interaction." says Paul. "Making people feel beautiful and confident from the inside out is my passion."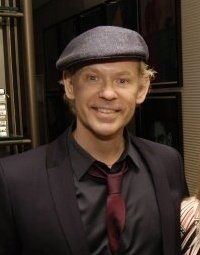 Celebrity Hair Stylist Paul Labrecque
I finally got to try the Paul Labrecque hair care products this morning and I'm absolutely in love. Paul's products are made with natural ingredients and I felt that they were working right away. I tried the following products:
Paul Labrecque Repair Shampoo, $26: Softens my hair in an instant, my hair doesn't feel dry or stripped away. The scent is is very pleasant.
Despite the bitter cold of a typical New York winter, Jessica Stroup heated up New York Fashion Week, with smoldering makeup courtesy of theBalm Makeup Artist, Felicia Roman. Wanting all attention on Stroup's bright blue eyes, Felicia went dramatic with the lids and kept the rest simple.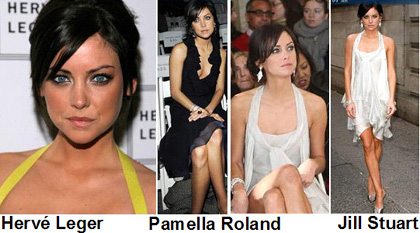 How to create Felicia Stroup's makeup look?
1- Pick-Up-Liners in Don Juan were smudged around the lashes and in a thicker line covering most of the bottom part of the lid to achieve smoky definition. Because the Pick Up Liners are half the size of a typical pencil, Felicia was able to get up close and really push the liner into the base of the lashes with perfect precision.