Despite the bitter cold of a typical New York winter, Jessica Stroup heated up New York Fashion Week, with smoldering makeup courtesy of theBalm Makeup Artist, Felicia Roman. Wanting all attention on Stroup's bright blue eyes, Felicia went dramatic with the lids and kept the rest simple.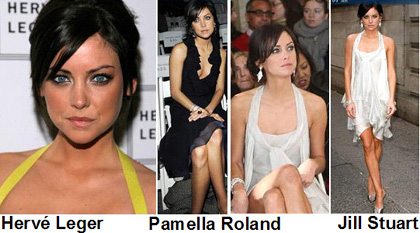 How to create Felicia Stroup's makeup look?
1- Pick-Up-Liners in Don Juan were smudged around the lashes and in a thicker line covering most of the bottom part of the lid to achieve smoky definition. Because the Pick Up Liners are half the size of a typical pencil, Felicia was able to get up close and really push the liner into the base of the lashes with perfect precision.
2- Felicia dabbed ShadyLady Eye Shadow in Luscious Lani across the lid to highlight the symmetrical shape of her face and then finished it off with a light dusting of the sheer 100% mineral Overshadows in "You Buy, I'll Fly" – a copper shimmer- to make Stroup's eyes POP. This powder was also blended into the lower lash line over the pencil for an ethereal finish. The lashes were defined and volumized with 3 coats of Two Timer Mascara– two to instantly build fuller lashes and a third to separate and lengthen.
3- To even out skintone and smooth her skin, Felicia blended BalmShelter Tinted Moisturizer with TimeBalm Concealer. TimeBalm Concealer has time released hydrating properties, so there was no need to reapply between shows- the under eye area stayed bright all day. SexyMama translucent powder gave a photo-finish, and then a combo of the matte Bahama Mama bronzer with the more shimmering berry toned Hot Mama blush gave a healthy glow to the cheeks.
4- Roman conditioned and nourished Stroup's lips with theBalm to the Rescue, and then topped them off with either BalmShelter Lip Gloss in Girly-Girl (for a pinky finish) or Plump Your Pucker in Cocoa My Coconut (a warm nude) to add some shimmer. Jessica LOVED the yummy flavors of the glosses, especially Cocoa My Coconut which she wore for the Jill Stuart show.