All Posts Tagged With: "Haircare"
L'Oréal USA Announces Cradle to Cradle Certifications for Biolage R.A.W. Nourish Shampoo and Conditioner. Certifications Underscore L'Oréal's Commitment to Innovating Sustainably and Advancing the Company's Sharing Beauty With All Objectives
DETROIT, MI, May 23, 2017 — L'Oréal USA announced today that its products Biolage R.A.W (Real – Authentic – Wholesome) Nourish Shampoo and Conditioner have achieved Cradle to Cradle Certified™ SILVER based on an evaluation of the products' material health, material reutilization, renewable energy and carbon management, water stewardship and social fairness.
One Month Until Redken's NEW Clean Maniac Micellar Clean-Touch Shampoo And Clean-Touch Conditioner Hits Shelves!
Via: Redken. February 2017 (NEW YORK) – Today, smart technology can be found everywhere, from your phone, to your car and in almost every corner of your home. We have smart showerheads that filter your chlorinated city water, smart toothbrushes that buzz away plaque, smart makeup that autocorrects to match your skin tone, and smart facial brushes that remove every trace of longwear makeup. Now, with Redken's latest product innovation, haircare gets smart too.
Kérastase Paris, the worldwide leader in professional luxury haircare is thrilled to announce the brand's latest launch coming to market this year – Kérastase Hair Coach Powered by Withings — the world's first-ever smart hairbrush – created in partnership with the leader in connected health, Withings. At the forefront of innovation, the brush is a recipient of this year's International CES Innovation Award.
Amanda Seyfried stepped out last night, October 20th, 2011, for the premiere of her new film, In Time, looking stunning from head to toe. Jenny Cho, Suave Professionals Celebrity Stylist created a sexy blowout to go along with her beautiful dress.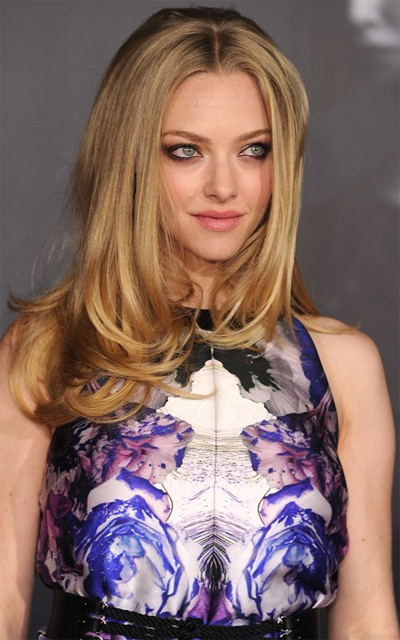 Jenny Cho Suave Professionals Celebrity Stylist creates a bombshell sexy blowout for Amanda Seyfried
Hairstyle Inspiration: "For the premiere, I wanted to give Amanda a hint of Brigitte Bardot's infamous bombshell sexy blowout to show off her beautiful healthy hair" says Jenny Cho, Suave Professionals Celebrity Stylist.
How-to get Amanda Seyfried's hairstyle:
Last week I had an amazing opportunity to meet Salma Hayek during lunch in New York City at the Mandarin Oriental Hotel and chat all about her new superstar cosmetics line for CVS Pharmacy: Nuance Salma Hayek.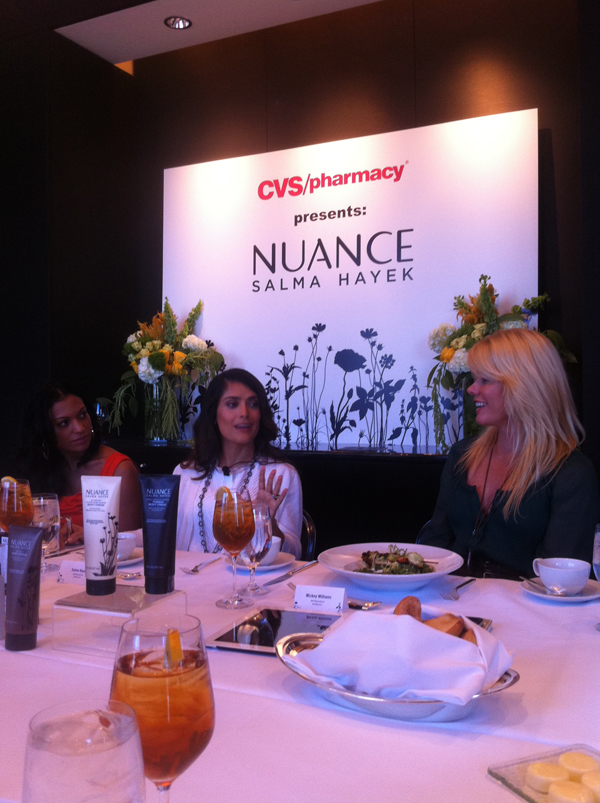 Although Salma Hayek admitted to being tired & jet-lagged she looked absolutely beautiful at lunch. At age 45 Salma is truly one of the best looking natural beauties I've seen.
It's not easy to come up with one good product not alone a whole cohesive cosmetics line. I'm glad to see that Hayek is using her uber celebrity power to create products that actually work and mean a lot to her as oppose to just put her name on anything like some other celebs do (and I'm not naming any names).
Loving the NEW Garnier Fructis Straightening Balm With Argan Oil from the sleek & shine blow dry perfector product line. The magic ingredient is Argan Oil which the new buzz word in haircare. Morrocanoil haircare line is when I first discovered Argan Oil in haircare. Looks like it's the new trend. Why I love this product by Garnier is that it really keeps my hair straight and frizz free long after I first blow dried it. Remember a little bit goes a long way.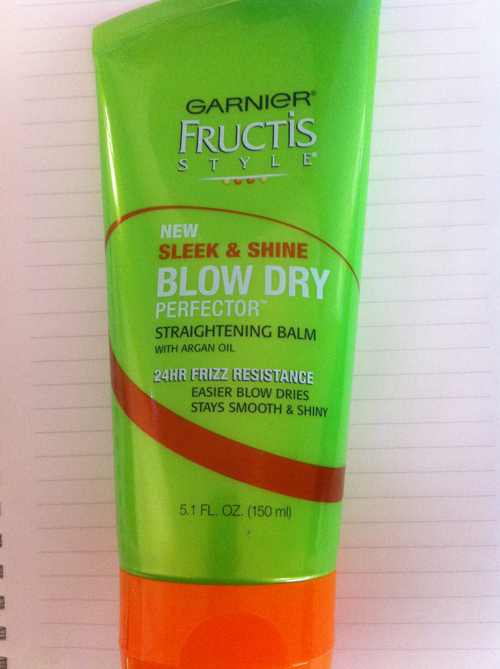 I never thought that I would be getting hair style inspiration from a Princess. Sounds cliche but Kate Middleton happens to have a beautiful hair and the matching hair style. What I love about Kate's hair style is that it's really not too much of a hair style. Very long layers and not too many sharp edges makes this hair style very practical to even the fussiest and busiest women. The longer the hair is, like Kate's, the easier it is to maintain.
Think about it, when your hair has long layers you don't have to spend extra time blow drying these stubborn short bangs that get messed up through out the day (did I mention give the hair spray a break), hair  just falls down with ease. Needless to say, Kate's hair color looks in exceptional condition. I recently saw an old photo of  Kate as a young girl and her hair was lighter, dark blonde perhaps. So IF she currently colors her hair to bit of a darker brown shade it's quite inspirational to me to have such sleek and elegant color treated hair. The truth is loves, I believe with just a little TLC to our hair and the right hair care products, Princess or not, we all have a chance!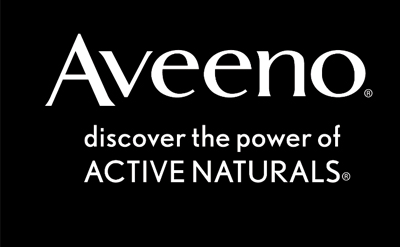 The AVEENO® LIVING COLORTM Hair Care Collection helps to preserve beautiful, vibrant color for up to 40 washes with the help of ACTIVE NATURALS® ingredient Lupine Botanicals. The line includes shampoos and conditioners formulated specifically for fine and medium-thick hair, and a shine glaze to lock in color vibrancy with each use. For more information, visit http://www.aveeno.com/hair-care/living-color
"Disclosure: Compensation was provided by AVEENO® LIVING COLORTM via Glam Media"
"The opinions expressed herein are those of the author and are not indicative of the opinions or positions of AVEENO® LIVING COLORTM"
Every now and again my hair seems to feel dry, distressed, and overworked and in need for some help. It happens to the best of us. This morning I used Redken extreme shampoo and NEW Redken extreme strength bulder plus fortifying mask, and anti-snap leave-in treatment for distressed hair. These hair care products made my hair feel like silk. Wow. It's not an oily treatment which sometimes I find to weigh down my hair. It's an intense protein and ceramide treatment. Not greasy at all just silky.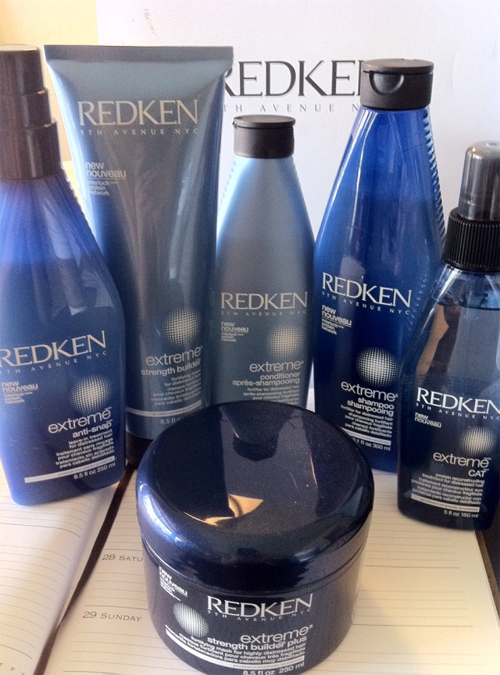 Redken extreme Hair care Line
Did you know that: " Redken was the first brand to introduce protein into professional haicare in the 60's..and now, Redken unvails a new generation of protein science with the dual-patnted Fotfying Complex and Interlock Protein Network, enebling penetration of the hair shaft more than ever before"-Dr. David Cannell, Redken's R&D expert.
I recently got to try the NEW John Frieda full repair haircare line and I'm really loving it. The full repair shampoo feels hydrating yet manages to lather nicely and actually clean my hair without weighting it down. Now I can tell you not too many shampoos can do just that. It smells pleasan. I followed with the full repair conditioner. The result after blow drying, my hair looked shiner than before and silky smooth. And for some reason stayed straight the next day which my hair sometimes struggles to do. imo John Frieda is one of THE best haircare line you can get in your local drugstores.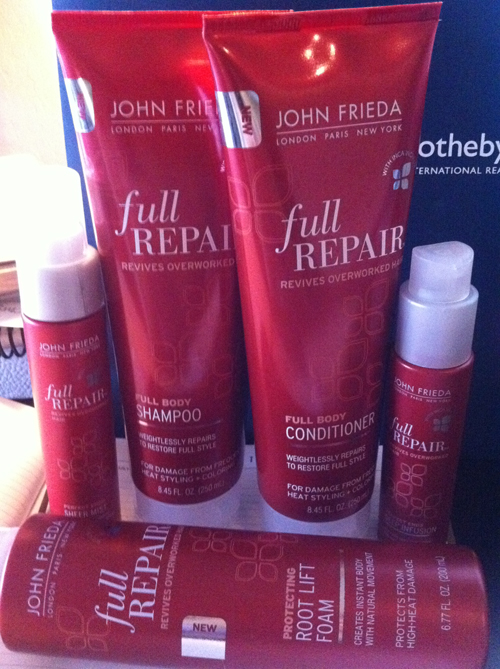 L to R: John Frieda full repair sheer mist, shampoo, conditioner, deep infusion, and root lift foam.
Photo by Marta Walsh
The John Frieda full repair haircare line also includes: perfect ends sheer mist, perfect ends deep infusion, and protecting root lift foam. Main ingredients: Inca Inchi oil which is rich in omega-3. The magic word is 'weightless' hair care which is what I've been looking for. My hair tends to get weighted down easily. It needed this!
***products in above post were provided to me to sample by Kao Brands***