All Posts Tagged With: "Suave Professionals"
As you continue to click the refresh button on life, love and the pursuit of perfect hair in February, we wanted to share the latest innovations from Suave Professionals. No matter the resolution, Suave has a product within three innovative collections that will ease seamlessly into your new and improved beauty routine – and at an amazing price that will fit into your 2017 budget!
NEW Suave Professionals Honey Infusion collection:
Suave Professionals Celebrity Stylist Marcus Francis chopped off three inches of Hilary Duff's hair last week, creating a blunt "lob," or long bob, that will be popping up on the scene this summer as the cut to flaunt during the warmer months. Check out the photos below to see the transformation in action!
"The cut is slightly angled with a shorter length in the back than the front for a chic, edgy finish," says Marcus.
Thinking about making a change for summer? Check out Marcus' tips below:
What should women ask for at the salon that want this cut?
A long bob that hits the collarbone when hair is dry. It's ever so slightly shorter in the back at a 25 degree angle, and has a more blunt cut on the ends.
Suave Professionals® is the exclusive hair care brand on NBC's "Fashion Star" premiering March 13 at 9:30pm ET!


Products from the Suave Professionals Keratin infusion hair care system
Tune in as Suave Professionals hit the runway as the exclusive hair care brand of NBC's Fashion Star
Amanda Seyfried stepped out last night, October 20th, 2011, for the premiere of her new film, In Time, looking stunning from head to toe. Jenny Cho, Suave Professionals Celebrity Stylist created a sexy blowout to go along with her beautiful dress.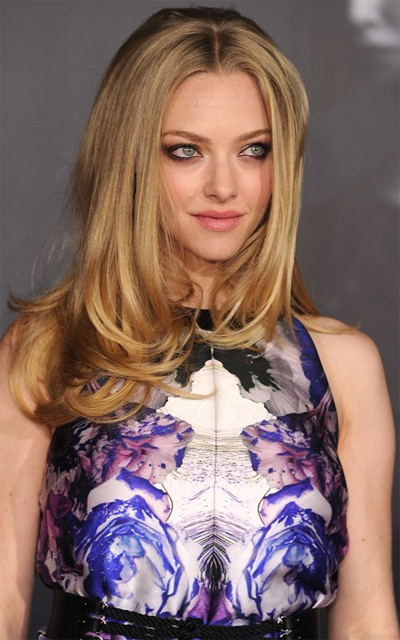 Jenny Cho Suave Professionals Celebrity Stylist creates a bombshell sexy blowout for Amanda Seyfried
Hairstyle Inspiration: "For the premiere, I wanted to give Amanda a hint of Brigitte Bardot's infamous bombshell sexy blowout to show off her beautiful healthy hair" says Jenny Cho, Suave Professionals Celebrity Stylist.
How-to get Amanda Seyfried's hairstyle:
Sofia Vergara's Hairstyle at the 2010 Emmy Awadrs. Emmy-winner Sofia Vergara of ABC's "Modern Family" teamed up with hair care brand Suave Professionals since it's trusted by professional hairstylists and provides true salon-quality performance, to let America choose her red carpet hairstyle for the annual television awards.