All Posts Tagged With: "John Frieda"
Chad Wood styles Vanessa Hudgens for the 2017 MTV Video Music Awards. For last night's MTV Video Music Awards, Vanessa Hudgens' hair made a slick-back but voluminous statement. Inspiration: Chad Wood's inspiration for the sleek and chic style was to play off the texture in Vanessa's dress. Step by step to recreate this look:
Last night, Rita Ora's natural hair texture made a statement on the red carpet in an undone, flirty ponytail. Inspiration: Brent wanted to complement Rita's extravagant Giambattista Valli Couture gown by creating a look that was young and fresh
Stressing Over Last Minute Gift Giving? Let Avon, John Frieda, Pur, and Rituals provide the perfect gifts for everyone on your list!
AVON TRUE COLOR LIP BALMS
Hydrate your lips in 5 of these luscious shades that provide moisture and a pop of color!
Shades include Cherry Kiss, Pink Pucker, Coral Crush, Plum Passion, Peach Pout
PRICE: $4.00 each
AVAILABILITY: Avon.com or through your Avon Representative
Absolutely love the John Frieda Sleek Finish Frizz-Ease hair brushes. Seriously John Frieda saved my hair this summer. Their products get my hair straight and smooth and it lasts. The buzz words: deep-shine silicone bristles create shine, smooth flyaways and help reduce frizz. Tourmaline-100% crushed gemstones release natural IONS for intense shine, they also flatten hair's cuticle layer to increase shine and reduce frizz.
Frizzy hair solutions
The John Frieda Full Repair Flyway Tamer is a must-have if you're serious about  taming your frizzy hair. It looks and applies like a mascara for the hair though…DO NOT use on eyes. So when I'm done blow-drying my hair I use this Flyaway Tamer to get rid of these little spiky short hair that shows in the shadows. It makes my hair look and feel super polished and flyaways FREE.
Rose Byrne rocked a retro updo courtesy of John Frieda International Creative Consultant Harry Josh at the season five premiere of her hit show Damages. Paired with a red lip and a white dress, Rose's loose bun added a carefree element to a chic, classic look.
How to get Rose Byrne's hairstyle
Step 1: Harry applied John Frieda Frizz-Ease Serum Original Formula ($9.99) to soaking wet hair to immediately fight frizz.
The John Frieda Frizz-Ease line will forever remain a must-have classic. It's the first hair serum I have ever used to tame my very voluminous and frizz prone hair back in early 1990s. My latest favorites from the line are:  John Frieda Frizz Ease 3 Day Straight & Sheer Solution Lightweight Frizz Control. Got frizzy hair? You have got to try.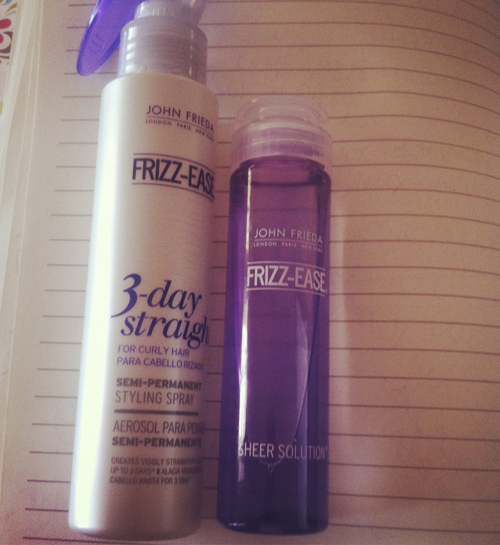 John Frieda Frizz Ease 3 Day Straight & Sheer Solution Lightweight Frizz Control product review
At the 2012 CFDA Awards, designer Mary-Kate Olsen showed off a dramatic new hue—a far cry from her normally blonde locks—courtesy of John Frieda International Creative Consultant Harry Josh.
How to get Mary Kate Olsen's brown hair color
Want to replicate this shade at home? Josh recommends John Frieda's Precision Foam Colour in 4BG ($12.99 at drugstores). "It's difficult to recommend at-home hair color to replicate a professional color job at-home, but this formula truly delivers professional results. Plus, this dark, chocolate brown shade is incredibly gorgeous," says Josh. "It's fun to experiment with a new hair color and deep, rich brunette shades tend to leave hair looking healthy and shiny."
For the 2012 Billboard Music Awards red carpet, John Frieda's International Creative Consultant Harry Josh gave pop star Carly Rae Jepson a super sleek rock n roll blow out.
HOW TO GET THE PERFECT BLOW-OUT
Rose Byrne revealed a whole new look on the red carpet tonight at the 2012 SAG Awards. Rose's stylist and John Frieda International Creative Consultant Harry Josh says that her new look is "70's inspired with a modern twist. Think Michelle Pfeiffer in Scarface meets a modern day Anna Wintour."
How to get Rose Byrne's hairdo at the 2012 SAG Awards
"It's the epitome of chic, just like Rose." – Harry Josh