All Posts Tagged With: "Giambattista Valli"
Last night, Rita Ora's natural hair texture made a statement on the red carpet in an undone, flirty ponytail. Inspiration: Brent wanted to complement Rita's extravagant Giambattista Valli Couture gown by creating a look that was young and fresh
IMAN, the greatest models of all time received the Fashion Icon Award at the 2010 CFDA Awards yesterday, June 7th, 2010. The award was presented by Isabella Rossellini. IMAN's stunning dress was by Italian fashion designer, Giambattista Valli. Congrats IMAN! We love you!!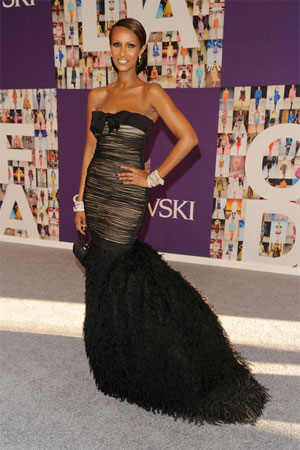 Nail Trends: French Nude Colony by CND: While the runways have been filled with prim clothing, nails are going nudist! Not bare-naked, but perfected flesh tones. Just as airbrushing makes skin appear flawless, these gorgeous Colours hide imperfections and make for an elongated, natural-looking nail. At Sonia Rykiel, CND used warm, opaque neutral Desert Suede for a creamy finish. At Giambattista Valli and Jasmine di Milo, CND used semi-sheer neutral Putty for gorgeous, chic manicures.