All Posts Tagged With: "IMAN"
Another exciting V Magazine sneak peek to the "Can't Stop the Muses" spread on newsstands now. Inspiration is the spark. Five designers, such as: Isaac Mizrahi, Karl Lagerfeld, Francisco Costa, Diane Von Furstenberg, and Stella McCartney, nominate the women (and one man) who push their creative process forward.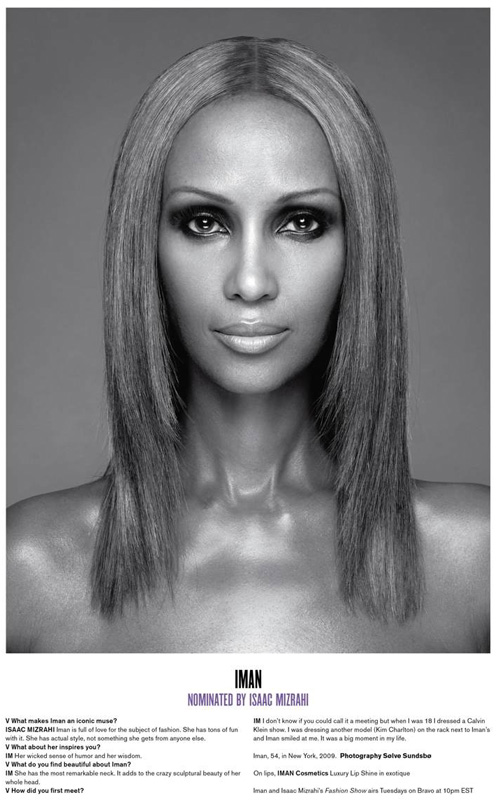 Iman – Nominated by Isaac Mizrahi; Photography: Solve Sundsbo
IMAN Home. Iman who is launching a home fabrics line this week has collaborated with design consultant Carlos Mota in designing the at Mercedes-Benz Star Lounge during NY Fashion Week. Here's the details!
"I am so excited to partner with Mercedes-Benz on this project," said Iman. "We have worked tirelessly in preparation for the launch of IMAN Home and to have this forum, at Mercedes-Benz Fashion Week, is a great way to unveil the collection."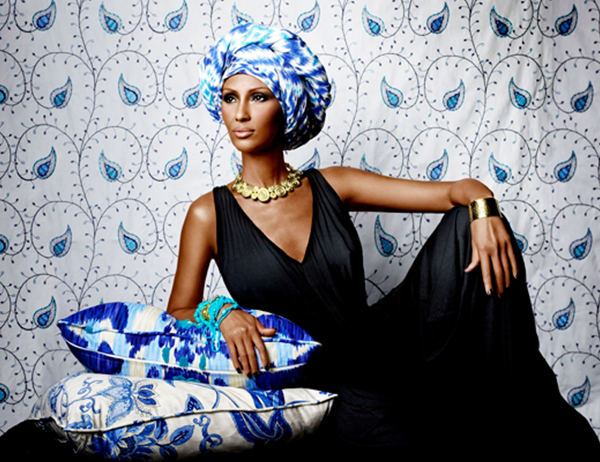 "This is an exciting project for me," said Mota. "It is great to be working with a team so attentive to detail and quality."
Accessories Council's 15th Anniversary: Accessories Council recently celebrated their 15th Anniversary with a Picnic in the Park! In honor of the celebration, celebrities and fashion designers created one-of-a-kind picnic baskets for a silent auction, and the proceeds all went to a charity of each designer's choice. Fashion Icon and home designer Iman designed a unique picnic basket using fabrics from her IMAN Home Collection. You can still bid on the basket here until August 23rd, 2010!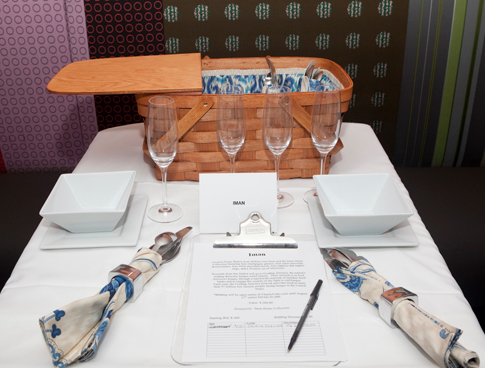 Iman's picnic basket
IMAN, the greatest models of all time received the Fashion Icon Award at the 2010 CFDA Awards yesterday, June 7th, 2010. The award was presented by Isabella Rossellini. IMAN's stunning dress was by Italian fashion designer, Giambattista Valli. Congrats IMAN! We love you!!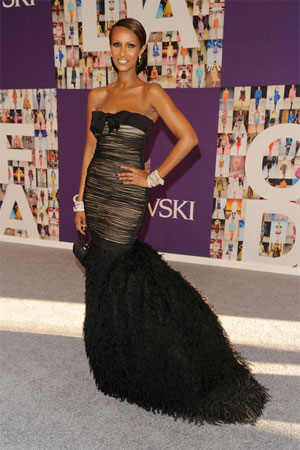 Escorted by NARS Creative Director and Founder François Nars, Isabella Rossellini attended last night's CFDA Awards Gala (2010), at Lincoln Center in New York City to present the Fashion Icon Award to Iman. Isabella wore all NARS makeup to the event. Excited about her appearance, François encouraged Isabella to wear the soon-to-be launched Pure Matte Lipstick.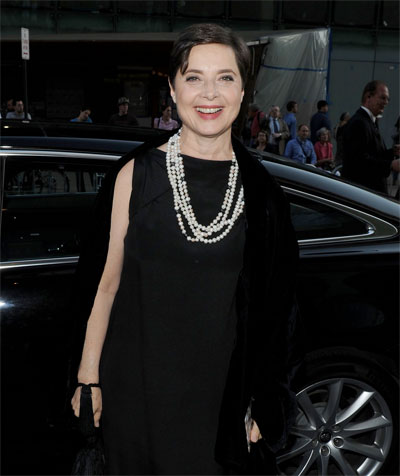 "Rather than going with a nude sheer, we went with a modern, matte lip, similar to Isabella's natural lip tone," says NARS International Makeup Artist James Boehmer. "This balanced the look and gave more overall color – making the eyes appear less intense."
Below are the NARS products that James used on Isabella Rossellini:
NARS Founder and Creative Director François Nars will escort presenter Isabella Rossellini to tonight's CFDA Fashion Awards Gala (2010). Rossellini and Nars have been close friends for many years and recently worked together on NARS' 15X15 Project and book, in which Rossellini was featured. Rossellini will be presenting the Fashion Icon Award to Iman.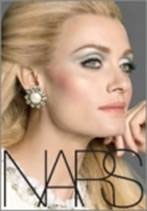 NARS International Makeup Artist James Boehmer will be creating Isabella's makeup for the evening. Stay tuned for the details on Isabella's look!
Last night, celebrity makeup artist Sam Fine created a beautiful "Modern 30's Glam" look for supermodel IMAN. Below, Sam shares the product he used to create this iconic look.
SKIN: Every look that walks the red carpet begins with flawless skin. I start by using Iman's Second to None Luxury Radiance Liquid Makeup Enriched with Minerals (in shade 2) to highlight and conceal the under eye area. Then I uses Iman's Second to None Stick Foundation in the same shade to achieve a flawless complexion that not only looks great on the red carpet, but lasts though the night!
For an IMAN Cosmetics contest (guys, please wish Marta luck and cross fingers I win) I was asked about my FOUNDATION. Who or what makes up the support system that helps me achieve my success and happiness, that is.
Just like in makeup a good foundation is the first and most important thing you need to achieve a beautiful and complete makeup look. If your skin is uneven, red, and not flawless because you're are using the wrong foundation no other makeup will work to fix it or make it look better. Same thing with my life, my family and the love I have everyday is my foundation for everything else I do. Some people operate from pain. I operate and create from love, happiness, and good foundation. My fabulous husband Matt and my two boys Jake and Kieran give me a sense of confidence to make things happen. Without them I'm seriously in the market for a makeover. A new foundation perhaps? 🙂
The evidence to Marta's good FOUNDATION:

L to R The Walsh's: My husband Matt, Marta (me), Jake, and Kieran
Here some of the beautiful celebrities who attended the Glamour Magazine 2009 Women of the Year Honors last night.
Rihanna: wow look at the dress, and Rihanna's hair color is looking blonder by the second. Personally I'm not a huge fan of Rihanna's hairdo. Maybe her stylists try to position her as edgy and different, but I much prefer Rihanna in longer more feminine hair. But, this is just me.
I'm excited about IMAN's newest addition to her Global Chic Collection! Not sure you if you've noticed yet, but I'm a huge IMAN fan. Truly one of the most beautiful women ever!
Here are some of IMAN'S newest hot products:
Live in the lap of luxury with her Bold Crystal and Swirl Link Bracelet Watch. The best part is not only will you arrive at your destination on time and in style but you won't break the bank at only $94.95. (Available in rose, silver, and gold)
Marta's pick: I'm between the silver and the rose. And you?:)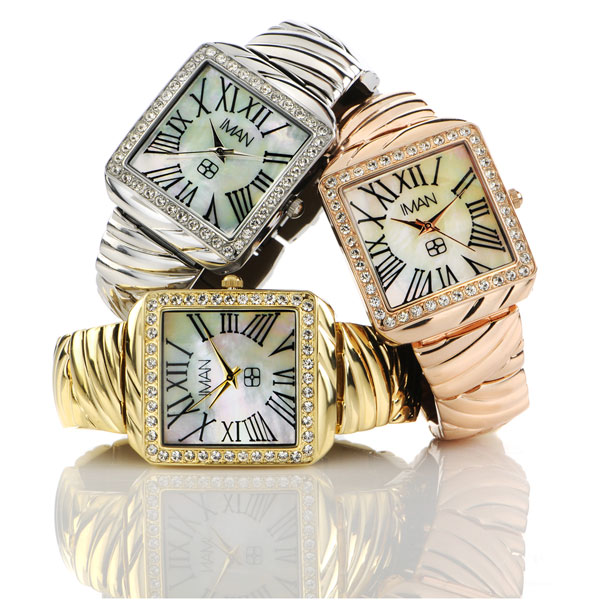 Can't see the time because the sun is glaring in your eyes? Not a problem because this woman came up with it all! Try Iman's new Aviators! So stunning, stylish, and sure to make heads turn where ever you go. Once again there designer quality with out the designer price tag coming in at $44.95! (Available in silver and gold)