IMAN Home. Iman who is launching a home fabrics line this week has collaborated with design consultant Carlos Mota in designing the at Mercedes-Benz Star Lounge during NY Fashion Week. Here's the details!
"I am so excited to partner with Mercedes-Benz on this project," said Iman. "We have worked tirelessly in preparation for the launch of IMAN Home and to have this forum, at Mercedes-Benz Fashion Week, is a great way to unveil the collection."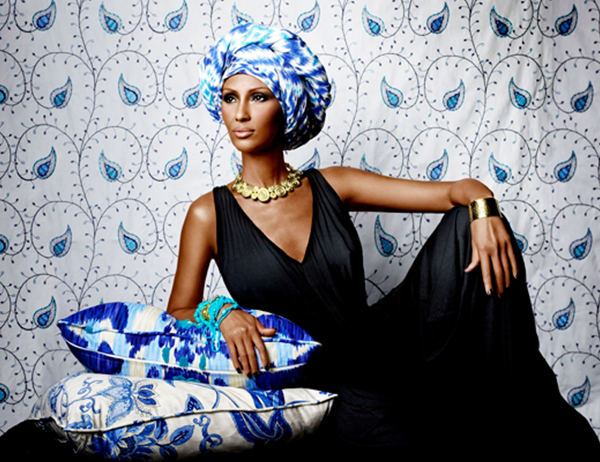 "This is an exciting project for me," said Mota. "It is great to be working with a team so attentive to detail and quality."
As Mercedes-Benz Fashion Week arrives to its new home at Lincoln Center, what remains unchanged is Mercedes-Benz commitment to style and luxury at one of the world's biggest annual fashion events.
Through a collaborative effort with fashion icon Iman and her new IMAN Home designs, and interiors and special events design consultant Carlos Mota, the VIP Mercedes-Benz Star Lounge is a bold design statement and sanctuary for guests taking in the latest fashion looks on the runway during Mercedes-Benz Fashion Week spring and summer 2011 season.
IMAN Home designs are inspired by international locales and traditional, yet modern, crafts to bring a beautiful blend of cultural richness in the fabrics. The Mercedes-Benz Star Lounge serves as the first look at these designs from her collection, which launches in late September 2010.
IMAN Home, in conjunction with P/K Lifestyles, a development and marketing agency specializing in decorative fabric manufacturing for a portfolio of consumer driven brands, marks Iman's first venture into the home décor industry adding to her current businesses, which include cosmetics, fragrance, apparel and accessories.
During the course of her fourteen year modeling career, Iman graced the covers of top fashion magazines around the world and has acted as a muse to many prominent designers including Gianni Versace, Donna Karan, and Yves Saint-Laurent. On June 7, 2010, Iman was recognized for her contributions to the industry over the past thirty years by receiving the Fashion Icon Award from the Council of Fashion Designers of America.
In conjunction with Iman's bold décor elements, acclaimed interior designer and interiors and special events design consultant, Carlos Mota, provides his expertise and artistic direction to bring to life the 30' by 26' Mercedes-Benz Fashion Week lounge.
No stranger to the fashion community, Carlos Mota, whose friends and supporters include many NYC tastemakers and designers, takes a seemingly ordinary room inside Lincoln Center and transforms the space into a safe haven for Mercedes-Benz Fashion Week VIPs. Those lucky enough to gain access to the lounge are transported to an exotic, almost tribal oasis equipped with cozy couches, chairs, daybeds, full bar and private sitting area.
The Mercedes-Benz Star Lounge is available to designers, celebrities, VIPs, media and guests, by invitation or through an access card provided by Mercedes-Benz.
ABOUT IMAN HOME
Influenced by global culture and contemporary design, the IMAN Home mission is to create elegant, affordable items that mix exotic elements with a new degree of sophistication. In conjunction with P/K lifestyles, IMAN Home will take inspiration from international locales and traditional crafts incorporating modern design elements that create a beautiful blend of cultural richness. IMAN Home will be available at Calico Corner and Calico Home Stores and select retailers across the country. For more information please visit imanhome.com.