All Posts Tagged With: "Isaac Mizrahi"
Hosted by Isaac Mizrahi, the second annual Spring Party, benefitting Good Shepherd Services included cocktails, a dinner menu created by Marcus Samuelsson and dancing. The night served as a fundraising event that highlight the work Good Shepherd Services has accomplished over the past year. The evening benefited the thousands of at-risk children, youth, and families that Good Shepherd Services assists through its various programs.
Last night at Highline Studios New York City, april 27, 2011, Isaac Mizrahi hosted the first ever Spring Party for Good Shepherd Services, a charity that he works very close with. Who else: Mariska Hargitay, Kelly Rutherford, Coco Rocha, Gail Simmons, Veronica Webb, Arden Wohl, Dominique Piek, Sky Nellor, Ana Pincus, Elbe van der Merwe, Fiona Rudin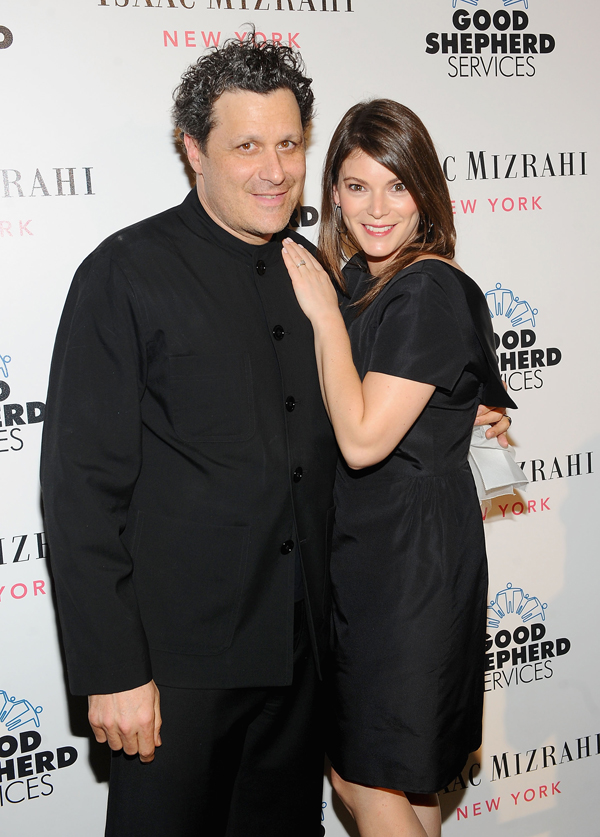 Isaac Mizrahi and Gail Simmons at the Good Shepherd Services Spring Party
Hosted by Isaac Mizrahi New York, the first ever Good Shepherd Services Spring Party included cocktails, Chateau Bonnet wines, dinner curated by Mario Batali, music by Sky Nellor and dancing.
Another exciting V Magazine sneak peek to the "Can't Stop the Muses" spread on newsstands now. Inspiration is the spark. Five designers, such as: Isaac Mizrahi, Karl Lagerfeld, Francisco Costa, Diane Von Furstenberg, and Stella McCartney, nominate the women (and one man) who push their creative process forward.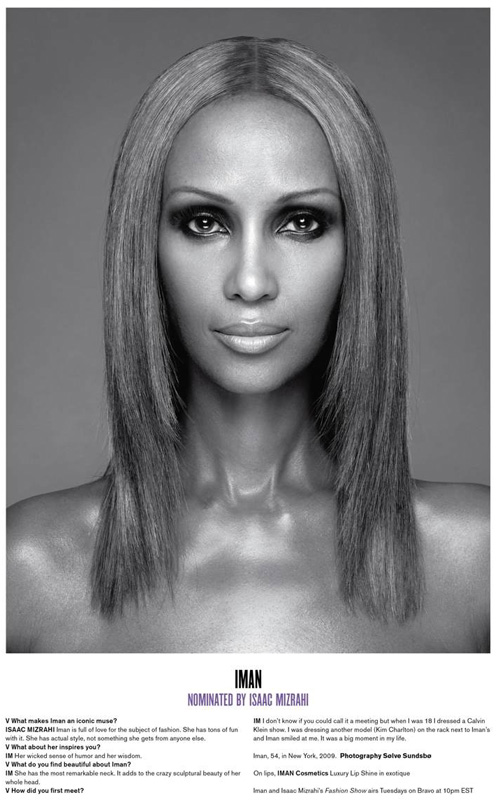 Iman – Nominated by Isaac Mizrahi; Photography: Solve Sundsbo
New York Fashion Week. Isaac Mizrahi AW 2010. Makeup by Val Garland for MAC Cosmetics.
The look and inspiration: "The theme was Siberian winter storm – we wanted the girls to look frosty, as if they had been caught in a snowy wind."– Val Garland

Isaac Mizrahi AW 2010 makeup face chart by MAC Cosmetics
The makeup breakdown. All products by MAC.
Eyes:
Eye Shadow in Vanilla – washed over the eyelid and into the crease of the eye
Select Cover-Up Concealer – applied to the lashes and brow to mute natural colour
You are invited to join Bergdorf Goodman celebrate Fashion's Night Out, Thursday September 10th 5:30-11PM.
WHERE:
Bergdorf Goodman
5th Avenue At 58th Street, New York City
The list of Fashion & Style who's who is incredible:
5:30PM: Zac Posen paints one-of-the kind dresses modeled by Anna Cleveland. Fifth Avenue Windows
6PM: Padma Lakshmi, Cynthia Rowley, Edward Bess, Giles Mendel, Lela Rose, Naeem Khan, and Peter Som
7PM: An exhibition of photographs from the book Extreme Beauty In Vogue. Guests: Curator Phllis Posnick, Dr. Patricia Wexler, Daria Werbowy, and Caroline Trentini
8PM: Andre Leon Talley, Vogue Editor-At-Large, Donna Karan, Director Linda Fargo, and Style Expert Robert Verdi
9PM: A conversation with Isaac Mizrahi and tunes by Ben Waltzer Trio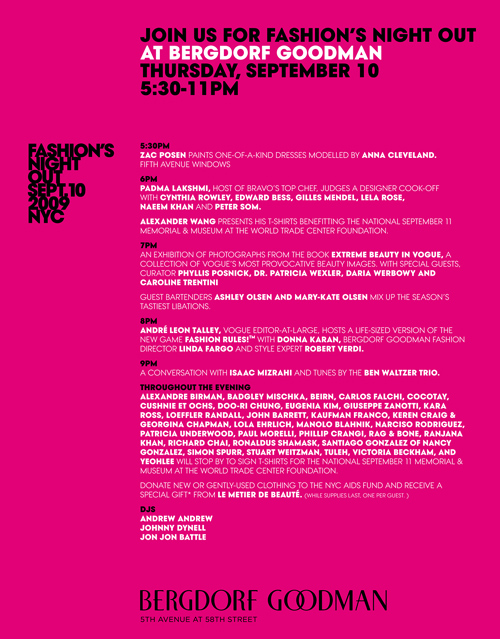 I'm such a big fan of fashion designer Isaac Mizrahi, I think he is super talented and has a fabulous sense of humor.
Isaac Mizrahi has probably the most interactive websites out there and I wanted you to check it out. You can watch Isaac's latest video blogs, which by the way, are so cool because you can get to know a bit of his own personal style and see how funny he is. And, the icing on the cake, you can get to watch Isaac Mizrahi's Spring 2009 Collection straight from the runway of New York Fashion Week. It's spectacular, not just because Isaac's exquisite designs, but you will feel you are actually there, front row. I know I don't want to miss this privileged experience. If you are reading this Isaac, thank you so much for giving us a sneek peek!
The Fall issue of TIME Style & Design is on newsstands now.
Editor Kate Betts has joined together the ultimate fashion insider, Isaac Mizrahi, with the ultimate outsider, Joel Stein, to blog from the shows and parties all week long: http://time-blog.com/live/ !
Also in TIME Style & Desigh: "10 Questions: Kenneth Cole" The acclaimed designer tells TIME Style & Design what kind of shoes he would design for the U.S. Presidential candidates, "For [John] McCain, a pair of the 'right wing' tips. For Obama, a comfortable sport shoe, good for 'running in.' May the hardest-working and best candidate win, and may the only loafer that makes it into the White House be mine."