All Posts Tagged With: "MAC Cosmetics"
The powerful MAC purple of Heroine Lipstick is back – so you can get the breakout fan favorite from MAC Fashion Sets anytime you like. The vibrant matte is now available permanently and will be pre- launching Online December 16, 2013 – www.maccosmetics.com
Available in stores January 2, 2014 in the permanent line #MACHeroine
INTRODUCING M·A·C MARILYN MONROE. Available online September 27, 2012 through November 1, 2012. Available in stores October 4, 2012 through November 1, 2012.
M∙A∙C Marilyn Monroe, a colour collection that channels the legend's lustre and sex appeal in shades and formulas meticulously Marilyn. Lipsticks in rapturous reds, gleaming Dazzleglass, a dramatic 35 Lash, False Lashes Extreme Black and Eye Shadows in shimmering metallic and diamond tones provide silver-screen allure. The finishing touch: Nail Lacquers destined to be a girl's best friend and Beauty Powder to evoke that flawless Forever Marilyn.
Love the NEW MAC Extended Play Lash mascara..smaller brush easy to control. Get my lashes long, separated and simply gorgeous.
Best Mascaras by Marta Walsh
Last night, Marc 29, 2012, MAC Cosmetics celebrated its new Reel Sexy collection with a movie theatre-inspired fete at the Robertson PRO store.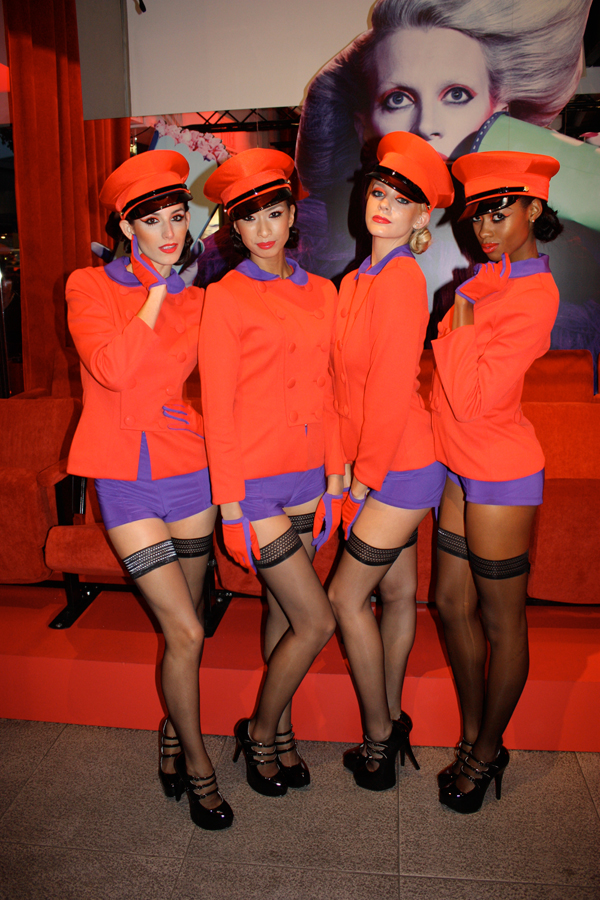 MAC Celebrates Reel Sexy Collection
Loving the MAC VIVA GLAM Nicki Minaj lipstick the perfect bright coral pink. The technical shade description is bright yellow pink with a satin finish. I like to layer it on top of my favorite lip gloss. I start with a lip gloss first then add a hint of color with this Nicki Minaj lipstick. This is contrary to what many makeup text books advice…I find the way I do it the effect is a lot softer and makes lips appear more plumped. See, when it comes to makeup don't always go by the book, make it work for you!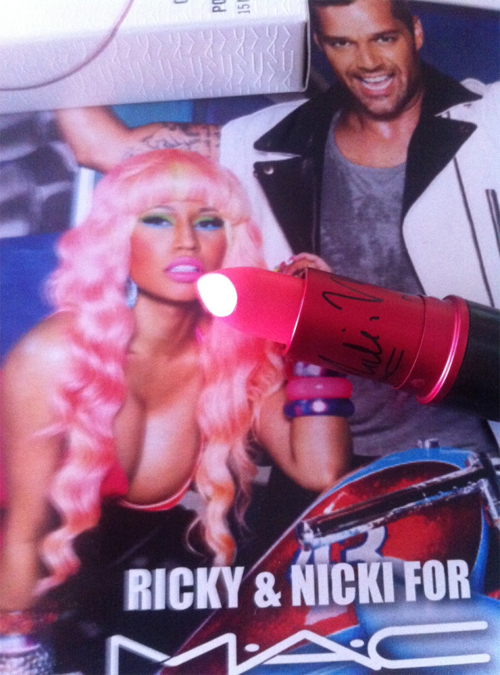 Ricky & Nicki For MAC VIVA GLAM
MAC VIVA GLAM Nicki Minaj lipstick
MAC Naturally.. sneak peek to NEW makeup collection available January 5-February 9 2012.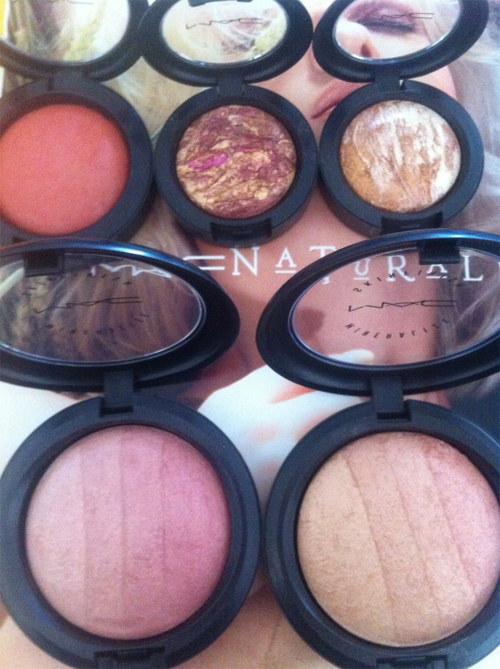 L to R, T to B: Mineralize Blush Early Morning, Eye Shadow In The Sun, Eye Shadow Summer Haze, Mineralize Skinfinish Blonde, Mineralize Skinfinish Redhead
MAC Naturally makeup
Sneak peek to NEW MAC Iris Apfel collection available January  5th through February 9, 2012.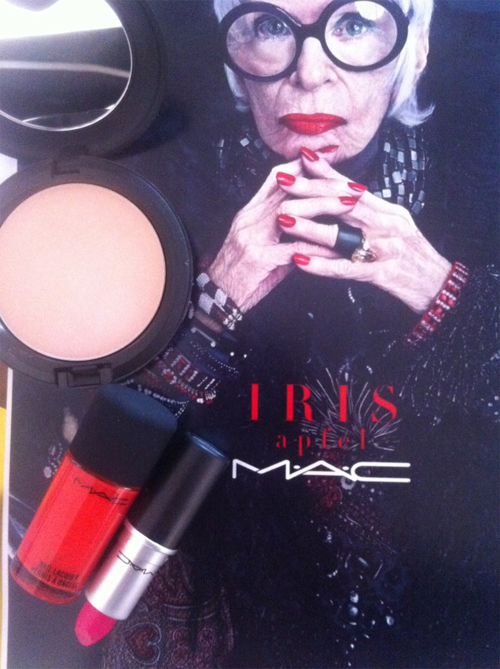 MAC Iris Apfel
L To R:  Beauty Powder in TOO CHIC Soft Peachy Cream With Fine Shimmer, Nail Lacquer in Oriele Orange Bright Orange coral, Lipstick in Pink Pigeon Bright Cleanest Pink (Matte).
Introducing Daphne Guinness for MAC Available December 26, 2011 through February 9, 2012.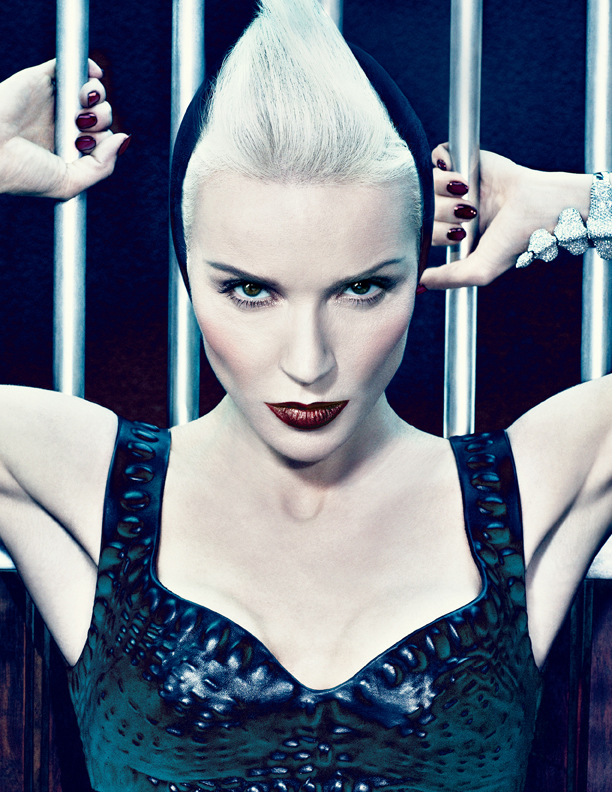 DAPHNE GUINNESS FOR MAC
This is the first glimpse into the palette and colours imagined and created by Daphne Guinness. Daphne is her art. This is part of her discovery and evolution. "This collection is a window into my imagination."
NEW YORK, November 17, 2011 -MAC reveals the image for the 2012 Viva Glam campaign on Facebook.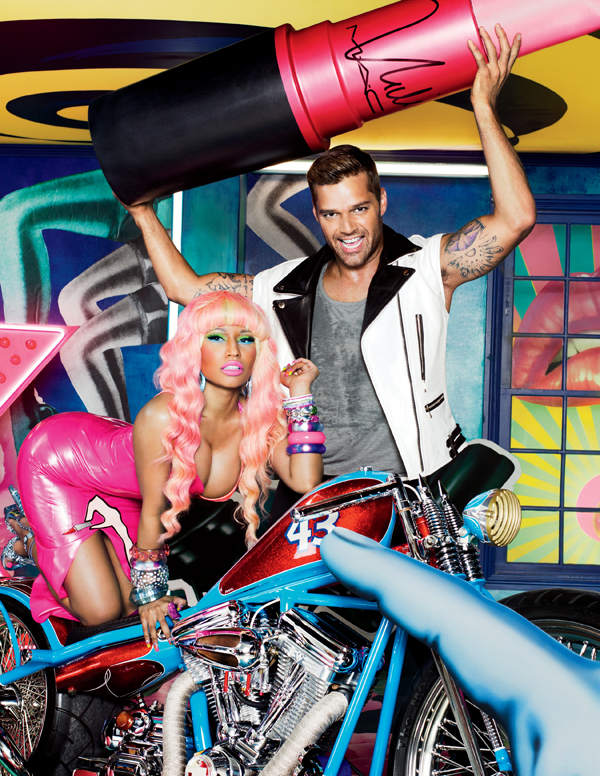 Viva Glam: Ricky & Nicki Campaign Reveal
Ricky Martin and Nicki Minaj in the MAC Viva Glam 2012 campaign visual shot by David LaChapelle. Every cent of Ricky and Nicki's Viva Glam products, on-counter February 2012, goes to support the MAC AIDS Fund.
The new must-have beauty for the season is MAC Festive Finery Nail Polish which is from the MAC Holiday 2011 collection. It's a melange of purple, grey, and black. It's also super glossy and long-wearing. Pretty cool.

MAC Festive Finery Nail Polish (Cream)