All Posts Tagged With: "Nicki Minaj"
M·A·C Viva Glam spokesperson, Nicki Minaj, celebrates the MAC AIDS Fund's $250 million milestone before her concert during International AIDS Conference in Washington DC.
Loving the MAC VIVA GLAM Nicki Minaj lipstick the perfect bright coral pink. The technical shade description is bright yellow pink with a satin finish. I like to layer it on top of my favorite lip gloss. I start with a lip gloss first then add a hint of color with this Nicki Minaj lipstick. This is contrary to what many makeup text books advice…I find the way I do it the effect is a lot softer and makes lips appear more plumped. See, when it comes to makeup don't always go by the book, make it work for you!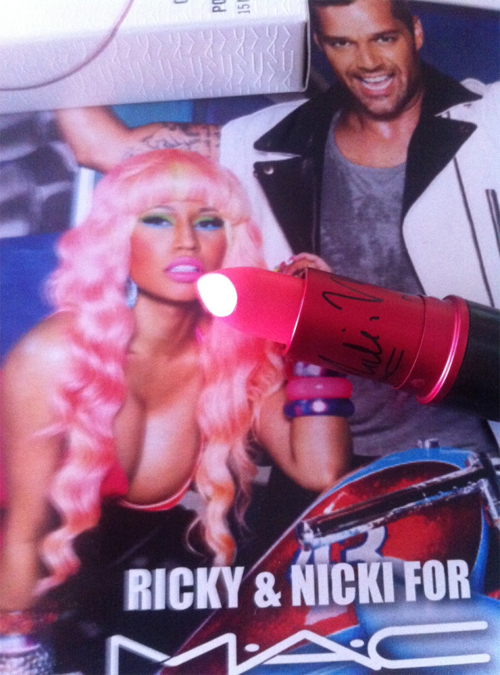 Ricky & Nicki For MAC VIVA GLAM
MAC VIVA GLAM Nicki Minaj lipstick
NEW YORK, November 17, 2011 –MAC reveals the image for the 2012 Viva Glam campaign on Facebook.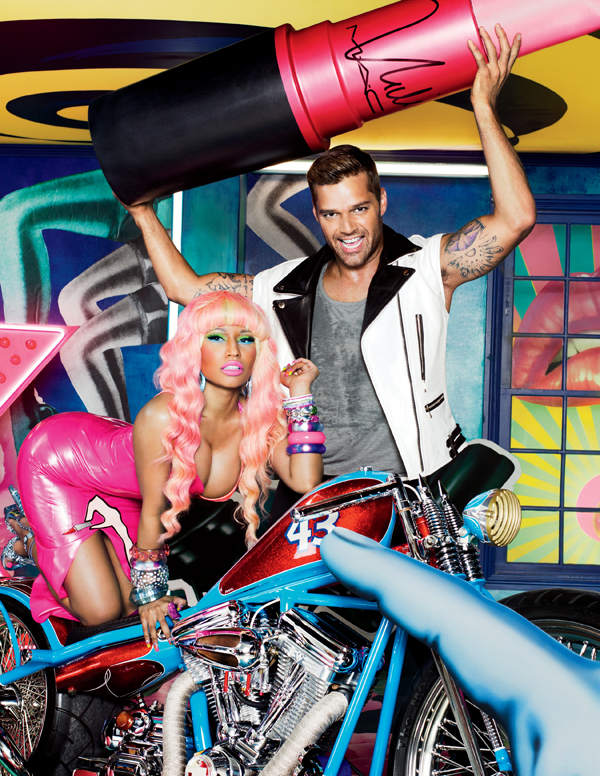 Viva Glam: Ricky & Nicki Campaign Reveal
Ricky Martin and Nicki Minaj in the MAC Viva Glam 2012 campaign visual shot by David LaChapelle. Every cent of Ricky and Nicki's Viva Glam products, on-counter February 2012, goes to support the MAC AIDS Fund.
New MAC 2012 Viva Glam Spokespersons. THE M·A·C AIDS FUND announces Nicki Minaj and Ricky Martin as its newest spokespersons to represent the 2012 VIVA GLAM campaign launching in February 2012. The two are on a set in Miami today shooting the campaign visuals with David La Chappelle.
Nicki Minaj's Style. Prior to hitting the stage to rock the house at the Samsung Infuse 4G launch event in Hollywood last night, Nicki Minaj showed up in several jewelry pieces from lia sophia, including cuff bracelets stacked to perfection on both arms and the edgy Cluster and Concentric Square Rings.
Style: Rough Cuff bracelet in mate gold with black diamond crystals Price: $300
Sneak peek to the upcoming cover of V MAGAZINE (issue #69), featuring one of the most fascinating personalities of 2011 – Nicki Minaj. Nicki lives up to the hype in "The Discovery Issue," with Inez Van Lamsweerde & Vinoodh Matadin photographing the birth of a star in her dual-cover (fold-out) issue. V hits newsstands TOMORROW Thursday, January 13th, 2011.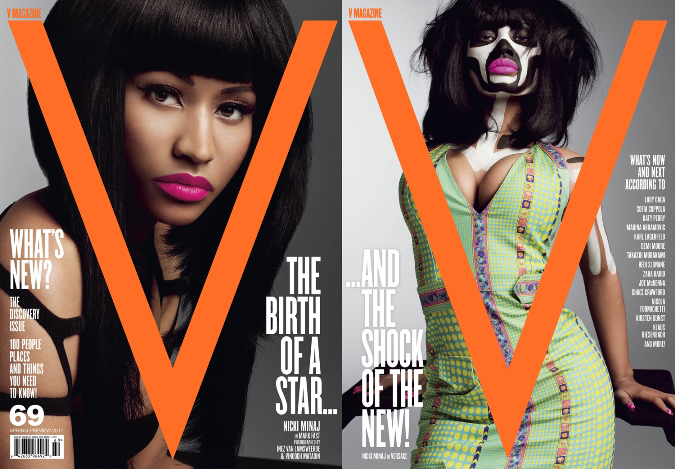 V MAGAZINE issue #69
NICKI MINAJ (wearing Mark Fast; Versace)
The Rise and Rise of NICKI MINAJ – The tough-talking, one-upping, bodacious, curvaceous Nicki Minaj is taking music to places cooler and more colorful than ever. And in the boys' club of the 21st-century hip hop, she's stolen every scene to become the genre's Barbie-pink princess. Secretly, though, she's gunning for queen.
Photography by: Inez Van Lamsweerde & Vinoodh Matadin
Earlier this morning, MAC officially announced their collaboration with Nicki Minaj in celebration of her new album Pink Friday. Marta Walsh has sneak peek pics from her appearance at the MAC Times Square store earlier today. The lipstick is only available online at www.maccosmetics.com/pink4friday beginning this Friday, November 26th – for 4 Fridays only!