All Posts Tagged With: "MAC AIDS Fund"
M·A·C Viva Glam spokesperson, Nicki Minaj, celebrates the MAC AIDS Fund's $250 million milestone before her concert during International AIDS Conference in Washington DC.
MAC Cosmetics and the MAC AIDS Fund introduce their new Viva Glam spokeswomen: Lady Gaga and Cyndi Lauper. As part of the "From Our Lips" campaign, MAC will introduce Viva Glam Gaga and Viva Glam Cyndi lipsticks. Each lipstick will retail for at $14.00 with 100% of the selling cost donated to the MAC AIDS Fund.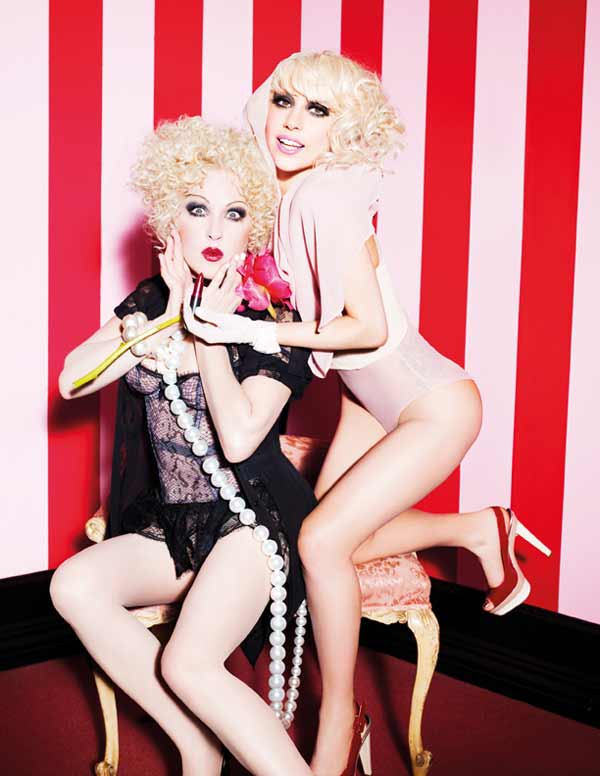 The MAC AIDS Fund, the heart and soul of MAC Cosmetics, was established in 1994 to support men, women and children affected by HIV/AIDS globally. It is a pioneer in HIV/AIDS funding, providing financial support to organizations working with underserved regions and populations. To date, the MAC AIDS Fund has raised over $150 Million in 67 countries exclusively through the sale of MAC's VIVA GLAM Lipstick and Lipglass, donating 100 percent of the sale price to fight HIV/AIDS.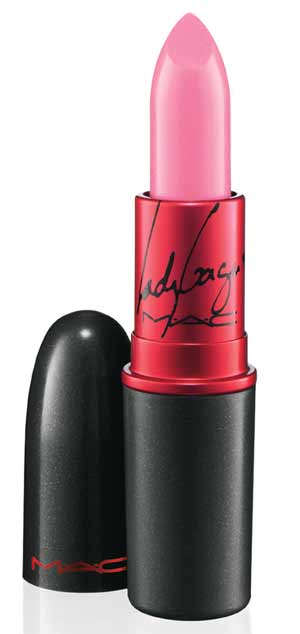 From Left: MAC Viva Glam Gaga and Viva Glam Cyndi lipsticks
MAC Viva Glam Gaga and Viva Glam Cyndi lipsticks ($14) Available North America February 10, 2010 at all MAC locations 1.800.588.0070 and www.maccosmetics.com. International march 2010 at all MAC locations. MAC Viva Glam Cyndi Bag and MAC Viva Glam Gaga Bag ($25) available Nort h America ONLY February 25, 2010 at all MAC retail stores.
Q&A WITH LADY GAGA
You used to sing to Cyndi Lauper as a little girl and now she is a big fan of yours. How does it feel to be working with her on the new M·A·C VIVA GLAM campaign?
She has such a beautiful spirit, and the best thing about her is that she's a really genuine person. She gave me some pointers at the VIVA GLAM shoot. We have so much in common, and we just really enjoy one another. It's surreal.
Watch this very touching video about MAC AIDS Fund and how it does good to our world! Thank you MAC Cosmerics.
From Killer Lips to Chiseled Cheekbones Drag Queens Know a Thing or Two About Makeup! MAC Cosmetics is the Official Makeup Sponsor of Logo's RuPaul's Drag Race.
This season, MAC Cosmetics is proudly sponsoring RuPaul's Drag Race, a new show from Logo that seeks to find America's Next Drag Queen Superstar. Hosted by the legendary RuPaul, the first spokesperson ever for MAC Viva Glam, nine drag performers will compete in weekly challenges that will test their skills as a fashion designer, hair stylist, performer, spokesperson, and makeup artist.
Drag Queen Contestants Get Sexy, Passionate, and Fierce to Help Raise Awareness for HIV/AIDS
As They Compete to Become a MAC Viva Glam Spokesperson For a Day.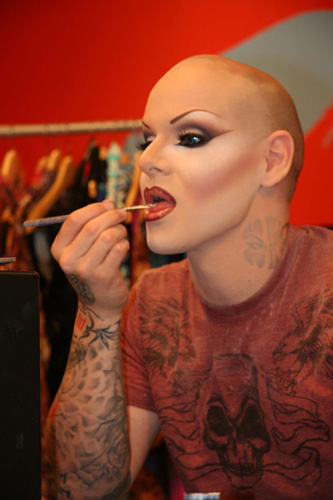 Contestant Nina Flowers.
In order to create their drag illusions, these performers spend years training in front of a mirror. It can sometimes take up to six hours for a drag queen to get ready! Each week the contestants undergo a transformation, using their skills with a brush, a lot of colour and concealer to make magic happen. One week, they will even do makeovers on real women, bringing some of the tricks they've learned through years of practice to everyday ladies.
MAC heats up the holidays with red hot colours, cases and compacts this season. Give jeweled compacts, stylish brush sets, beautiful lip and eye palettes, or gifts that give back. Here is a brief preview:
MAC "RED" SHE SAID
Passion, heat and danger come together to create this simply sparkling holiday collection. Lips are coloured in lusty shades with shimmering Dazzleglass to add resplendent moisture. Two shades of Mineralize Eye Shadows are zipped together by a strip of silver or gold, while shimmery blushes and silky nail lacquers accentuate a radiant holiday look.
MAC PASSIONS OF RED
Decadent and fiery colours for eyes and lips are housed in brilliant jeweled casings. Beautifully embossed, jeweled compacts create the ultimate gift of glamour. Choose from four Eye Shadow palettes, with shades ranging from warm, cool, classic and smokey. Polish off the look with three luxurious Lip Palettes, complete with two lipsticks, one lipglass and a mini lip brush. Each compact is a treasured gift.