All Posts Tagged With: "RuPaul"
Talking Makeup is glad to share with you some images from last night's Sam Fine Basics of Beauty DVD event hosted by IMAN at the Warren-Tricomi Salon at The Plaza (June 18th 2009)!

From Left: Vanessa Williams, Sam Fine, Lisa Iran

From Left: IMAN, Sam Fine, Deborah Cox, Vanessa Williams
Everyone was sipping on NUVO sparkling Liqueur cocktails like the Iman Tonic, the Sam Fine Sparkling Sunset, and the Fine Basic Beauty (vodka on the rocks). Attendees included Vanessa Williams, Deborah Cox, Taraji P. Henson, RuPaul, and Wendy Williams!

Sam Fine and Taraji P. Henson
From Killer Lips to Chiseled Cheekbones Drag Queens Know a Thing or Two About Makeup! MAC Cosmetics is the Official Makeup Sponsor of Logo's RuPaul's Drag Race.
This season, MAC Cosmetics is proudly sponsoring RuPaul's Drag Race, a new show from Logo that seeks to find America's Next Drag Queen Superstar. Hosted by the legendary RuPaul, the first spokesperson ever for MAC Viva Glam, nine drag performers will compete in weekly challenges that will test their skills as a fashion designer, hair stylist, performer, spokesperson, and makeup artist.
Drag Queen Contestants Get Sexy, Passionate, and Fierce to Help Raise Awareness for HIV/AIDS
As They Compete to Become a MAC Viva Glam Spokesperson For a Day.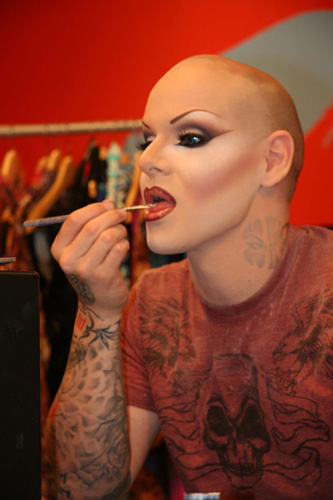 Contestant Nina Flowers.
In order to create their drag illusions, these performers spend years training in front of a mirror. It can sometimes take up to six hours for a drag queen to get ready! Each week the contestants undergo a transformation, using their skills with a brush, a lot of colour and concealer to make magic happen. One week, they will even do makeovers on real women, bringing some of the tricks they've learned through years of practice to everyday ladies.