From Killer Lips to Chiseled Cheekbones Drag Queens Know a Thing or Two About Makeup! MAC Cosmetics is the Official Makeup Sponsor of Logo's RuPaul's Drag Race.
This season, MAC Cosmetics is proudly sponsoring RuPaul's Drag Race, a new show from Logo that seeks to find America's Next Drag Queen Superstar. Hosted by the legendary RuPaul, the first spokesperson ever for MAC Viva Glam, nine drag performers will compete in weekly challenges that will test their skills as a fashion designer, hair stylist, performer, spokesperson, and makeup artist.
Drag Queen Contestants Get Sexy, Passionate, and Fierce to Help Raise Awareness for HIV/AIDS
As They Compete to Become a MAC Viva Glam Spokesperson For a Day.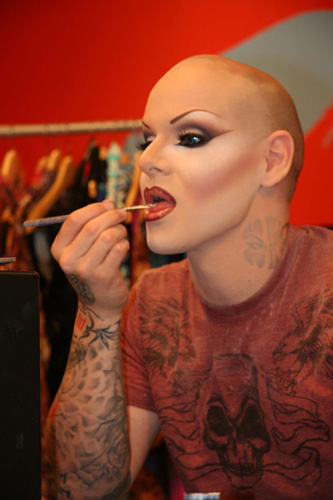 Contestant Nina Flowers.
In order to create their drag illusions, these performers spend years training in front of a mirror. It can sometimes take up to six hours for a drag queen to get ready! Each week the contestants undergo a transformation, using their skills with a brush, a lot of colour and concealer to make magic happen. One week, they will even do makeovers on real women, bringing some of the tricks they've learned through years of practice to everyday ladies.
Drag Queens thrive on glamour and transformation, so it is no surprise that MAC Cosmetics is the makeup of choice for 9 Drag Queen contestants who use makeup to bring out their inner diva. RuPaul, the world's most famous drag queen, is challenging a new generation of drag performers to fill her high heels in a Logo's new competitive series, "RuPaul's Drag Race, "and MAC is the official makeup provider for the show. As MAC's first VIVA GLAM spokesperson, RuPaul, traveled the world 15 years ago helping raise millions of dollars for HIV/AIDS. RuPaul's original VIVA GLAM visual is evidence of the essential role that makeup plays in a Queen's persona, and MAC's founding philosophy – "All races, all ages, all sexes" – is truly illustrated in the contestants' mind-blowing makeup techniques and tricks.
"There's a real artistry to transforming the angular, masculine features of a man to softer, feminine features," says Gordon Espinet. "While the overall look is sometimes over the top, there are real lessons to be learned from drag about contouring, shaping the face and makeup application. It's true – Drag Queens know a thing or two about makeup." Gordon Espinet, MAC Vice President Makeup Artistry.
Throughout tapings, several MAC products and application tricks emerged as favorites among the girls that can be used by any woman and applied to her daily routine. Queen Tammie Brown, advises: "For killer lips that will last all through a rockin' night at the club, first line your lips with MAC Lip Pencil in Redd and then fill in with Russian Red Lipstick. For an extra bit of shine that will make heads turn, apply just a hint of Lustreglass in Venetian on top. It will put the disco balls to shame and add hot loving to your game." Another contestant, Victoria Parker, reminds women not to forget their eyebrows! "Make sure they're arched to perfection – a bushy brow does not a pretty woman make!"
Primer and powder aside, the show also allows viewers a glimpse into the challenges that some of the contestants and their loved ones face in their daily lives. The MAC AIDS Fund has always remained the heart and soul of MAC Cosmetics, and the often outrageous VIVA GLAM program has enabled customers to contribute to the fight against HIV/AIDS when they buy a VIVA GLAM lipstick and 100% of the proceeds goes towards the MAC AIDS Fund.

Contestant Bebe Zahara Benet.
On February 23rd at 10pm ET/PT, 6 Drag Queens will face off in the MAC Viva Glam Challenge, persuading the judges to name them "MAC Viva Glam Spokesperson for the Day." The contestants will record their own public service announcement attempting to convince the judges, including Drag Legend RuPaul, that they deserve the coveted role. They will also completely transform themselves into glamorous Divas, showcasing their makeup and hair expertise, and style themselves in exotic outfits in the tradition of MAC's provocative Viva Glam campaign. The contestant who exudes over-the-top glamour and sincerity about the issue of HIV/AIDS will be named "Viva Glam Spokesperson for the Day" and will win $5,000 in MAC Cosmetics products and will appear in a MAC store to present a grant donation to an HIV/AIDS Charity.
"I was the first Viva Glam MAC Girl and I was fabulous," said RuPaul, "But being a Viva Glam spokesperson and an amazing Drag Performer isn't just about being glamorous and gorgeous – although that's vital – it's about being honest as a person, touching your audience and leaving them better for having been in your presence."
The MAC Viva Glam Challenge Episode will premiere on Monday, February 23rd at 10:00pm ET/PT on LOGO and online at www.rupaulsdragrace.com . "RuPaul's Drag Race" premieres Monday, February 2 at 10:00 PM ET/PT.