All Posts Tagged With: "Karl Lagerfeld"
In 2017, CHANEL celebrates Gabrielle, the first name of its founder, better known as Coco Chanel. Known for breaking the rules of her time, Gabrielle Chanel transformed her rebellion into an art. This moment of celebration was initiated by Karl Lagerfeld who dedicated a bag to the House's founder, CHANEL's GABRIELLE, which he created for the Spring / Summer 2017 collection.
Sneak peek to cover and inside story of VMAN #21, the "No Risk, No Reward" issue, with star KANYE WEST photographed exclusively by KARL LAGERFELD. "His strength is mixing music and fashion. He has an instant instinct for what looks and sounds good. He makes everything new and different." – Karl Lagerfeld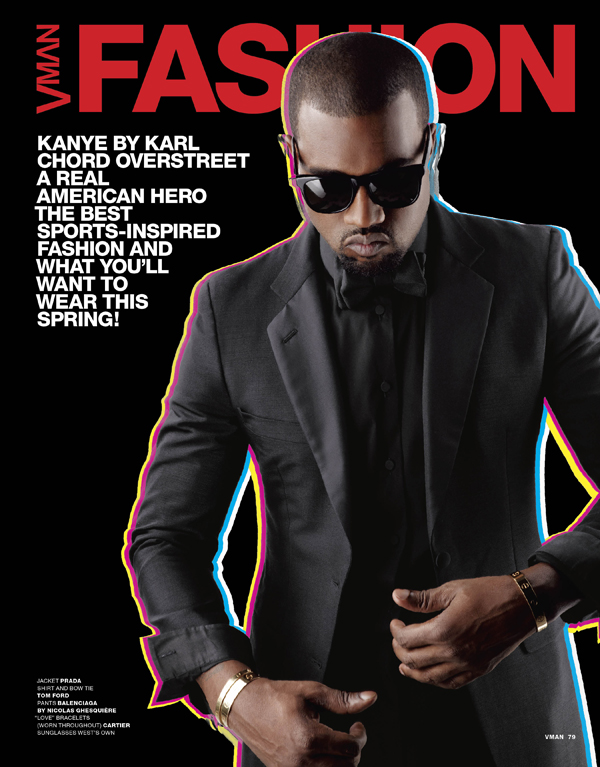 In Kanye's only magazine cover shoot of the season, he shows that he's finally done talking and wants his art to speak for itself. He has literally put his money where his mouth is, and in tandem, VMAN has issued a promotion where one in ten covers contain REAL dollar bills. It's the 'thrill of the game' – and who better to illustrate this than one of the most controversial music and fashion icons of our generation. VMAN hits newsstands TODAY Tuesday, February 8th, 2011.
CHANEL 2011 Paris-Byzance Metiers D'Art Show Beauty. "The theme of the collection, Paris-Byzance is a great inspiration on it's own. The links and associations with Chanel are rich and plenty. Karl Lagerfeld gave Sam (McKnight) and me a sketch giving us a rough idea of the direction he wanted for the look, from then the tone was set. Karl also showed us the world-famous mosaic portrait of Theodora, the Empress of the Byzantine Empire Mosaic from the Saint-Vital de Ravenne Basilica, which very naturally became the inspiration for the show's makeup."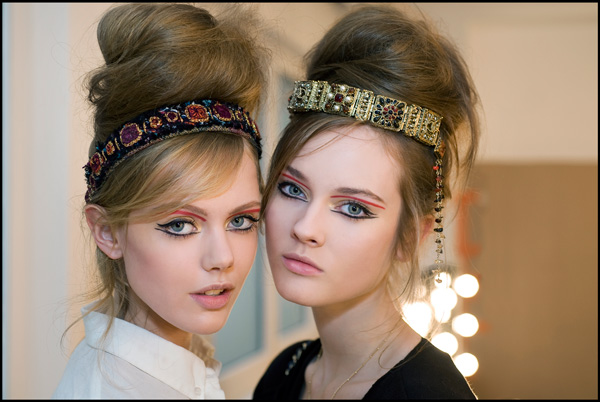 Another exciting V Magazine sneak peek to the "Can't Stop the Muses" spread on newsstands now. Inspiration is the spark. Five designers, such as: Isaac Mizrahi, Karl Lagerfeld, Francisco Costa, Diane Von Furstenberg, and Stella McCartney, nominate the women (and one man) who push their creative process forward.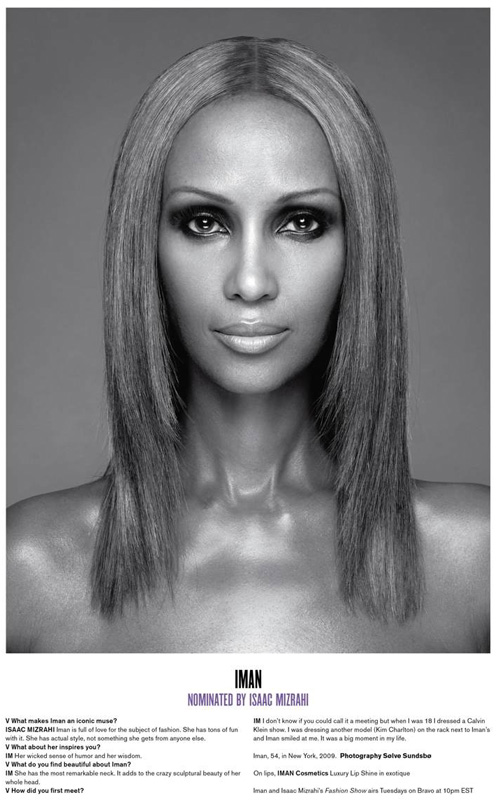 Iman – Nominated by Isaac Mizrahi; Photography: Solve Sundsbo
ATELIER SWAROVSKI launches its seventh collection for Autumn / Winter 2010 featuring innovative crystal jewelry and accessories in collaboration with Karl Lagerfeld, Marios Schwab, Holly Fulton, Hariri & Hariri, Kirt Holmes and Stephen Webster.

"As the collections unfold, the diversity of crystal accessory design is illuminated through the immense creativity of the artists who have incorporated new techniques and innovations. It is an honor to work with this talented group of designers for Autumn Winter 2010."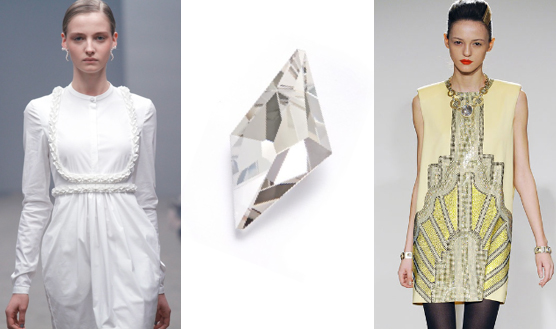 Sneak peek photos from V MAGAZINE of top models Lara Stone, Javier de Miguel, Baptiste Giabiconi acting as the New York icon trio of the 70's: illustrator Antonio Lopez, art director Juan Ramos, and supermodel Jerry Hall shot by Chanel designer Karl Lagerfeld for the upcoming V67. Styling by Clare Richardson. V67, also known as "The New York Issue," does not hit newsstands until September 2nd, 2010.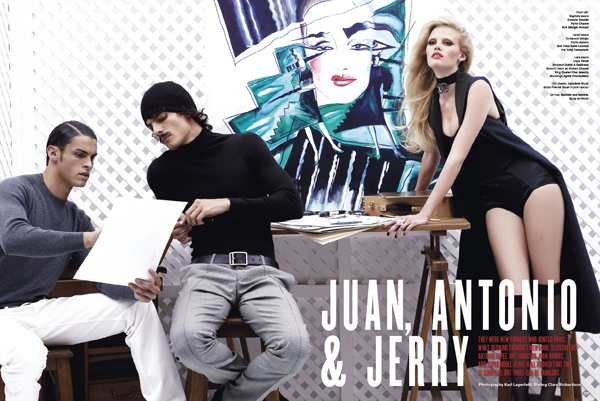 After Georgia May Jagger's surprise appearance in St. Tropez for the Chanel Cruise 2011 collection, it really should come as a surprise to no one that Karl Lagerfeld has a discovered bit of a model appreciation for her look. And now, he chose her to front the accompanying photos for the collection, alongside the ever present Baptiste Giabiconi. Read full article in Modelinia.com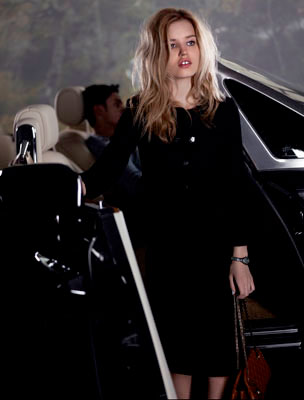 Georgia May Jagger the daughter of Supermodel Jerry Hall and British rock star Mick Jagger now models for CHANEL. Photo via CHANEL-News.
The CHANEL Fall/Winter 2010-2011 Ready-to-Wear Collection debuted at the Grand Palais in Paris on March 9th, 2010. Here are some photos from the CHANEL fashion show front row and VIP.
Karl Lagerfeld and Venessa Paradis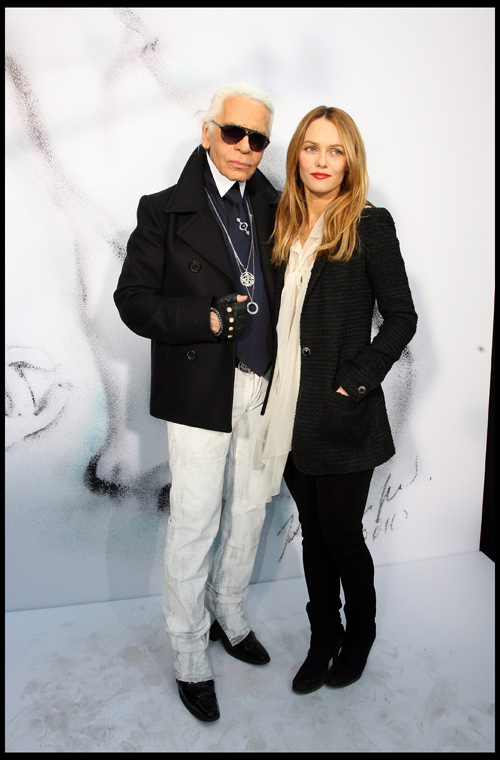 The CHANEL Fall/Winter 2010-2011 ready-to-wear collection debuted in Paris on March 9, 2010. Talking Makeup has the sneak peek!
A polar light shines over the new CHANEL Ready-to-Wear collection for Fall Winter 2010-2011. "I'm from the north, I love the snow," declares Karl Lagerfeld, "After the country and the farm, and given the winter we've had, a little trip to the great north wasn't a bad idea."
To protect from the extreme winter chill, silhouettes are enveloped in generous, round, and comfortable volumes in a palette of black, salty white, grey and camel brown, and sprinkled with red and glacial blue. Knits are layered over jackets, and coats reach down to the ground. Modernized and subtly mixed, knit patchworks with ethnic motifs and "fantasy furs", as Karl Lagerfeld likes to call them, bring warmth to tweeds, tulles and wools.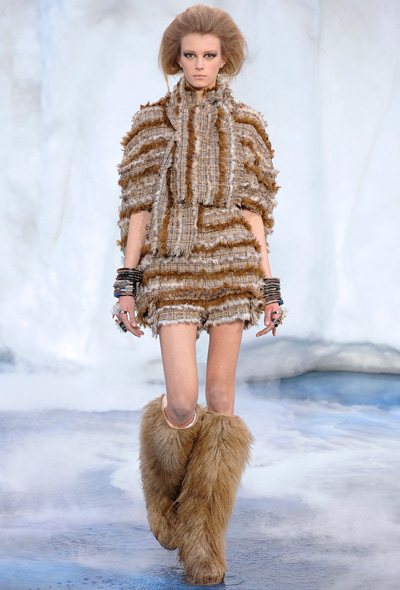 CHANEL Fall/Winter 2010-2011 Rady-To-Wear Beauty: The CHANEL Makeup.
The focus was on the eyes. I recreated a paint, print texture that Karl Lagerfeld used on some of the handbags and shoes for this Fall/Winter RTW show."- Peter Philips, Global Creative Director of CHANEL Makeup
Peter used the following CHANEL products to create the runway beauty looks:
Complexion
BASE LUMIERE Illuminating Makeup Base
PRO LUMIERE Professional Finish Makeup
POUDRE UNIVERSELLE LIBRE Natural Finish Loose Powder
ECLAT LUMIERE Highlighter Face Pen
CORRECTEUR PERFECTION Long Lasting Concealer