All Posts Tagged With: "Loose Powder"
MAC Magically Cool Liquid Powder available May 5, 2011 in the permanent line.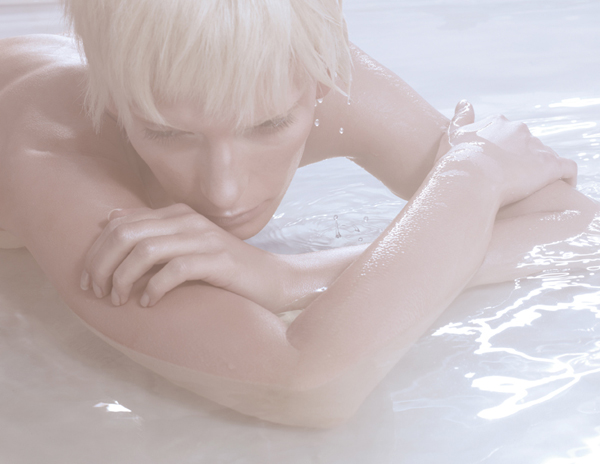 MAGICALLY COOL LIQUID POWDER. In the height of the summer swelter, who doesn't crave, suddenly, to feel, look & be, cooler – shine, oil and heat – all gone! You've longed for it. And, now it's captured: MAC MAGICALLY COOL LIQUID POWDER. An alchemical fusion that charms water droplets into a loose powder while remaining over 50 percent H2O.
CHANEL 2011 Paris-Byzance Metiers D'Art Show Beauty. "The theme of the collection, Paris-Byzance is a great inspiration on it's own. The links and associations with Chanel are rich and plenty. Karl Lagerfeld gave Sam (McKnight) and me a sketch giving us a rough idea of the direction he wanted for the look, from then the tone was set. Karl also showed us the world-famous mosaic portrait of Theodora, the Empress of the Byzantine Empire Mosaic from the Saint-Vital de Ravenne Basilica, which very naturally became the inspiration for the show's makeup."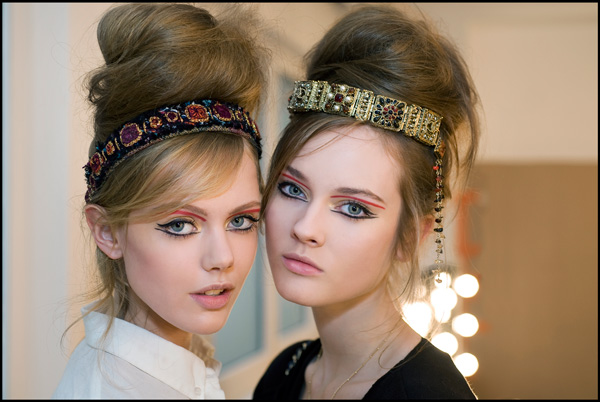 Kim Kardashian attended the 2010 Cosmetic Executive Women Beauty Awards at New York's Waldorf-Astoria hotel, May 21st, 2010. Kim wore a beautiful one shoulder coral dress and her hair was pulled up off her shoulders. Her makeup artist Mario Dedivanovic created an absolutely gorgeous, soft and feminine look fit for the occasion, and now he is sharing his secrets on how to recreate this beautiful, refreshing look.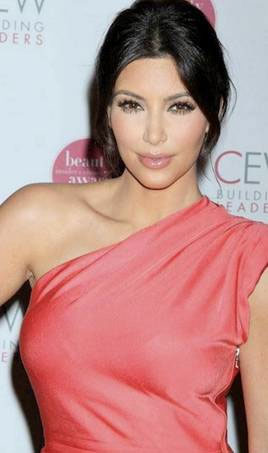 How to makeup tutorial:
FACE
On her skin I applied Giorgio Armani Luminous Silk Foundation blended with a bit of moisturizer, and used LaMer concealer under her eyes. I then set her face with Shu Uemura loose powder.
For a subtle glow, I sweep EYE M GLAM highlighter by Giella Cosmetics onto the cheekbones, bridge of nose and cupids bow, and applied Hot Mama blush by The Balm.
New York Fashion Week Fall Winter 2010: Seattle native and downtown New York denizen Chris Benz saw all of his influences collide in a spectacular way on Monday, Febuary 15, 2010, for his Fall 2010 presentation. The collection mixes the patterns, textures and utility of clothes made for the Great Outdoors as worn by the renegade, Outward Bound Debutante.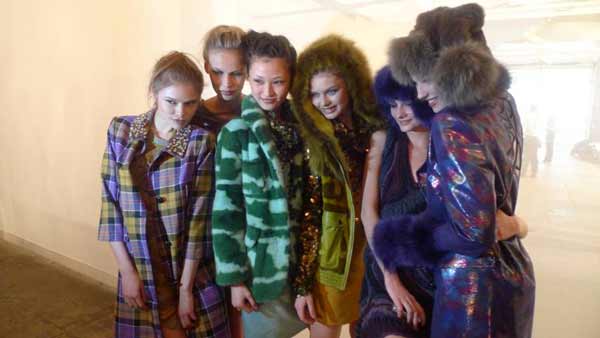 Makeup Tutorial: Lead makeup artist Daniel Martin (who helped create the Chris & Tell shade with the designer for Spring 2010) wanted a "makeup" makeup look, so he and Chris settled on what they're calling Gothic Chic. The eyes and the lips were given equal attention. The eyes were smoky in gradations of shimmery charcoal and chocolate. Daniel used the new Ombre Magnétique, a mousse-like cream shadow, in black, layered with Color Design Eye Shadow in Guest List, an opaque espresso shade. For the lashes, several coats of Hypnôse Drama Mascara in Excessive Black, and for the eyeliner, Le Stylo Waterproof EyeLiner in Noir along the waterline, completed the look.
CHANEL 2010 SPRING/SUMMER HAUTE COUTURE BEAUTY: Get The Look and makeup tutorial.
"Karl Lagerfeld gave me three key words: Neon Baroque, Chemical Pastels and Liquid Silver. For the lips I used the new Summer 2010 Rouge Allure Lipstick in Genial. This coral shade perfectly matched the Technicolor and Neon Baroque spirit Karl wanted for the makeup at this show."- Peter Philips, Global Creative Director of CHANEL Makeup.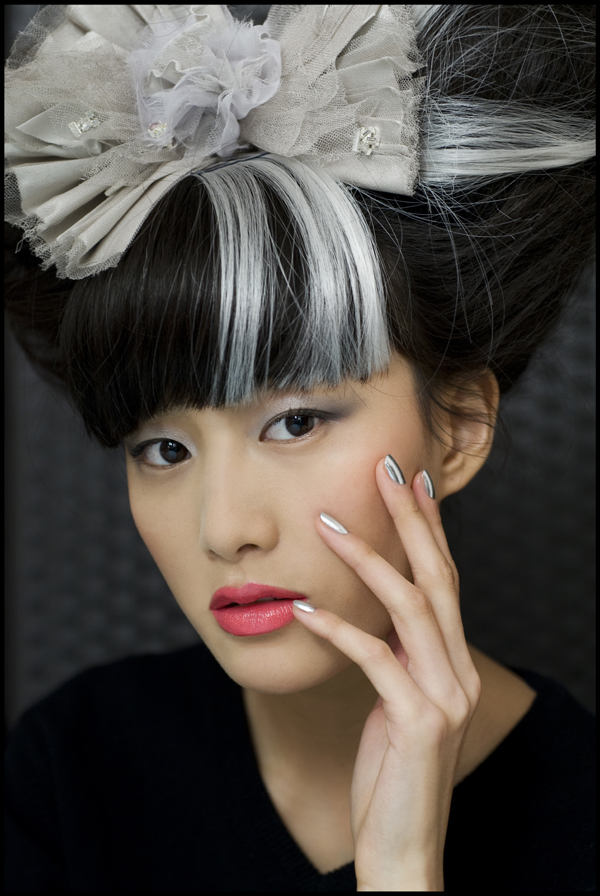 Photo Credit: vincent lappartient – photographe
Marta Walsh says: I love the CHANEL Spring/Summer 2010 makeup, particularly the coral lips and the silver nail polish. I also loving the grey and white highlights on model's hair, and yes, the hairstyle.
Peter used the following CHANEL products to create the runway beauty looks:
Skincare:
Skin prepared with Hydramax + Active Nourishing Cream for Dry Skin (Available in March 2010)
Complexion: Base Lumiere Illuminating Makeup Base Pro Lumiere Professional Finish Makeup SPF 15
Poudre Universelle Libre Natural Finish Loose Powder
Stylo Eclat Lumiere Highlighter Face Pen
Correcteur Perfection Long Lasting Concealer
Just In: Rose Byrne's Golden Globes look for Lancôme by celebrity makeup artist Ana Marie. Talking Makeup got the inside scoop on how to get Rose Byrne's Hollywood Glam makeup look at the Golden Globes Awards tonight.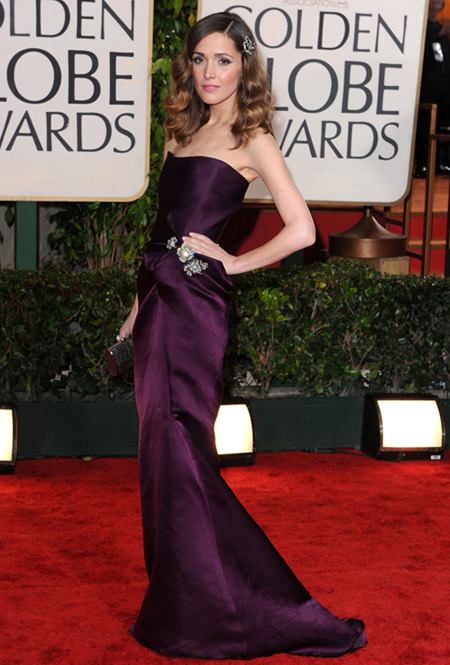 Ana Marie prepped the skin with Secret de Vie Toner (her favorite!) and then applied Lancôme Bienfait Multi Vital moisturizer to keep skin hydrated and fresh. Lancôme Absolue Foundation in Ecru was applied with a foundation brush and blended with a makeup sponge. This helps the foundation go on evenly and keep the skin looking radiant. To create a sultry smokey eye, Ana Marie used Lancôme Eyeshadow Quad in Innocence Couture.
Introducing The Estée Lauder Michael Kors Very Hollywood Color Collection.
"Hollywood is the birthplace of fantasy and dreams. The inspiration for the Estée Lauder Michael Kors Very Hollywood Color Collection is iconic Hollywood glamour, both past and present, interpreted for everyday life."– Michael Kors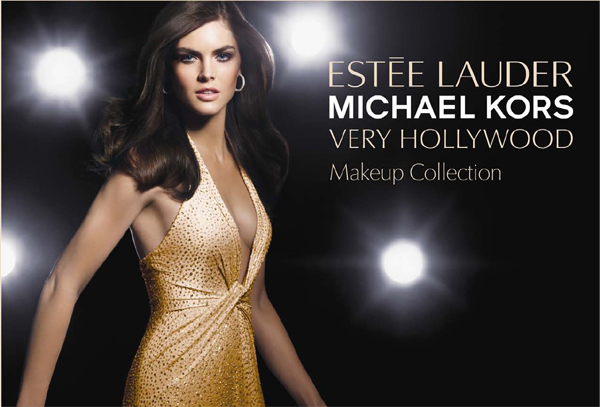 This Spring, Estée Lauder will introduce the Estée Lauder Michael Kors Very Hollywood Color Collection. This collaboration stemmed from the longtime friendship between Aerin Lauder, Estée Lauder Senior Vice President and Creative Director, and acclaimed American designer Michael Kors. "Nobody understands modern glamour and luxury like Aerin Lauder and the Estée Lauder brand, which is what this collection is all about," says Michael Kors.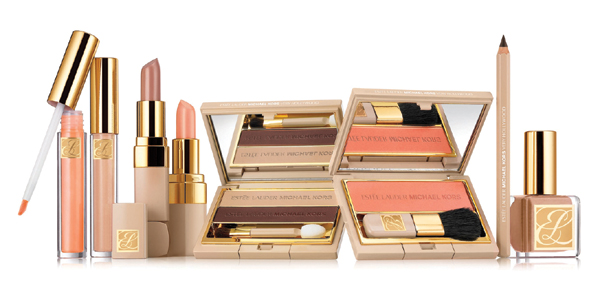 Estée Lauder & Michael Kors Very Hollywood Color Collection: the Bel Air Beige Look
Show: Marc Jacobs Spring 2010
Lead Artist: François Nars, Founder and Creative Director of NARS Cosmetics
Trend: Theatrical Makeup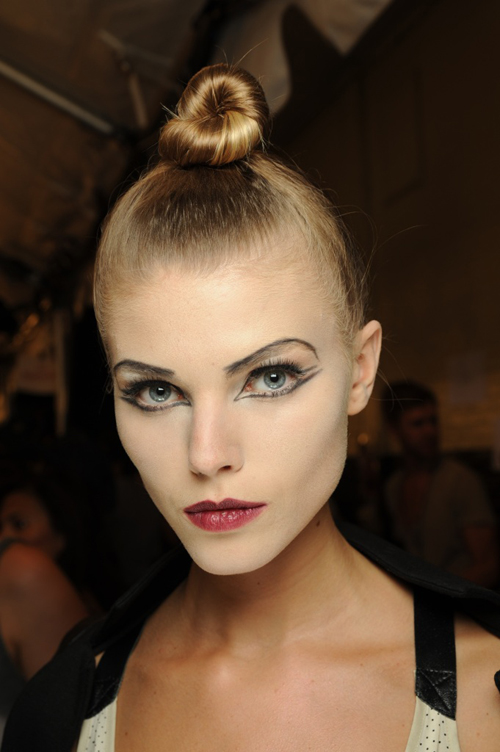 Inspiration: The look of the Marc Jacobs collection was inspired by the contemporary dancer, Martha Graham: Old-fashioned and theatrical but graceful and precise. At the same time, however, there was a darker side that was shone through: a quality of gothic romance. Ballerinas with a sense of mystery- as if part of them, along with some of their makeup, had been left behind on stage.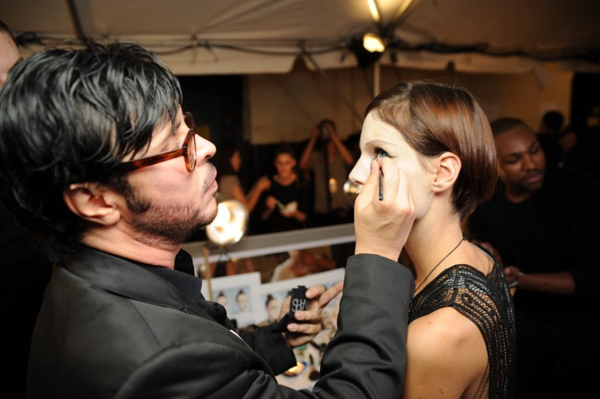 Look: Left-over stage makeup. The models weren't meant to have perfect makeup- rather, they were meant to encompass a "just came off-stage" effect. "Dancers in theater and opera always have white faces, pointed lips and an eye that is drawn outward, not upward-it's very theatrical, very ballet," said François Nars. He stressed the importance of the eye for this look, noting that "the shape of the eyeliner is important- it should open the eyes, especially underneath. The slashes of white is something they used to do in the 70s- it brings a 3-dimensional feeling to the makeup."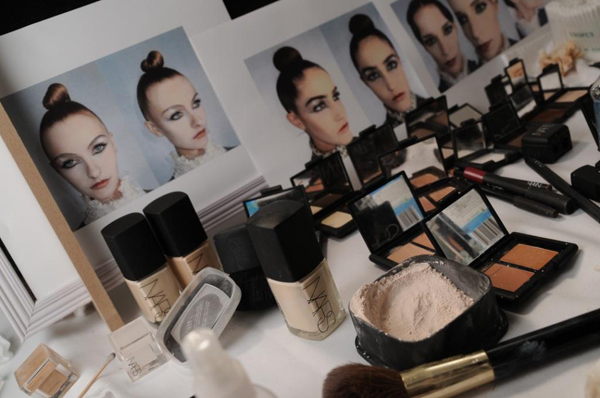 Below are some key products and steps for recreating the look:
Lancôme celebrity makeup artist Vanessa Scali worked her magic on Fame star Kherington Payne at the movie's Los Angeles premiere last night. Talking Makeup got on the inside scoop behind the rising star's graphic, smokey eye, pretty golden skin and shimmery nude mouth.
To start, Vanessa prepped the skin with Lancôme's Génifique Youth Activating Concentrate, which kept Kherington's skin fresh in the 100 degree heat. Lancôme's Effacernes in Light Bisque –Vanessa's favorite formula—was dabbed underneath the eyes. Bobbi Brown's Foundation Stick was applied on select areas with a small brush and blended with the fingers.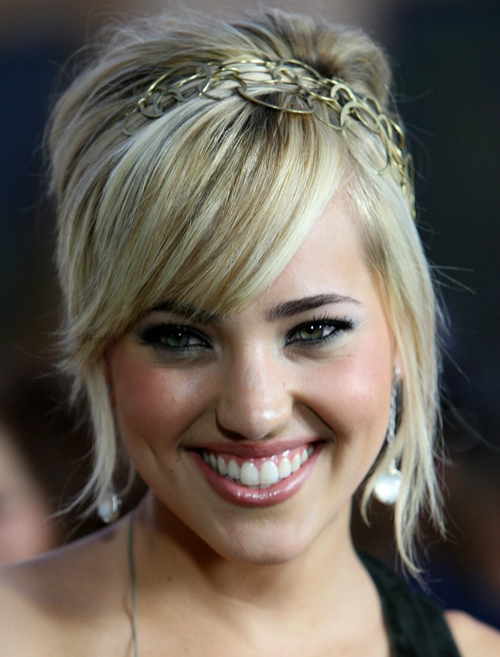 Lancôme's Blush Subtil in Sheer Amourose delivered a glowy look and was accented with Giorgio Armani Beauty's Fluid Sheer #2 on the cheek and brow bones. A dusting of Lancôme's Photôgenic Sheer Loose Powder, just on the T-zone.
For Kherington's dramatic eyes, Vanessa layered Shu Uemura's Pressed Eye Shadow in ME Black #990 and ME Olive #471.
The Show: Maria Grachvogel
Lead Artist: James Boehmer, NARS Cosmetics International Lead Makeup Artist
Trend: Bold Red Matte Lips and Strong Brows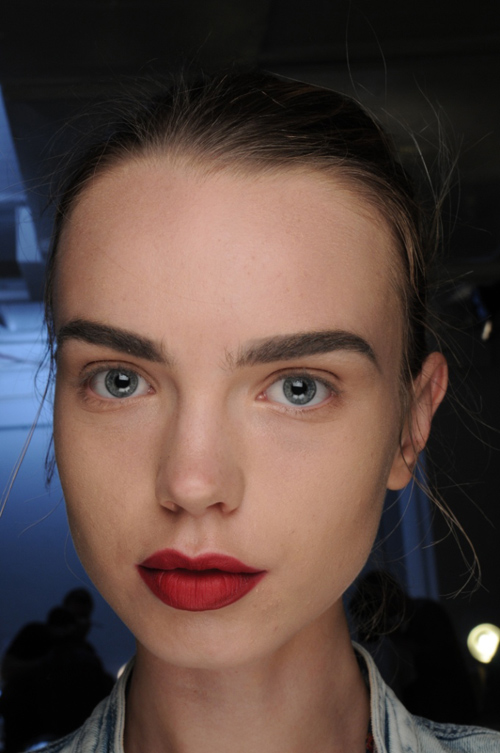 Inspiration: Maria Grachvogel used iconic references of Princess Margaret as photographed by Lord Snowden and Tippi Hedren in "Marnie" to convey the mood of her collection in a modern way- polished yet glamorous.
Look: The look is polished and strong- inspired by a glamorous and modern twist of Hitchcock's femme fatale. "This look is not about the glowing skin underneath- it's about the makeup- the brows need to be long and sketchy and the lips need to be rounded and bee-stung," said lead artist James Boehmer. A flat, matte lip paired with a strong brow was balanced by a bare eye. "The lip," James warns, "has to be really rich and vibrant- the focus is getting that rich lip otherwise the look can appear as if something is lacking."
Below are some key products and steps for recreating the look: