All Posts Tagged With: "Golden Globes"
The award show season is officially upon us, which means gorgeous gowns and trendsetting beauty looks are de riguer on the red carpet. The Golden Globes set the bar pretty high, but the the Screen Actors Guild  Awards (SAG), which were held on Saturday, took the glam factor to the max. From the ladies of Nine, shown above, to the rest of Hollywood's elite, the hairstyles and makeup effects were off the gorgeous charts. Here, our favorite trends:
Old Hollywood Glamour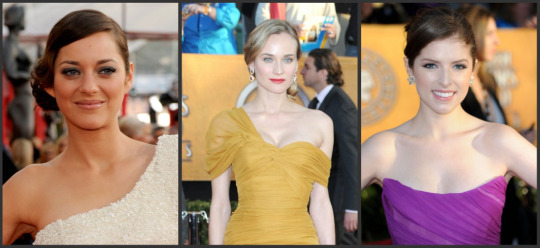 From left, Marion Cotillard Photo: © Kevork Djansezian/Getty Images, Diane Kruger and Anna Kendrick Photos: © Frazer Harrison/Getty Images
They say true glamour never goes out of style and in the case of Diane Kruger, Anna Kendrick and Marion Cotillard, this couldn't be more true. Each of these stunning stars opted for retro, old-school Hollywood vibe, which meant classic, structured updo's, seriously smoky eyes, lots of lashes and a strong lip look. We think Diane stole the show with her creamy red lip, porcelain skin and sleek hairstyle, but bright-eyed newcomer Anna and French siren Marion were also red carpet standouts with their bold, colorful eyeshadow and side-parted 'dos. Read full article in dailymakeover.com
GET THE LOOK: Lancôme made yet another star appearance at the 2010 Golden Globes, this time on Sofia Vergara and Camilla Belle.
Sofia Vergara's Makeup Look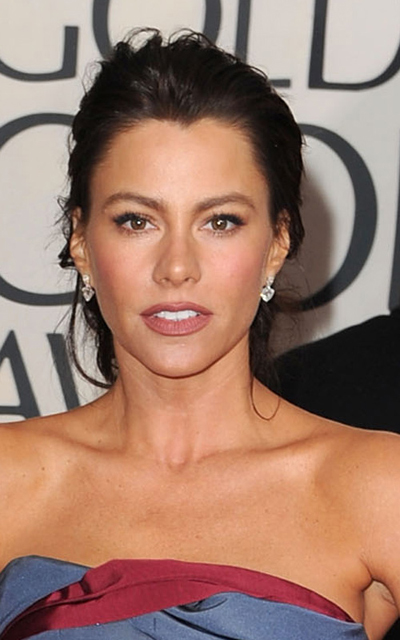 For the gorgeous Modern Family star, celebrity makeup artist Julie Harris dusted Lancôme Star Bronzer ($36.50) on the temples, chin and neck. This cult bronzer enhanced Sofia's tawny complexion while adding that ideal touch of glamour.
BEST DRESSED: Olivia Wilde was one of the best dressed at the 2010 Golden Globes. Olivia's gun metal color sequined gown was by Gucci and I'm in love with it. The dress screams old Hollywood glamour. The hairdo reminds me of Elizabeth Taylor back in the 60s. Perfection.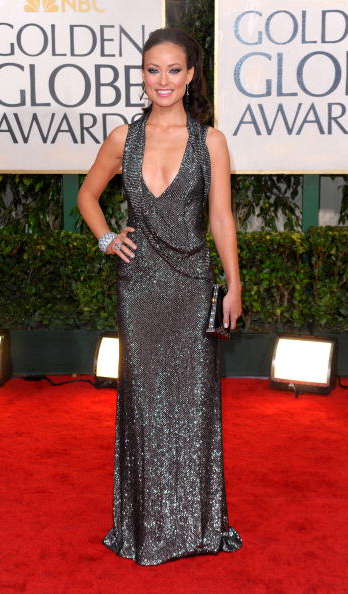 BEST DRESSED: Jennifer Aniston also gets Marta's vote for THE best dressed at the 2010 Golden Globes. I loved the hair, makeup, and the beautiful black Valentino gown with its unforgettable slit and Jennifer's equally unforgettable hot legs!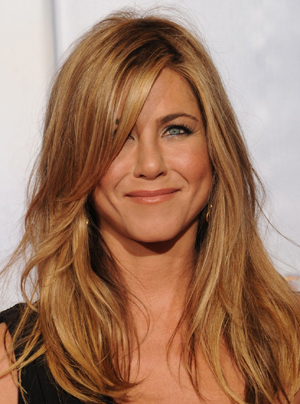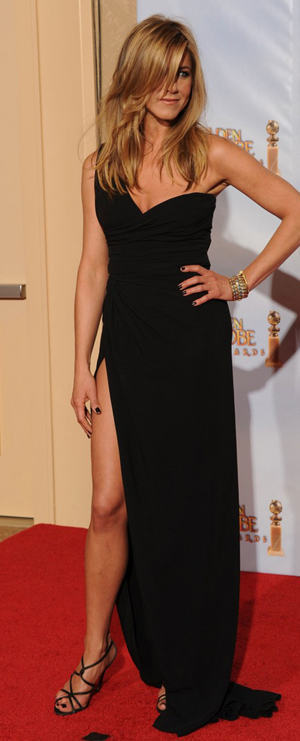 Reese Witherspoon has won my vote for one of the BEST styles at the 2010 Golden Globes. I loved the sleek dress, the perfectly blonded hair, and soft pretty makeup! I want to meet Reese's stylists so they can style me! YES! Me 🙂
I hear Reese Witherspoon jewels were by Cartier and dress or gown by: I will have to update you on that. Stay tuned!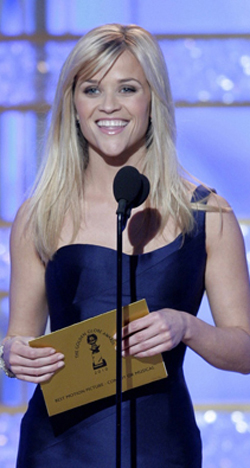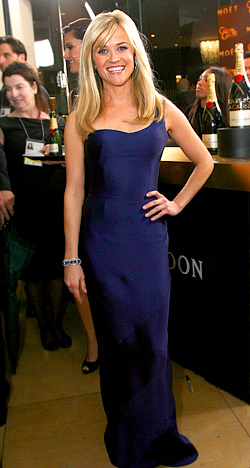 Reese Witherspoon And Ashley Olsen at the 2010 Golden Globes and the secret to their Blond Bombshell blonde hair!
GET THE LOOK: Love Avatar star Zoe Saldana's hairdo at the 2010 Golden Globes? Talking Makeup got the scoop and the hair tutorial on how to recreated it at home!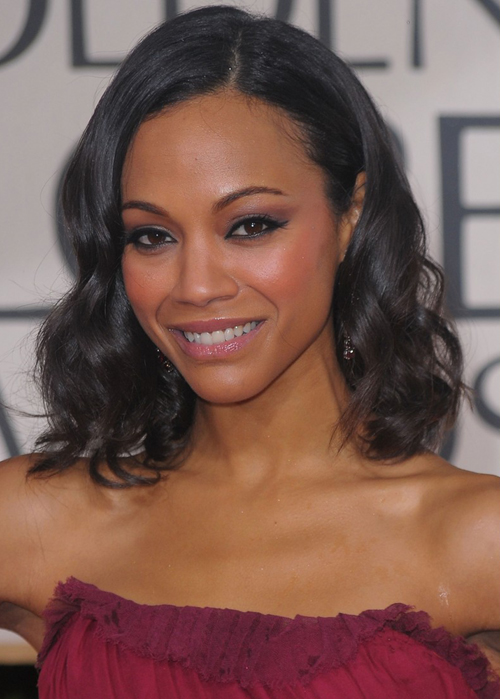 Even in the rain, Zoe Saldana shined! TRESemme celebrity stylist Mara Roszak created soft curls for the fierce star. See below steps on how to recreate the look:
1. Starting with damp hair, apply TRESemme 24 Hour Body Foaming Mousse, and part hair to one side (slightly off center). Blow dry with a small round brush.
2. Spray a soft hold hairspray all over head, like TRESemme 24 Hour Body Finishing Spray, and curl 1″ sections using a 1″ barrel curling iron. Let hair twist as your wrap, and pin to scalp.
3. Let the hair sit in pin curls for at least 10 min. Take out pins, and brush delicately, without a lot of tension to keep the shape.
GET THE LOOK: Toni Colette 2010 Golden Globe Winner for Best Actress in a TV Show United States of Tara.
The rain couldn't stop stars from the glamorous looks they created. Toni shimmered in a gold Carolina Herrara dress and her personal makeup artist, Gita Bass helped accentuate her beauty with SENSAI by Kanebo and DEX New York Cosmetics to perfect her Golden Globe Look.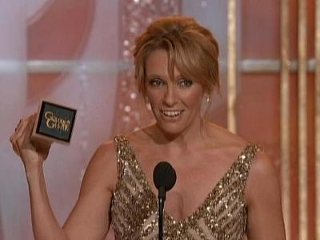 Gita Bass created a smoky bronze eye for Toni by using DEX New York Rockefeller Gold as the base. She applied thenewest version of cult favorite SENSAI 38 Degrees Mascara – Volumizing to her lashes for long lasting full coverage for the entire night that even the rain couldn't wash off. Toni's skin was veiled in SENSAI's New Bronzing Gel – Bass received special access to this line coming out for Spring 2010 in March (3 shades) to give her a sun kissed golden -glow while leaving her skin moist and refreshed.
GET THE LOOK: Christina Aguilera wears NARS makeup at the 67th Golden Globe Awards. The Look & Inspiration: "I wanted to create a soft natural look on Christina to compliment her gown and new haircut," said Kristofer Buckle for NARS Cosmetics. "Her dress choice was a beautiful pastel peach with silver. I didn't want the look to fight with her gown. The final look is chic and seamless, with a earthy colored smokey eye and glowing skin."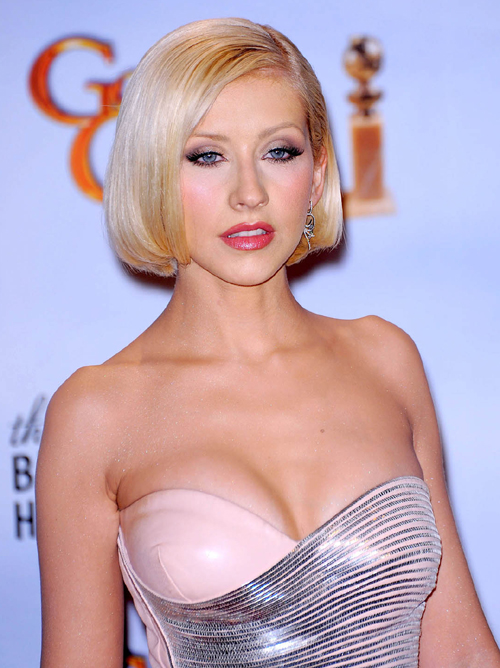 Below is Kristofer's step-by-step makeup tutorial on how to to recreate Christina's makeup look:
Complexion
· Use the Balancing Moisture Lotion and apply the Makeup Primer as a base
· Apply Firming Foundation and set with Pressed Powder
GET THE LOOK:  Gabourey Sidibe, Golden Globe nominee for her lead role in the movie Precious, partnered with Bobbi Brown to create her Golden Globe glow.
"I wanted Gabourey to look pretty powerful, but still like herself, so I gave her glowing skin and modern, sexy eyes. She doesn't need a lot of makeup, so we added some sparkle shadow, lashes and color to her lips and cheeks, and she was perfect. I love this look because she has a natural glow and looks like the prettiest version of herself."-Bobbi Brown.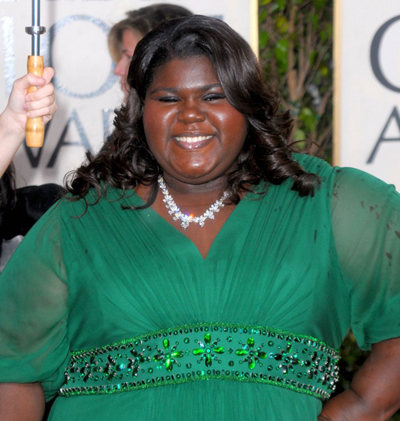 Makeup tutorial on how to get Gabourey Sidibe's makeup look at the 67th Golden Globe Awards using Bobbi Brown products:
Step 1: Prep skin with Soothing Face Tonic and Hydrating Face Cream
Step 2: Apply Chestnut Concealer under eye. Use Concealer Brush to get an even application.
Step 3: Apply Oil-Free Compact Foundation in Chestnut with a sponge and/or Foundation Brush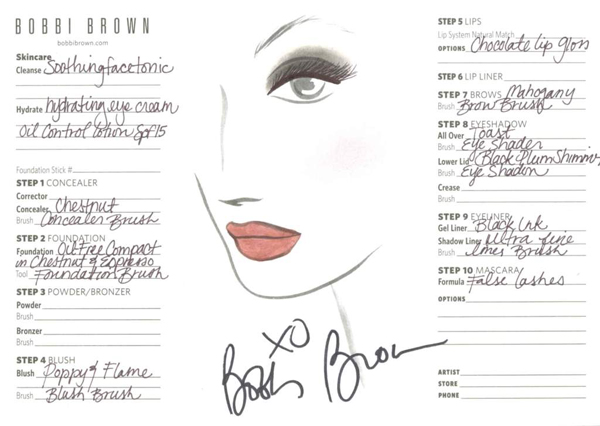 Lindsay Lohan rocked it at the 2010 InStyle Golden Globes Afterparty. I love the sparkly dress plus hoodie combination. Lindsay has a lovely figure and the dress fits perfectly on her. It works, however, as a party or cocktail dress not so much for the actual Golden Globes red carpet walk. Lindsay's dress is so Marta!