All Posts Tagged With: "face chart"
NARS created the makeup look for the Mandy Coon Spring 2012 runway show.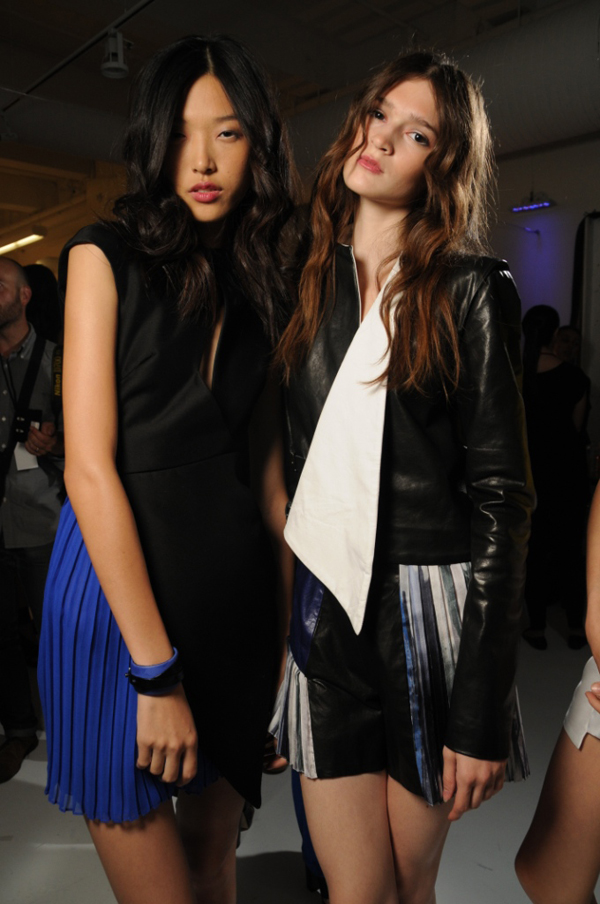 Backstage at  Mandy Coon for Spring 2012
Here's how…
New York Fashion Week Report. Donna Karan Fall 2011. Makeup by MAC Cosmetics.
"Tippi hedren with a modern twist… it's an early 50's lip of "pepto" pink against a caramel, coffee-lacquered eye, with skin highlighted to perfection."-Charlotte Tilbury
Donna Karan Fall 2011 makeup face chart by MAC
Eye
MAC pro mid-toned sepia cream colour base – blended with a halo effect around the eyelid and lower lashes m·a·c pro gloss texture – applied over eyelids for lacquered effect
New York Fashion Week Report. Carolina Herrera Fall 2011. Makeup by MAC Cosmetics.
"It's all about a really gorgeous face: eyes are defined, cheeks are fresh, and lips are perfectly stained…"-Diane Kendal

Carolina Herrera MAC makeup face chart fall 2011
Eye
black crème liner – applied with a delicate hand over the upper lashline only, with a slight kick at the outer corner haute & naughty mascara – applied over upper lashes only
New York Fashion Week Report. Vena Cava Fall 2011. Makeup by MAC Cosmetics.
"It's a bit french and a bit rock 'n' roll… greasy, sexy, and cool. makeup is the accessory, the perfect jewel… playful, but chic."-Christian Mcculloch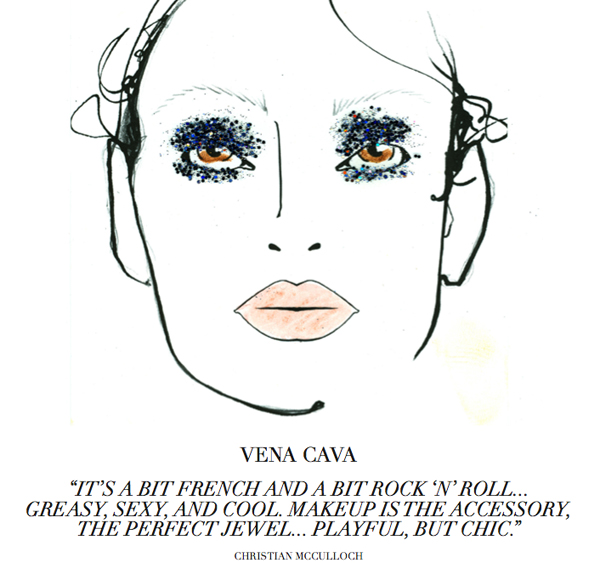 Vena Cava Fall 2011 Face Chart by MAC
Eye
A blend of m∙a∙c pro glitters in silver, 3-d silver, and reflects purple duo – applied with m∙a∙c pro shine mixing medium over the eyelids and through the lower lashes for a smoky, show-stopping effect brows groomed upwards with clear brow set
MAC Fabulous Felines Leopard Luxe face chart. Makeup Tutorial. HOW-TO TIPS BY KERI BLAIR. This mix of warm tones and velvety finishes captures the sensual side of feline characteristics. Sultry browns softly sculpt the eye, and by extending the shape, we create a feline-inspired look that's both powerful and playful. Finish with a sweetly dramatic lip.
Make up artist and MAKE UP FOR EVER ALLIANCE member James Vincent created Joan Jett's sultry make up look for the New York premiere of "The Runaways".
The Look and Inspiration: True to Joan Jett's rock n' roll roots, she rocked a classic yet modern smoky eye. According to James Vincent, who used MAKE UP FOR EVER products to get Joan's red carpet look, "the perfect Joan Jett eye takes subtlety, persistence and an understanding of what's sexy."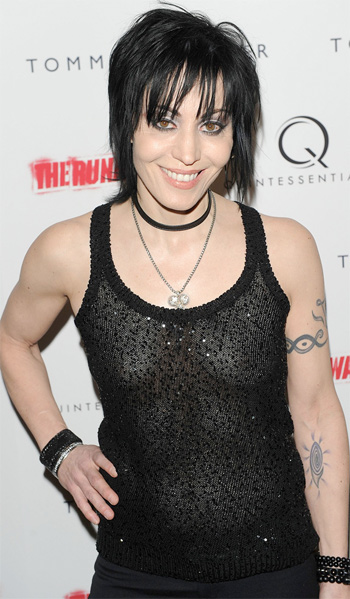 Makeup Tutorial: How to get Joan Jett's makeup look
Complexion: James kept the skin glowing and gorgeous with MAKE UP FOR EVER HD Elixir to add moisture to and perfect the skin. He then applied a small amount of MAKE UP FOR EVER HD Invisible Cover Foundation #117, which provided a great canvas, as well as the new HD Invisible Cover Concealer for light, luminous, natural coverage, and a touch of HD Microfinish Powder to keep Joan looking polished all night.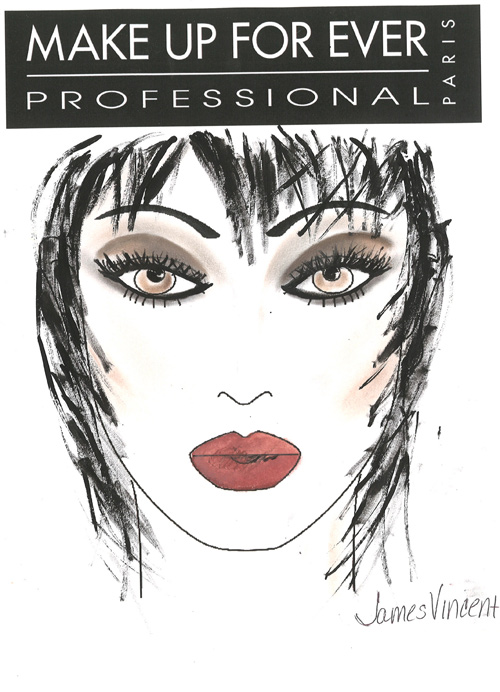 Joan Jett's makeup face chart by MAKE UP FOR EVER
Milan Fashion Week. Show: dsquared2. Makeup by MAC.
The Look and inspiration: "Its the Helmut Newton strong woman circa 1982 She's tough and strong but beautifully feminine."-GORDON ESPINET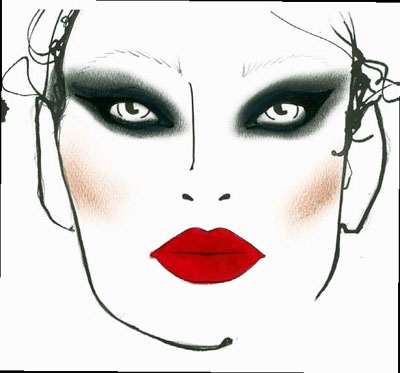 dsquared2 AW 2010 Makeup Face Chart by MAC Cosmetics
The makeup breakdown: Products are all by MAC.
Eyes:
Feline Kohl Power Eye Pencil – lining the inner rim and outer lash lines to create a dark focal point on the face
Carbon Eye Shadow – blended over Feline with brush 266, elongated in an outward, upward angle
Russian Blue Eye Shadow – blended into socket and over the Feline/Carbon line to create a softened, shadowed shape
London Fashion Week Fall Winter 2010. Show: Vivenne Westwood Red Label. Makeup by MAC Cosmetics.
The look and inspiration: "Vivienne's brief was for slightly boyish makeup that embraced the idea of shadows from light , so I looked to the photography of Penn and Avedon and how they would shape and shade a face with light ." – Gordon Espinet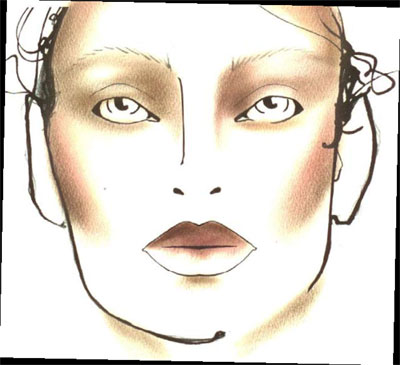 Vivenne Westwood Red Label Fall 2010 MAC Cosmetics makeup face chart
The makeup breakdown. All products by MAC Cosmetics.
Eyes:
POWDER BLUSH IN TAUPE, EYE SHADOW IN QUARRY, EYE SHADOW IN COPPERPLATE – All washed (layered from Taupe to Copperplate) from the lash line to the brow with a soft 224 brush, and taken beneath the eye and down the sides of the nose with a 219 brush.
NO MASCARA
For the very first time in the Estée Lauder brand's 46 year history, they embarked on New York Fashion Week – sponsoring the beauty look (makeup & nails) at the Derek Lam AW 2010 runway show! Bold blue eyes, copper lips, matte skin, bare cheeks and neutral nails ruled the catwalk at Capitale on Tuesday, February 16th, 2010.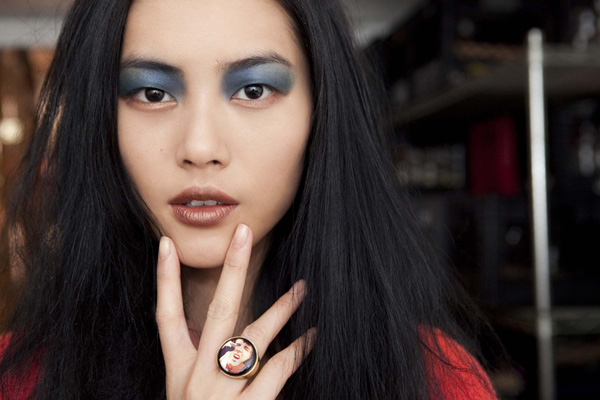 Liu Wen (Marilyn) Photo Courtesy of Estée Lauder
Estée Lauder Creative Makeup Director Tom Pecheux lead a team of 15 artists to create the stunning look on 22 models – While famed manicurist Jin Soon Choi and her team polished their nails with a new color that was tested backstage!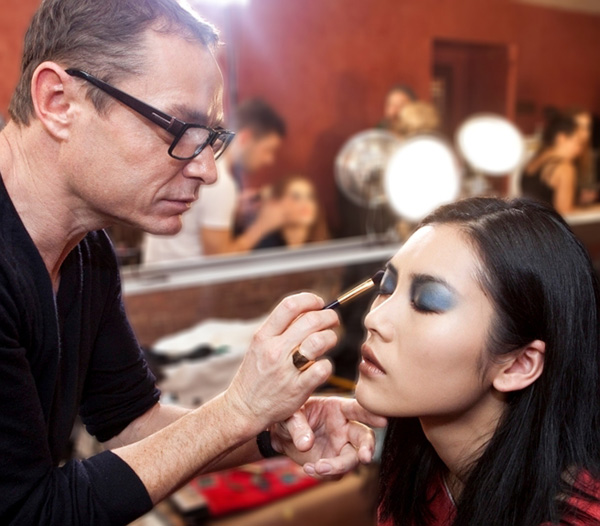 Tom Pecheux
"When Derek showed me the fabrics that inspired his Fall 2010 collection – bold and muted tones mixed with earthy pigments including terracotta, greens and browns – I thought the makeup shades should be complimentary. So we chose a blend of bold blue shadows on the eyes, shimmering copper lips and flawless, matte skin created with a light foundation — an on-trend beauty preview of what we will see for Fall 2010." Tom Pecheux, Estée Lauder Creative Makeup Director.
New York Fashion Week Fall Winter 2010. Show: Zac Posen. Makeup by MAC Cosmetics.
The look and inspiration: "We wanted to create a look of youth and freedom – the beauty of the face when the makeup has lived."– Stephane Marais
The makeup breakdown, products are all by MAC Cosmetics.
Eyes:
Eye Pencil in Smolder – applied and smudged around the waterline of the eye using a M·A·C 239 Brush
Studio Fix Lash Mascara in Black Fix – applied to top and bottom lashes
Creme Liner in Black and Mixing Medium Wat er Base – placed horizontal strokes in the crease of the eyelid and the same below the eye with stronger strokes in the centre