All Posts Tagged With: "Donna Karan"
The origin of Donna Karan Cashmere Mist is more than just the story of a fragrance –it is a story of love and connection. Introduced in 1994 as the scent behind Donna Karan's Bath & Body collection, the scent has transcended time to become an iconic fragrance, evoking the softness and luxury of cashmere for twenty years.
This summer, they celebrate the fragrance's longevity and the consumer passion that inspired it with Making of an Icon, a short documentary film that tells the story in Donna Karan's own words of the origins of Cashmere Mist.
Featured on cashmeremist.donnakaran.com , this short film celebrates The Idea, The Scent, and The Feeling of the best-selling scent. Included in the film are Donna Karan, Linda Wells, EIC Allure, Nick Calderone, the perfumer from IFF and Trey Laird, who worked with Donna on the campaign.
Today I got to try the NEW DONNA KARAN WOMAN Perfume and I like. It's unique. It does remind me of Donna Karen Cashmere Mist their older sister perfume but maybe it's just a placebo effet. It's not too floral, not too woody or too sweet, the kinda perfume combination that always works for me. Should I say even it is just a little masculine in a good way.
Introducing DONNA KARAN WOMAN
DONNA KARAN. "A SPORTY, SEXY EIGHTIES YASMIN LE BON."-CHARLOTTE TILBURY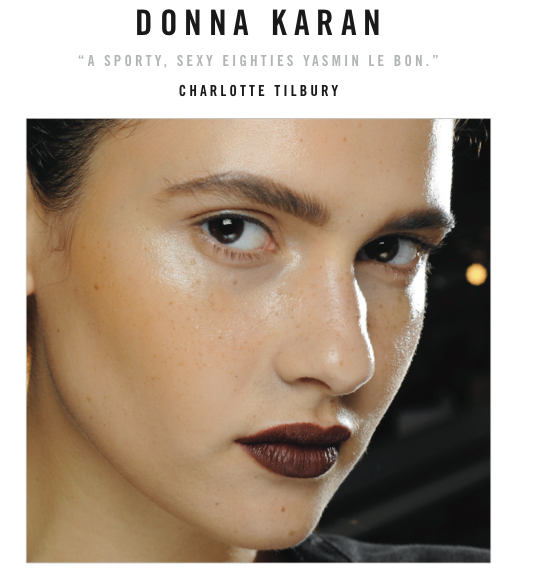 New York Fashion Week: Donna Karan SS2012
How to with MAC makeup…
New York Fashion Week Report. Donna Karan Fall 2011. Makeup by MAC Cosmetics.
"Tippi hedren with a modern twist… it's an early 50's lip of "pepto" pink against a caramel, coffee-lacquered eye, with skin highlighted to perfection."-Charlotte Tilbury
Donna Karan Fall 2011 makeup face chart by MAC
Eye
MAC pro mid-toned sepia cream colour base – blended with a halo effect around the eyelid and lower lashes m·a·c pro gloss texture – applied over eyelids for lacquered effect
New York Fashion Week Fall Winter 2010. The show: Donna Karan. Makeup by MAC Cosmetics.
The look and inspiration: "The look is very film Noir: porcelain skin, deep red lips, dramatic and cinematic."– Charlotte Tilbury.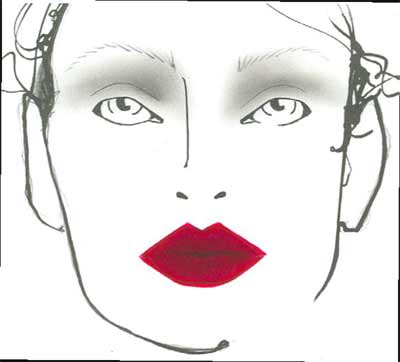 The makeup breakdown, products are all by MAC Cosmetics.
Eyes:
M·A·C Pro Cream Colour Base in Airforce Blue – applied to the crease of the eyelid
Lip Treatment – dabbed onto the eyelid for shine
Eye Kohl in Fascinating and Eye Pencil in Fleshtone – penciled into the waterline of the eye
Holiday Gift Guide 2009:
This season marks the 15th anniversary of Donna Karan's Cashmere Mist. Embrace the comfort of cashmere and celebrate one of the world's most beloved scents this holiday.
Donna Karan Cashmere Mist Limited-Edition Mini Deodorant, $10: This cult-classic favorite from the Donna Karan Cashmere Mist Collection is now available in a mini 1.0 oz size. The perfect stocking-stuffer for all fans of Cashmere Mist. Available at Nordstrom and Sephora beginning October 2009.
It's Breast Cancer Awareness month aka BCA and the Estée Lauder Companies has many of your favorite beauty products designed especially to raise funds for the Estée Lauder Companies' Breast Cancer Research Fund. Last month during my visit to New York City during Fashion Week Spring 2010 I was given an incredible opportunity to participate in an Estée Lauder special Breast Cancer Awareness event. Listening to Evelyn Lauder's speech and the rest of the Estée Lauder team I can't tell you enough how passionate they are about the Breast Cancer cause!!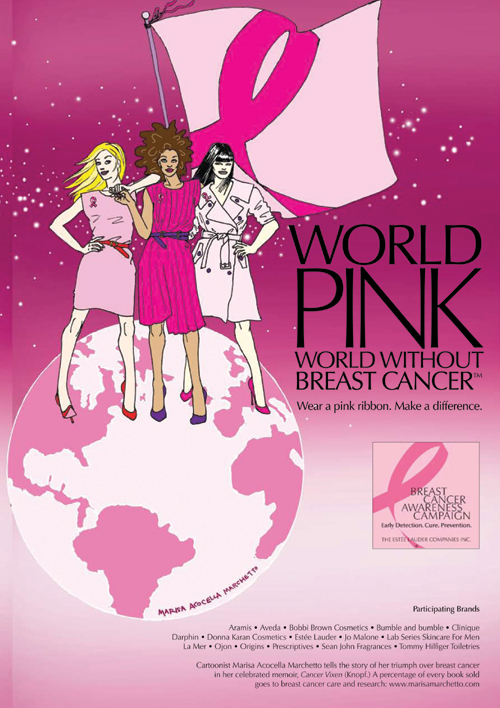 Here are highlights of some of the people involved in the Estée Lauder Breast Cancer Awareness Campaign and And Fundraising, and the beauty products you can purchase where portions of their proceeds go towards the Breast Cancer Research Foundation.
Actress Elizabeth Hurley and Evelyn Lauder: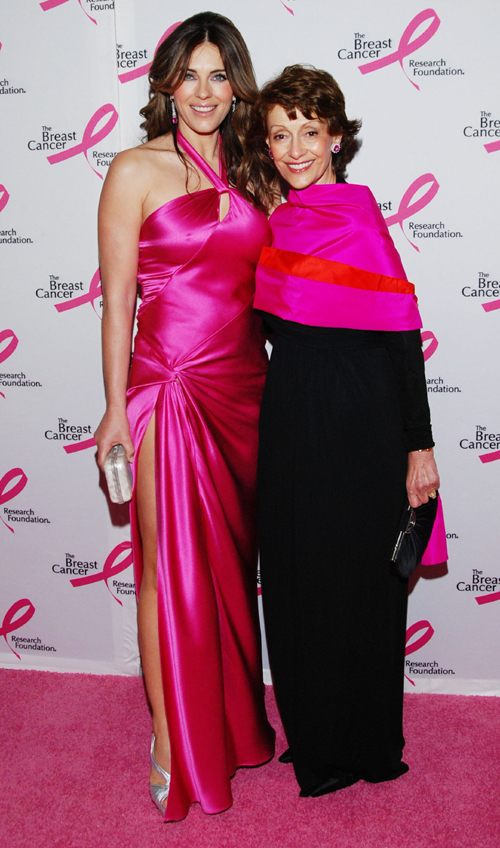 From Left: Steven Plofker, Elizabeth Hurley, Elton John, Evelyn Lauder, and Bobbi Brown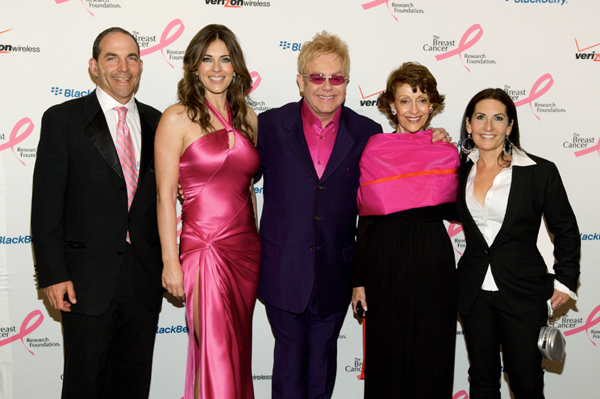 I've been wanting to interview Nordstrom's National Beauty Director Debbi Hartley-Triesch for quite some time now, so when I was asked to chat with her on the phone one day this month I was thrilled!
I've been always fascinated with the behind of scenes of the beauty world. I wanted to know how Nordstrom, which happens to be one of my favorite places to shop, go about picking and choosing the beauty products we see when we're out shopping. When I go shopping at Nordstrom for clothes, makeup, and cosmetics I have a sense of confidence that Nordstrom experts picked the hottest products for me to choose from, and they are keeping me ahead of trends!
 Watch my interview with Nordstrom's National Beauty Director, Debbi Hartley-Triesch, just in time for Nordstrom Anniversary Sale!
Products mentioned in Marta's video blog:
Larger size products:
philosophy the microdelivery exfoliating wash
Donna Karan Cashmere Mist Body Lotion
Jack Black Beard Lube Conditioning Shave (Nordstrom Exclusive)
Makeup Kits:
MAC Look in a Box (Nordstrom Exclusive)
Bobbi Brown Must-Have Set (Nordstrom Exclusive)
For additional product details visit: www.nordstrom.com
Video is featured on www.misslush.com upload your style & beauty videos today!:)