All Posts Tagged With: "Hand Cream"
NEW from St. Ives is their Scrub-Free Exfoliating Pads. It is formulated with AHA Complex to help get rid of dead skin cells and smells very fruity. St. Ives also has a similar formula for the hands, check out their Naturally Smooth Hand Cream with Natural Fruit AHA Complex.
See what's inside St. Ives scrub-free exfoliating pads…
Loving the NEW St. Ives Intensive Healing Body and Hand Cream which are empowered with cranberry seed oil to protect and renew winter-damaged skin and are fragrance free, yes finally! I'm all about fragrance free body lotions and I'm glad St. Ives is answering my wishes:) Also these creams are not greasy.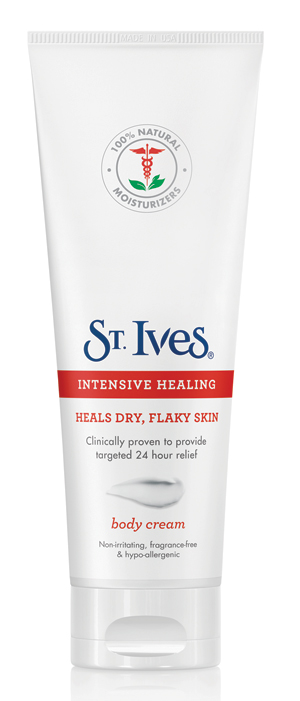 St. Ives Intensive Healing Body Cream NEW
Loving these FHF Farmhouse Fresh Shea Butter Hand Creams in Whoopie Cream and in Fluffy Bunny. I also used them for the body, what can I say I'm creative ha! Whoopie Cream smells sweet and warm ( Inspired by the famous comfort desserts -Whoopie Pies) and Fluffy Bunny smells a bit fresher (mint-julep and a hint of lavender). They smell good, they hydrate, and they comfort. They will also make it to my suitcase when I travel.

FHF Farmhouse Fresh Shea Butter Hand Cream
Loving this: Votre Vu Bebe Duette 2-in-1 a Tarte D'Amande Luxe Hand cream in one side which smells sweet and delicious, and a Luxe Lips Moisturizing Lip Balm with a hint of red color on the other side. Secret: I use the hand cream on my body too especially when I'm traveling. It's very thick in texture and moisturizing and I'm sucker to the smell.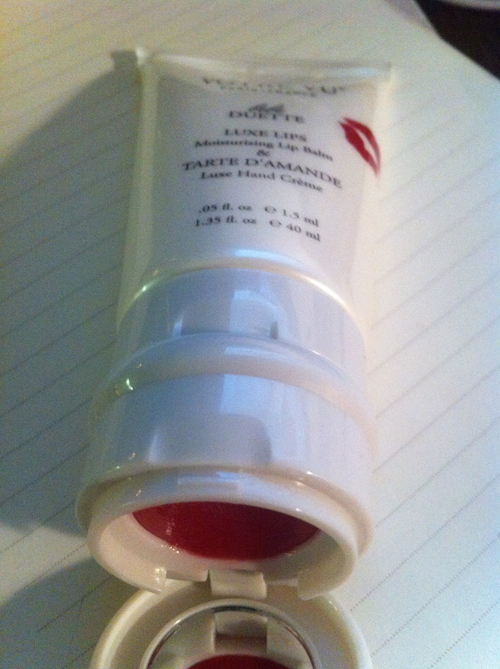 Votre Vu's Bebe Duette is a perfect combination of intensely moisturizing lip balm and decadently nourishing hand cream. With its innovative packaging, 1 part hand crème/1 part lip balm (with a handy mirror for application perfection). Luxe Lips lip balm created with coconut, sunflower and premiere pressed castor oils, shea butter and beeswax.
Loving the latest product additions to FusionBeauty and CLEAN! BTW did you know that Kim Kardashian as the face of the line? So here it is:
The "Luxe Boudoir" Capsule Collection contains four brand new, high-impact, vibrant LipFusion Color Shines with shimmer effect designed in collectible limited edition packaging featuring the iconic Seven Bar Foundation "Lingerie New York" model etched in to each tube. The spring-inspired colors include Vixen a shimmering mauve, Lolita an innocent baby pink, Coquette a flirty rosy coral and Princess a shimmery plum. It is an amazing collection for a great cause!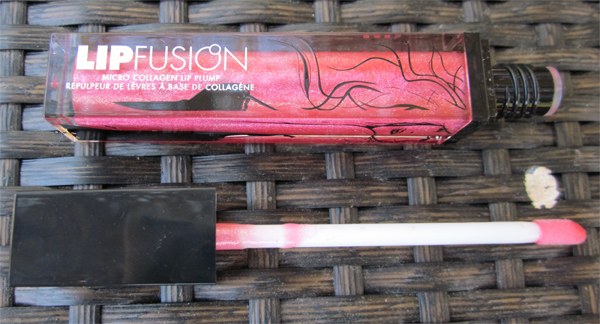 FusionBeauty The "Luxe Boudoir" Capsule Collection Coquette a flirty rosy coral
Marta Walsh says: "Great wearable lip gloss shades with a little bit of plumping effect. I wear it alone or as a lip plumping lip primer. There is a tingling effect but not too strong".
Estee Lauder spokesmodel Hilary Rhoda attended the 2010 Tribeca Ball Benefiting The New York Academy of Art in New York City, April 13th, 2010. Hilary is in a Rachel Roy dress. Shoes by Manolo Blahnik. Jewelry by Isabel Marant. Handbag by Proenza Schouler. Makeup by Estee Lauder.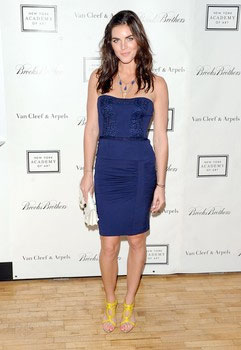 My first backstage coverage during New York Fashion Week Fall Winter 2010 began with the Yigal Azrouel fashion show. There I had the pleasure to meet the CEO of AHAVA Michael Etedgi. I have a soft spot for both Yigal Azrouel and AHAVA (which btw means LOVE in Hebrew) because both are from Israel like myself. It was amazing to chat in Hebrew finally with AHAVA's Michael and to not to get lost in translation.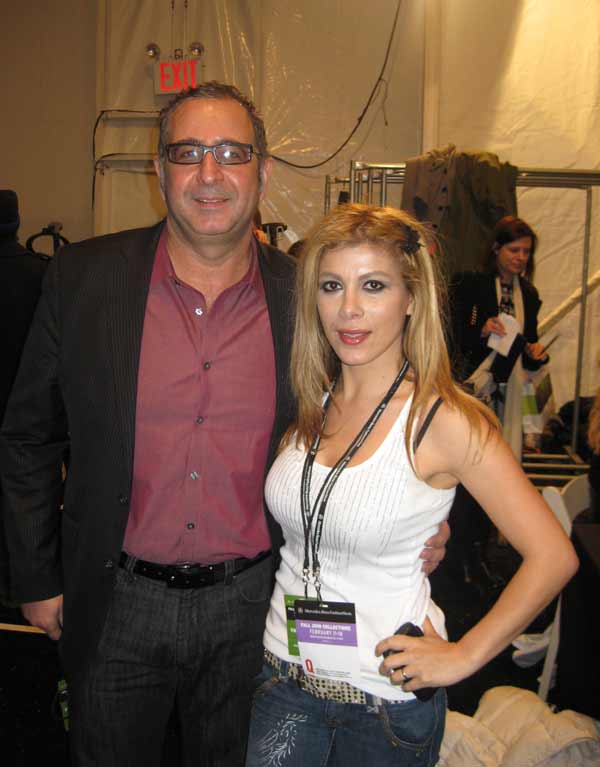 L to R: Michael Etedgi CEO of AHAVA and Marta Walsh founder of Talking Makeup
Have you tried the AHAVA Mineral Hand Cream? It's amazing and a classic. AHAVA brought a bit of relaxation backstage at Yigal Azrouel Fall 2010 with their Beauty Bar where I received a hand massage, yes, with their fabulous hand cream.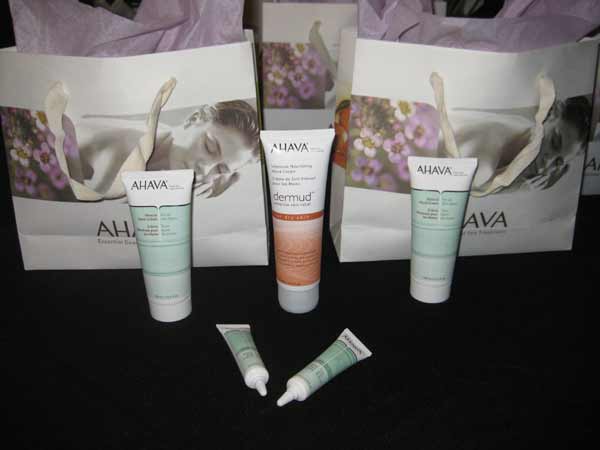 Happy New Year! Hope you enjoyed the holidays and are gearing up for a brand new decade! This year we should all vow to be a little greener, and actually do something to reduce our carbon footprints. Go green simply by choosing paraben-free mascara, a biodegradable compact, or a body wash with the Natural Product Association seal of approval! Start your new natural collection off right with some of the below eco-chic cosmetics and skincare items—they're natural beauty best-sellers!
Clean up your act with Josie Maran Bear Naked Wipes. These natural cleansing cloths are biodegradable (meaning they won't clog landfills after you throw them away) and they're made with natural ingredients that will soothe, comfort, and gently cleanse your skin without harsh chemicals or toxins. Plus, a portion of proceeds goes to the NRDC's Polar Bear Initiative, the campaign to save polar bears' natural habitats, bringing a whole new meaning to "Earth-friendly". Now available in a new travel size! Sephora.com; $6.00 – $12.00.
Hand Saver: With flu season in full force, we're all aware of the importance of washing our hands to ensure they're free from bacteria. Unfortunately, this increase in our daily wash routine is leading to a decrease in the softness of our hands. With the average woman washing her hands 10.8 times each day, there's a need to re-hydrate our dry, cracked skin. 
Luckily, Curél has you covered this winter with their Targeted Therapy Fast-Absorbing Hand & Cuticle Cream. Formulated with Curél's unique cationic formula, the cream is specially designed to deliver moisture where skin needs it most. Dry spots of skin attract the formula to create a moisture lock, which holds protective emollients on skin longer and helps prevent the hydrating ingredients from rinsing away with hand washing.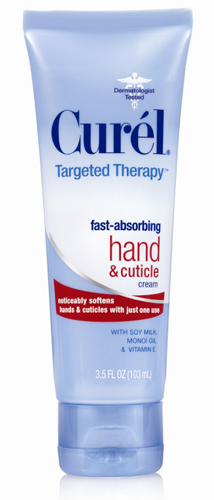 It's Breast Cancer Awareness month aka BCA and the Estée Lauder Companies has many of your favorite beauty products designed especially to raise funds for the Estée Lauder Companies' Breast Cancer Research Fund. Last month during my visit to New York City during Fashion Week Spring 2010 I was given an incredible opportunity to participate in an Estée Lauder special Breast Cancer Awareness event. Listening to Evelyn Lauder's speech and the rest of the Estée Lauder team I can't tell you enough how passionate they are about the Breast Cancer cause!!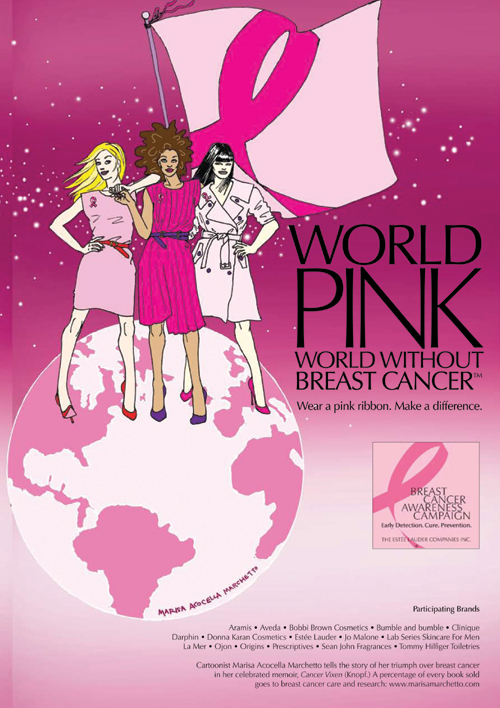 Here are highlights of some of the people involved in the Estée Lauder Breast Cancer Awareness Campaign and And Fundraising, and the beauty products you can purchase where portions of their proceeds go towards the Breast Cancer Research Foundation.
Actress Elizabeth Hurley and Evelyn Lauder: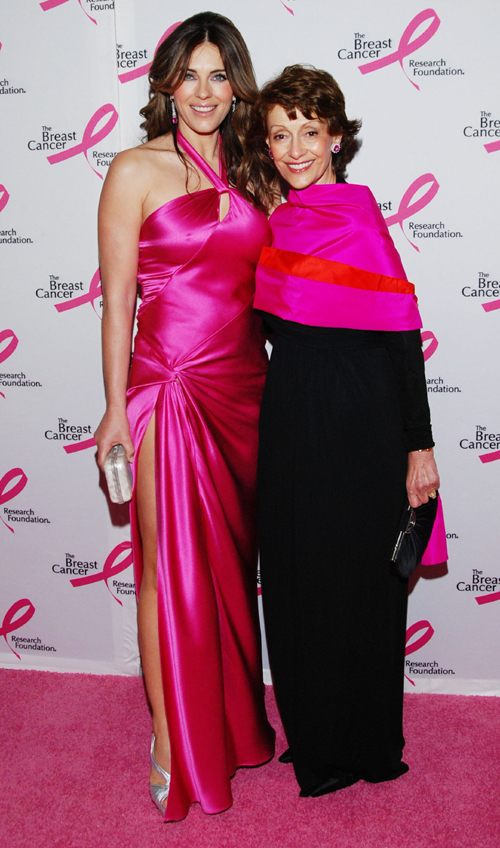 From Left: Steven Plofker, Elizabeth Hurley, Elton John, Evelyn Lauder, and Bobbi Brown